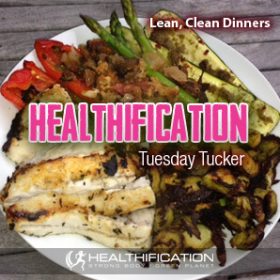 Podcast: Play in new window | Download
Subscribe: RSS
Today's show is part 3 in the Lean, Clean series – today let's talk: Lean, Clean Dinners. 
I actually touched on Go2Dinners way back in show 012 however it was more how to build your Go2Dinners and todays show will dig deep with 5 dinner recipes.
Dinner is the meal where too frequently the wheels fall off.
Generally it's not dinners fault… it's more the fact that breakfast was skipped or lunch was light however shows 097 and 102 have you set up with the first two main meals of the day so the remaining obstacles to tackle so far as dinner are:
A) A lack of preparation.
B) A lack of preparation.
Yes, whether you resort to take-out on the way home or that loaf of garlic bread waiting in the freezer or even just the cheese, crackers and vino you have on hand… pretty much any non ideal, NON Lean, Clean Dinner is going to come down to a lack of preparation.
3 factors to consider with regards to (as Brian Tracy would say!) Proper Prior Planning Prevents Poor Performance:
One: The meals you plan before dinner that do not leave you crazy-starving-deprived-needing-to-DEMOLISH.
Two: The great staples you keep on hand at home so that throwing together a lean clean dinner is simple and quick.
Three: The rubbish crap-o-la that does not live at home to tempt you when you get home tired-late-irrationally-hangry.
As with the Lean, Clean Breakfasts and Lean Clean Lunches show I'm going to cover Dinners for 2 eating personalities and you can go with whichever approach resonates with you.
To recap thats: The RULES Eater, who finds rules freeing and The GUIDELINES Eater, who responds better to general guidelines.
First up the GUIDELINES Eater and 3 simple guidelines to apply to your best lean, clean dinner:
1. Start with a serving of lean protein. That's 12-20 grams of protein. Yours might be via fish, legumes or meat substitutes. Mine is most commonly a combo of 1 tablespoon of hemp seeds + 1 tablespoon of pumpkin seeds + 1 tablespoon of nutritional yeast + 1 teaspoon of dulse flakes + 1/2 teaspoon of Spirulina and whatever herbs and spices you like. (it's not as complicated as it sounds! I show you how to put it together here:
2. Add 3-6 cups of 3-6 different fibrous veg and/or salad greens.
This may be any combination of spinach, kale, mushroom, capsicum, cauliflower, zucchini, asparagus, broccoli, rocket, cabbage, green beans etc.
3. Finish with a satisfying good fat.
That's 1/4 of a large avocado or 50gm nuts/seeds, a teaspoon of coconut or olive oil… or any combination of the above.
So in practice, as the guidelines eater arrives home starving after a long day and thinks: "What is quick and easy?"
=> One solution is to defrost and heat a serve of vegan curry made on mass over the weekend. To then cook 1/2 a bunch of kale crisps with coconut oil, nutritional yeast and sea salt. Serve the curry over a bed of spiralized zucchini and add a tablespoon each of hemp and pumpkin seeds.
A big cook-up once a week is all our guidelines eater needs. Other options are a spicy chili bean mix or maybe some veggie burgers on mass.
Equally, as our guidelines eater has an impromptu catch-up after work… and faces the menu of sugary-carbie-Thai… the solution is to politely ask for the adjustments to the menu that fit the guidelines.
=> No meal must be served with rice or roti and stir fry does not need noodles. Start with the protein our guidelines eater prefers – for me this is a rare occasional when I eat tofu. Next politely ask to swap the stodgy rice or noodles for extra green veg. Even ask for cashews or extra protein to make it a little more substantial. Our guidelines eater may have to pay a little more however it's worth the time saved attempting to work off an unnecessary carb-fest.
And now for the RULES Eater.
A quick caveat before we begin:
Are YOU Fish Free? 100% Plant Based? All Good. Me too now. I've left this post up as A) It's perfect for my Meat eating and Vego friends and B) It's a transparent record of a HUGE part of my journey to Plant Strong eating.
=> Here's how my Ideal Vegan Fat Burning Day now looks:
5 Lean, Clean Go2Dinners:
1. Steak with Veg
100-200 grams steak of your choice (cook 100 grams extra meat so it's really 200-300 grams)
1 zucchini halved lengthways
1/2 brown or red onion halved
1/4 red capsicum 
1/2 bunch asparagus
6-8 large or 12+ smaller brussel sprouts sliced into thin rounds.
olive oil 
chili flakes
spray of coconut oil
Optional: 1 teaspoon of basil pesto
This is my lazy meal. As a vego I go with fish as per tomorrows recipe however if you're a meat eater cook your steak of choice as you see fit… OR check out this post from John Romaniello on How To Make The Perfect Steak:
I love the way Roman writes… even if you're handy with a steak he's worth checking out!
For the veg I whack it all on a baking tray covered in baking paper with a spray of coconut oil. I sprinkle the lot with some chill flakes and fresh rosemary if I have it (or mixed dried herbs) and throw it in a hot (250 degrees) oven. Start with the brussels and onion (they'll take around 20-30 minutes. Next add the zucchini and capsicum and then the asparagus will be the quickest at just a few minutes to cook. Near the end I may add a swipe of pesto to the veg… or not, it's really nice and simple and dependant on whatever veg is looking nice and fresh.
2. Fish with Cauli Rice and Pesto Veg
100-200 grams fresh Salmon (or your fish of choice – I like skin on)
olive oil 
chili flakes
dired coriander leaves or crushed coriander seeds.
a wedge of fresh lime
1/4 of a cauliflower per serve
Celtic sea salt & pepper to taste
Optional: 1 heaped dessert spoon of light ricotta per serve (to make the rice more into a mash)
1/2 tablespoon of basil pesto
spray of coconut oil
1 zucchini peeled into thin peels or 1/2-1 bunch of asparagus sliced
1 field mushroom sliced 
To cook fish, brush the fish on both sides with olive oil and then sear it skin side down in a heavy based oven proof fry pan for 60 seconds.
Next, carefully turn the fish and sprinkle with chili sea salt and coriander then add a generous squeeze of lime.
Cook the fish covered for anywhere from 8-20 minutes (dependent on size and thickness). It really is super easy to tell when it's done as a thin metal skewer slides easily into the flesh and there is no pinkness. I like to crisp up the first side again at the end of the cook for another 60 seconds.
To make the mash, steam of microwave cauliflower until fairly soft. Add salt and pepper to taste and light ricotta if using and mash with potato masher.
To make the veg, spray a pot with coconut oil and add zucchini, mushroom and some chill flakes if desired. Stir through pesto and cover (it'll take around 5 minutes only).
To assemble cover a plate with a generous serving of hot rice/mash, covered in pesto veg. Add fish.
3. Chicken Stir Fry 
100-200 grams sliced chicken breast (cook 100 grams extra so it's really 200-300 grams)
1 red or green capsicum (or half of each) sliced
1/2 bunch of sliced broccolini
1 cup of sliced mushrooms
100 grams baby spinach
2 stalks of finely sliced spring onions
1/2 cup of baby corn
OR, go the super-crazy-quick option and buy Rotisserie chicken and frozen Chinese Stir-fry mix (without sauce). The veg mix I like has broccoli, carrot, onion, red capsicum, baby corn and green beans… use 2-3 cups.
1/2 tablespoon preferably gluten free soy sauce or your substitute of choice like coconut aminos
1/8 teaspoon chili powder or flakes
fresh coriander chopped to taste (or your herbs of choice)
optional: salt and pepper to taste and/or 1-2 crushed garlic cloves
1/2 tablespoon coconut or sesame oil for stir-frying
If you're cooking your own chicken do that first in 1/2 the oil. Next remove the chicken and cook your veg – all except the baby spinach and spring onions – or if using the frozen veg, defrost it and heat it in the pan with the remainder of the oil, the garlic if using and the soy sauce, chill powder, salt / pepper. As the veg are near cooked/heated return the chicken to pan and stir through the coriander, baby spinach and spring onions.
4. Veg + Protein Kebabs with Avocado Sauce and Kale Crisps 
100-200g of boneless Lean Meat: chicken / beef / lamb (cook 100 grams extra so it's really 200-300 grams meat and ideally some extra veg)
Or firm fish or raw shrimps (peeled and deveined)
OR just go vego and serve with a side of 100gm of cottage cheese.
2 zucchini 
2 red onion
1 green capsicum
1 red capsicum
200g mushrooms
1 punnet cherry tomatoes.
optional: halloumi cheese (around 50g per person sliced 1/2 inch thick)
Marinade:
1-2 large handfuls of basil leaves
2 cloves garlic
1/4 cup olive oil 
1/2 tablespoon lemon/lime juice 
Salt and pepper to taste
Avocado Sauce:
1 handful of basil leaves or coriander (small handful – part leaves part stems)
1 avocado
1 tablespoon lime juice 
3-4 tablespoons coconut cream  
Salt to taste
Soak wooden skewers for 30 minutes. Chop meat or fish into 2.5cm chunks and put in a bowl.
Chop zucchini, red onion and capsicum into pieces that are roughly the same size and thickness.  Chop the mushrooms in half.  Place all veg + tomatoes in another bowl. (I LOVE mushies – use a variety and quantity of veg to suit your preference).
Combine basil, garlic, olive oil, lemon/lime juice in a food processor and blend till very finely chopped.  Pour 1/2 the marinade mix over the meat/fish and half over the veg. Ensure all are well coated – get your hands dirty!  Marinade for at least 15 minutes, or even overnight in the fridge.
Combine marinated chunks (and halloumi if using) on skewers (they will cook more evenly if veg and meat and fish are all on separate skewers but I prefer them combined as they look prettier!)  Season with salt and pepper. Best thrown on the BBQ!  Also just fine on a grill at medium-high heat.  Turn while cooking – time will vary from around 8-12 minutes.
Dipping Sauce: Finely chop basil in the food processor.  Add avocado, lime juice, coconut cream and blend until smooth.  Season with salt.
Kale Crisps:
1/2 bunch kale
1 teaspoon olive oil 
Celtic sea salt and pepper
Place washed (and patted dry with paper towel) kale into a plastic bag with oil. Shake well to coat.Transfer kale onto a baking sheet in a thin layer (use multiple pans if making lots and cover baking sheets with cooking paper for easy clean-up). Season with salt, pepper – or really whatever you like…chili, paprika, herbs… Place in an unheated oven. Heat oven with kale in it to 300 degrees.
Now, watch carefully till it starts to brown and crisp up. The time varies depending on your oven and the amount of kale – but it'll be around 20 minutes.
5. Fish with Veggie Bake and Baby Spinach
100-200 grams fresh Barramundi (or your fish of choice – I like skin on)
olive oil 
chili flakes
dired coriander leaves or crushed coriander seeds.
Celtic sea salt 
a wedge of fresh lime
To cook fish, brush the fish on both sides with olive oil and then sear it skin side down in a heavy based oven proof fry pan for 60 seconds.
Next, carefully turn the fish and sprinkle with chili sea salt and coriander then add a generous squeeze of lime.
Cook the fish covered for anywhere from 8-20 minutes (dependent on size and thickness).
Veggie Bake:
Cook baked veggies once a week on mass and freeze as 1-2 cup portions. Cook with olive oil, garlic, chili and mixed herbs. Include;
1 eggplant 
2 red onions and 2 brown onions
1/2 cauliflower
1 red and 1 green capsicum
1 sweet potato
1 leek
2-3 zucchini
Serve baked veggies and fish over a bed of 1-2 cups baby spinach. 
Today's action step is to decide on at least one lean, clean Go2Dinner that you can start with this week.
That's it for today… in tomorrows Wednesday Weigh-in show I'm covering: The Portion Control Myth.
If you liked this you'll also like: 7 Sneaky UN-Healthy Health Foods and What To Eat Instead
Since it's no fun just eliminating something you love – and NOT sustainable – here are 15 delicious alternatives to enjoy instead. Recipes like: Kale-Cauliflower Tabouli with Zucchini Hummus / Eggplant Cannelloni / Kale Crisp Nacho's.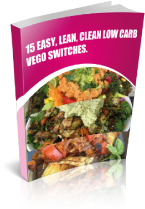 If you're yet to share the Healthification love – just click here to zip over to iTunes and leave an honest rating and review. It'd help me out big time. With gratitude, Kate.