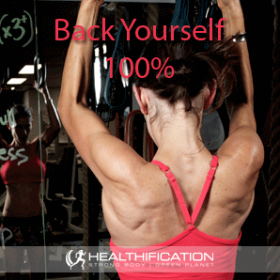 Podcast: Play in new window | Download
Subscribe: RSS
One of the misconceptions I regularly encounter when chatting with someone who is not yet happy with their body and health is that to lose fat and gain the body you want AND to keep that body long term means less food, more restriction and severe portion control.
Way back in the 003 weigh-in show I covered, Eat Better Not Less, so today I'm going to stick specifically to: The Portion Control Myth.
Let's cover off the benefits to portion control first. I can see a couple. However they each have portion-control-free alternatives that will give you the same results…
Benefit One: Portion control can get you results.
At the ultra simple energy in vs. energy out level if you measure and manage how much you eat and you can handle eating less consistently then in most cases you'll shed some fat.
The eating less consistently is the thing I struggle with. 
Both personally and so far as a recommendation to my clients.
=> It puts an emphasis on RESTRICTION and on what you can't have and too often I see that work ok super-short-term then it morphs into an all-out-I-deserve-binge-fest.
Your portion-control-free alternative: is to focus on One Ingredient Food. The type of fuel that you can eat as much of as you want.
Guilt free. Cravings free. Measuring free.
Benefit Two: Portion control can allow you to feel in control.
A set of rules to follow. A plan. Something reliable to hold tight too… however it takes the emphasis away from quality and makes it all about the numbers.
=> Portion control tells you, Hey you can lose weight eating Macca's! Which if you subjected your body to twice the amount of Macca's previously then Yes you can lose weight on less Macca's however is that truly the fuel you want to be giving your body?
Your portion-control-free alternative: is to feel in control of the Quality of Food you give to your body rather than obsess over quantities.
So there are 2 benefits.
Now let's check out the problems with portion control:
Problem One: It implies that you can be in control of how much fake-processed-crap-o-la you eat. When millions are invested making those donuts, cookies and ice creams as absolutely addictive, as craving causing, as maddeningly more'ish as possible.
When you're brutally honest how often do you stick to your portion control goal with your favourite fake and processed food?
The single scoop of ice-cream, 2 squares of chocolate or measly sliver of cake?
I know I'm not in control of fake food quantities if I leave it to will power or good intentions. If that stuff is living in my house it's calling to me. It's insistent and exhausting and I almost always give in to temptation. The thing with fake food is even when you've eaten enough to feel guilty and remorseful and weak it's still likely not enough to not want any more!!!
It's a vicious cycle.
Your natural love of food vs. food that has been manufactured to be as addictive as possible.
I don't think it's a fair fight… and that's why I recommend you don't even let fake into your house, except of course for the exact portion you intend to demolish on your once weekly glorious day meal.
Problem Two: It disregards the basic ability we could, should, surely did have to simply eat great food when hungry and stop before feeling sickly full.
It really shouldn't be that hard right?
However, if you choose to consume food manufactured to have an undeniably delicious fat-salt-sugar combo that is also capable of altering your brain chemistry… capable in fact of causing you to NOT feel satisfied and instead crave more of the same fake fix then there's a very real chance that more often then not you'll eat when you're not hungry and stop long after you've eaten too much.
And there's something more than a little disappointing about not being able to control yourself around a basic necessity such as food.
I know I've wasted plenty of energy feeling disappointed even repulsed by ME and my lack of will power.
In contrast it's almost impossible to over-eat natural, one ingredient foods. Of course you may eat a larger serve of steak than necessary or double the nuts you meant to consume however really there's a pretty slim chance of eating your way to over-weight and unhealthy via real food.
To make today actionable I'd love to hear your thoughts?
Are YOU a portion control fan – maybe you totally disagree with me?  OR, have you struggled with the idea that you're meant to be good with portion control for years and it's sort of a relief to just know you can let go of your measuring devices and embrace quality one ingredient food to the quantity you desire?
That's it for today… in tomorrows Thursday Training show I cover: Primal Movements Part 2. (the 7th fat blasting move). 
I hope you can join me.
If you liked this you'll also like: Weight Loss System: Save Yourself Stress, Time, Energy and Money.
If you're yet to share the Healthification love – just click here to zip over to iTunes and leave an honest rating and review. It'd help me out big time. With gratitude, Kate.