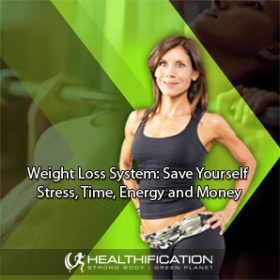 Now sadly I can't take credit for this awesome acronym… instead I'm going to make S.Y.S.T.E.M. applicable purely to health and even more specifically to fat loss.
My plan is to cover 2 key points to Save Yourself each for Stress, Time, Energy and Money… and further to give the example of a system or a-d process for each.
For me stress and overwhelm are very similar… and they both can be escaped (or at least drastically minimized!) via a combination of prioritising what does get done and focusing on one day – or even one step – at a time.
Before we jump in, it helps to admit that you are responsible for the stress you are feeling.
Now, I can sense some hackles raising at that… however, here is my angle or more-so my belief (as with any belief, there is no right or wrong OR true or false – what matters is does it get you the RESULT you want?) If you're getting 'stress' as a result and you don't want it, then perhaps take my belief for a spin.  To admit responsibility also means accepting that since your got yourself into this position you have the power to get yourself out of it.
Save Yourself STRESS;
Key 1. Prioritise what does get done:
=> To accept you'll never get every thing done, is actually incredibly freeing.  It means your 'not to do' list is just as vital as prioritizing what does get done.  
a. Make time for the 'big rocks' that keep you functioning effectively.  Perhaps sleep and   exercise… (I cover big rocks here:)
b. Make time for the 'big rocks' that keep you smiling!  Perhaps family and friends.
c. Plan your day – the night before.  The tasks by order of importance as aligned with the attainment of your primary goal AND with time limits for each task.
d. Work your plan each day.  Start with your #1 task – get it done before anything else, especially before you get dragged into other peoples priorities via email and phone calls.  Set your timer to provide a sense of urgency and accountability.
Key 2. Focus on one day at a time.
=> To choose to focus only on what you can control, one day at a time takes practice. It's natural to stress about those future potential obstacles that may never happen… to a degree it's a protection mechanism.  However when it's to the point where it's limiting you from taking action today, then it has become an excuse.
a. Get clear on those little daily actions that will provide big results when performed consistently.  Track these actions and make doing them as 'friction free' as possible.  So if you want to get up 1/2 an hour earlier to exercise, get yourself to bed half an hour earlier, avoid 'stimulating' (used loosely!) t.v and computer screens the hour prior to bed time, and get your exercise gear out and breakie ready to go for the morning.
b. Conspire for you success by starting at a level that is achievable to you.  If you want to reduce your chocolate intake and you LOVE chocolate, then how about aiming for 1 more choc free day a week than what you're currently having and upgrading your choc of choice to one of higher quality and lower quantity?
c. Acknowledge yourself for every. single. day. you achieve your daily actions.  One day at a time consistently is all it ever takes, however one day at a time can seem like slow progress when you've been conditioned to hunt for the (non-existent!) quick fix.  We crave progress.  Your choice is to focus on the progress you are making with your daily actions and the thought processes they stem from rather than getting hung up on every other silver-bullet-quick-fix you imagine might be out there ready to 'save the day'!
d. When you catch yourself focusing on something that is not within your control – the fact it's raining, or that you have an injury, or another persons bad attitude… redirect your focus to the solution that is within your control.  There always is one.  Walking with a coat and umbrella.  Training around your injury.  Appreciation for the 95% of people you'll encounter today with a better attitude and perhaps even an awareness of this opportunity to 'build your tolerance muscle.'   Too much?? 🙂
The first time I ever did a time audit my 3 biggest time eaters were food shopping, preparation & eating! 
I've actually cut back back my eating time by choosing 4 bigger meals a day over my previous preference for 6-8 smaller meals.  The fact that I used to subscribe to the whole small frequent meals metabolism myth is a whole other post… however, in short my focus now is on the best quality food enjoyed in quantities and at a frequency/time of day that allows me to feel happy, satisfied, energized…AND free from the all-consuming-and-seemingly-24-7 food focus!
Save Yourself TIME;
Key 1. Food Shopping:
=> Having set shopping days is both time effective and allows less opportunity for those tempting yet nutritionally void 'food" items to find their way into your trolley… and into your home… And into your belly!
a. Have a solid general idea of the meals you/your family consume on a weekly basis.
It's NOT that hard.  You work out a general framework and then the variables within it change… what type of lean meat / fish / fibrous veg / salad greens / good fats etc.
To take a look at dinners for example maybe:
MONDAY: lean protein and veg stir-fry with some nuts
TUESDAY: zucchini pasta/cannelloni with lean protein, extra veg and a serving of cheese/nuts/seeds/avocado
WEDNESDAY: BBQ lean protein and salad with avocado
THURSDAY: your variation of meat/fish/eggs and 3+ veg
FRIDAY: fish and salad
SATURDAY: dinner out.
SUNDAY: stew/roast/casserole and a whole heap of veg
b. Create a shopping list around these meals, if possible for only a once or twice a week shop… ideally at a time when you are not hungry or stressed.
c. Arm yourself with your list for your shopping trip.  Flexibly in relation to what veg (& to a lesser degree fruit) is seasonal/on special/looking awesome, is great.  An awareness of your health goal and what achieving it means to your ideal life is vital when it comes to all those tempting little extras.  Be clear on what you are there to buy before you hit the shops and be just as clear on why you are not buying the crap-o-la that does not support your goals.
d. Be ok with spending a little more on those quality items that allow you to feel satisfied while still fueling your body with nutritious food.  For example: the berries, your fav out of season veg, sparkling mineral water, organic meat/eggs or avocado… spending a little more in the short term on these quality items saves you in the long term.  The 'half price' addictive-assembly-line-packaged-obesity-additive-infused-CRAP is not ever a bargain! 
Key 2. Food Preparation:
=> Why waste an opportunity to make multiple meals when it takes no longer and means you've got a great meal choice ready to go for those inevitable instances where you work back late… and are super-crazy-hangry… And absolutely are not up for preparing a meal from scratch.
a. Once you have a basic weekly structure to your eating commit to a couple of blocks of time where you can cook on mass.  Perhaps 2-3 hours on a Sunday and a Wednesday to make a mass bake up of veg and/or a chili mince/bean mix and/or a huge frittata.  Freeze in portions.
b. Now you have some good stand-bys get into the routine of doubling (or more) up on the meals you are still making from scratch.  Double stir-fry at dinner for lunch tomorrow.  Extra salad at lunch to have with dinner tonight.  Throwing your omelette ingredients into a bowl as you prepare your dinner veg so it's ready to go for breakfast tomorrow.
c. Source the short-cuts that work for you and take advantage of them.  Some of my favs are mixed frozen veg and fresh 'dressing free' coleslaw or Asian style salad mix (in my omelette, or my lunch salad or with my dinner).  Mixed pre-washed salad greens are also a  handy short-cut.
d. Have your take-away solutions planned as well.  The cafe that sells a veg laden salad that perhaps you can pad out with aforementioned mixed veg/greens and bulk up with extra lean protein (cottage cheese for me – perhaps meat or fish for you?) Or maybe the place that does a great green juice? (if it's a little 'light on' have it with 50gm of nuts or add a scoop of protein powder – both are easy to always have on hand).
Ok this is getting lengthy!
I'll cover the remaining 4 keys points in Part II on Thursday.
Till then, here's a sneak peak of what's to come…
Save Yourself ENERGY;
Key 1. Internal thought processes.
Key 2. Self-talk.
Save Yourself MONEY;
Key 1. Transportation.
Key 2. Training.
P.S. my fav is absolutely 100% saving energy, because I know with all the energy we waste on limiting thoughts and beliefs, on fear and with negative self-talk… if that energy could be funneled instead into food planning/shopping+preparation+transportation+training then weight loss and ideal health would be an easy natural, sustainable outcome.
…that's my goal, hope to see you for Part II: Weight loss System: Save Yourself Stress, Time, Energy and Money (Part 2.)