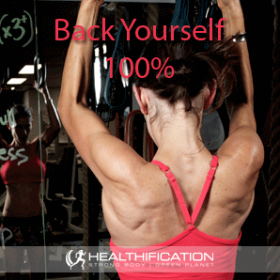 Podcast: Play in new window | Download
Subscribe: RSS
Have you reached that point in your life yet where the words that come out of your mouth sound unnervingly as if it's your mum or dad speaking?
Kids these days… When I was young…
I was having such a conversation with a girlfriend recently. Specifically regarding, consequences – or moreso the lack there of for kids these days. 
How many tedious, boring or just UN-fun things do you do when there are zero consequences?
Equally how many fun things do you resist doing when there are zero consequences?
In today's show I'm covering how to use consequences as a tool to achieve your body gain goal.
Let's take the celebrity or athlete as an example. As nice as it'd be to have the money, the chef, the trainer… the whatever to get into the best shape of your life I genuinely don't believe those resources are the reason the celebrity or athlete rocks around with a smokin bod.
It's consequences.
A deadline to have your bikini body committed to film and unveiled before millions of people would be pretty compelling right?
Or perhaps the fact that a poor physical performance could lose you your place on a team that earns you millions yearly plus massive sponsorship deals to boot. That'd get most of us hitting the gym daily right?
However the vast majority of us can just sling a sarong around our hips at the beach and know there isn't a photographer waiting for that money shot as the sarong slips… we can get by at work with average health, low energy and well short of peak performance – in fact that's probably normal.
We'll pay our bills because otherwise we'll get kicked out of our house, have our power cut off or lose our internet access however the consequences for our health while equally unpleasant are seemingly less urgent.
How easy is it to sleep through todays alarm and also tomorrows? Or to order the burger and fries… and also the beer or vino to wash it down with?
Until health consequences become the most urgent thing there is.
Here are 3 steps to make consequences work for you:
Step 1: Acknowledge there is no staying the same.
Your health is improving or deteriorating. The actions you take today will either bring you the results you want OR those you absolutely-without-out-a-doubt DON'T want.
Step 2: Believe that bad results will come quickly if you invite them.
Yes that sounds a little UN-motivational! However the mistaken belief that you can get away with inaction – even downright laziness and disrespect for your body for years without consequence is what leads to over 60% of the population here in Australia to languish in unfit, unhappy, unhealthy.
To share a personal example… 
Yesterday afternoon I celebrated a good friends birthday. It was a gorgeous sunny afternoon and the vino's went down way too well and way too quickly.
The alarm this morning was nothing short of evil. My work-out this morning was punishing. Even planning this podcast not easy or as enjoyable as usual. Really the most appealing thing right now would be lying in bed with a massive serve of extra crispy hot chips and a jumbo veggie burger definitely not bun-less… and perhaps a malt milkshake and maybe a cheese scone and a blueberry muffin…
You get the picture.
However I won't be hanging with hot chips in bed because I know that's the behaviour that doesn't let me look, feel and perform as I want too.
I don't get to behave like that and stay the same. I'd get worse AND I also believe I'd get worse quickly.
That's the thing with beliefs.
You have 100% creative license to choose your beliefs and to choose what works rather than what is necessarily right or factual.
Yes, factually it's unlikely that you'll be unable to fit into your fav jeans after just one skipped workout and just one greasy-carb-fest-meal. However how helpful is that is getting you to take the right actions?
Step 3: Commit to and systemise the self-imposed consequences that motivate you.
YOU are the best person to know what stirs you to take action.
=> Is it the threat of lost MONEY if you decide to donate to charity or simple to a friend (!) each time you skip a work-out or emotionally eat rubbish?
=> Is it a fear of looking like a FAILURE or fraud in front of your friends after you share you goal with them and commit to the actions and the timeframe to make it a reality?
=> Perhaps missing out on an end of week REWARD in the from of a massage/manicure/movie is compelling enough to make you tick all your eating and exercising boxes this week?
=> Could it be the drive to be the person you RESPECT. To back yourself and to have certainty in your ability to follow through and stick with it as long as it takes?
That's the main one for me, I hate the thought of even a day let alone a week of acting like a person I don't respect. At the end of each day, when I check in with what I've achieved I want to feel satisfied with the day.
Whatever consequence compels YOU to take action – acknowledge it, believe in it and systemise it. 
Perhaps your system is the end of day check-in like me, or a weekly wrap of exercise sessions and great meals completed, or the monthly measurements that you schedule with an accountability buddy.
For as long as you face zero consequences you'll be tempted to take the easy… the lazy… the path of least resistance which is also the path of least results.
To get actionable today, I'd love you to decide on and commit to the consequence that is most compelling to you… ideally the mere existence of the consequence means you're not going to have to subject yourself to it.
For todays quote I'll hand over to B. F. Skinner: "The consequences of an act affect the probability of its occurring again".
That brings us to the end of todays show. I'll be back tomorrow with the Tuesday Tucker show and: Lean, Clean Dinners.
If you liked this you'll also like: The Secret To Making Cheat Days Work For You.
If you're yet to share the Healthification love – just click here to zip over to iTunes and leave an honest rating and review. It'd help me out big time. With gratitude, Kate.