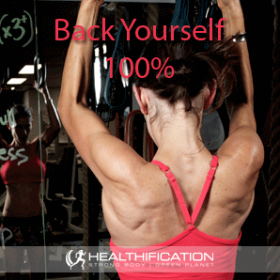 Podcast: Play in new window | Download
Subscribe: RSS
In today's tucker show I'm going to answer a question I got emailed last week.
Today's lets chat FRUIT. Specifically: How many fruit servings do you recommend in a day?
There's no one answer fits all… however if I had to commit I'd say 1-2 pieces a day of fresh fruit works for most people with a non-super-extreme goal. If your goal is more about fitness (rather than say, losing some fat) then potentially you can comfortablely eat a lot more fruit.
Basically it depends on what your goal is, what your activity levels are and what else you eat in a day.
I'm absolutely also of the belief that some people just metabolize some fuels better than others. Hence the no one size answer. To a degree it'll come down to seeing what works best for you.
Let's first cover a couple of general guidelines I like to follow that are applicable to everyone:
ONE: Fruit (fresh/whole) is always better than processed sugar.
TWO: Fibrous veg is always better than fruit.
Now let's get into some questions to access what might work best for you:
FIRST: What's your current carb quota?
I'm not recommending that everyone eats low carb. I am advocating that the carbs you eat are high quality and also that if you want to give eating less carbs a go then you're aware of the sneaky carbs that can creep into your day.
Stuff like yoghurt, beans and legumes and of course FRUIT.
I don't want to talk grams of carbs to aim for in a day because your goal, your activity level and YOU are different to me however a solid guideline is: Rather than build your meals around processed carbs like cereal, bread and pasta instead build them around fibrous veg carbs. 
The fruit you then might add to these meals is a natural sweetener rather than the main event.
=> perhaps half a cup of berries in your green smoothie.
=> maybe some nectarine in your salad.
=> possibly half an apple spread with nut butter as an after dinner snack.
SECOND: Where does fruit rank on your most loved carbs list?
If you love fruit more than bread or pasta or even alcohol – which isn't officially a carb – however I count it on the carb team so far as it's potential effect on my body composition… well then you're probably going to want to include a bit more fruit in your day than someone like me.
I really enjoy fruit, however I'd prefer a bread roll, a roast potato or a glass of wine anytime.
I guess the question is, since you can't eat limitless amounts of everything: What do you enjoy most?
=> if you're eating fruit because it's "a quick, healthy snack" then maybe try a handful of nuts instead.
=> if you order fruit salad and yoghurt "to be good" then please give the omelette or eggs and sides of your choice a go instead.
=> if you have a juice or fruit smoothie as a "light lunch" how about swapping to a more veg based smoothie – with protein AND good fat added. It'll have less sugar and keep you satisfied for longer.
My current breakfast smoothie is a handful of Kale, a handful of spinach, 1/4-1/3 of a cucumber, 1/2 teaspoon of spirulina, 1 tablespoon of LSA, a scoop of vegan protein powder and about half a cup of berries OR half a green apple – blended with water.
THIRD: How high value is the fruit you're consuming? 
This is where I jump back on my one ingredient food band wagon. So far as micronutrients there is value inall fruit however don't be fooled by the clever marketing that tries to trick you into buying processed rubbish in packets that claim it has (a scrap!) of REAL FRUIT.
The best fruit has no packaging, no marketing required. It's going to be sitting there all fresh and lovely and recognisable!
Equally juicing your fruit encourage you to consume vast – excessive – quantities. It also extracts – wastes – the filling fibre and leaves you with just the sugar-water.
On the subject of organic?
Best case scenario I choose organic especially if the fruit (or veg for that matter) does not get peeled. It's not always possible as it's expensive however the way I see it, is it's further encouragement to choose smaller amounts of high quality.
I went for a few years with no fruit in my regular routine (a HEAP of veg though) and currently I have about 1/2 a piece a day.
That works for me however as with everything body gain it's a matter of finding what works for YOU?
To get actionable today let's go with one fruit upgrade.
Is there a fruit in your day that comes from a packet or a can that you can upgrade to whole unprocessed? On that note I'm fine with frozen as long as the fruit is the only ingredient in that packet.
Or, perhaps are you currently consuming fruit as a part of your day NOT because you love it but rather because it's quick, easy or you're trying to be healthy? If that's the case then perhaps try another one ingredient quick-easy-healthy option like that handful of nuts, a boiled egg or even some veg (I like kale or brussel crisps or red capsicum with zucchini hummus).
That's it for today… in tomorrows Wednesday Weigh-in show I'm covering: Farming v. Hunting And How It Applies To Your Body Gain Goal.
If you liked this you'll also like: Fat Loss Fuel Cheat Sheet: Safe Snacks
If you're yet to share the Healthification love – just click here to zip over to iTunes and leave an honest rating and review. It'd help me out big time. With gratitude, Kate.