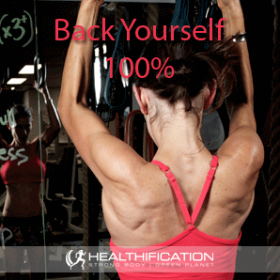 Podcast: Play in new window | Download
Subscribe: RSS
This past long weekend I did a little detox. I was away for the weekend and it seemed like the perfect opportunity.
Not the cut the protein – sacrifice sexy lean muscle type that I've previously shunned… rather, a cut the dependance on the internet – disconnect to reconnect: DIGITAL DETOX.
I've felt the need building for a while now. 
Generally I'm very structured with my time. I'm also NOT a fan of multi-tasking. So when I'm working I'm focused – no email, or social media or SMS interruptions. However here's where I was letting myself down and where YOU may be letting yourself down too:
I was not the least bit structured or focused or disciplined with my downtime.
As the iPad crept into my bed, so did Facebook.
Tracking important numbers in my business spiralled into obsessing over important numbers in my business.
I started to think about the photo I should take rather than just enjoying the meal, the workout, the view – the moment!
I'm sure I was addicted to that little endorphin hit you can get when checking email, or social media or stats.
For the first quarter of this year – actually probably longer – I've felt like I've have no downtime.
And I can't think of one single benefit to that always on approach.
So this past weekend I enforced a Digital DETOX… and you know what?
I can't think of one single repercussion.
It was awesome. FREEING. Such a positive experience that I'll be doing it for 24 hours each and every weekend.
If you're not yet sure if a Digital DETOX would be of value to you well here are 3 of the many benefits I experienced… and of course how they apply to your body gain goal.
One: The Comparison Game. 
This is a game you do not want to be good at. Facebook, Instagram, YouTube, Personal Blogs and likely anywhere online can be the perfect environment to invite you to play the comparison game. It's where you compare yourself (and of course this is honest, uncensored YOU) with the online personal (perhaps highlight reel) of someone else.
It can be utterly disheartening. As much as online has the potential to inspire and motivate it can also make you feel inadequate if you let it.
The question I recommend applying to any potential comparison game activity – the question that I'll be asking myself is:Will I feel better for engaging in this? 
If it's going to inspire you to do that workout… make those nutritious meals on mass… or give your fridge and pantry an overhaul – Go For It – if not well it's best to STOP as those finger hover over the keyboard.
To resist ending up on that site that leaves you feeling rubbish and instead perhaps compare YOU with where you were this time 12 months ago.
Two: Appreciation and Connection.
I believe our excessive digital connectivity can tempt us to take our face to face interactions and relationships for granted. To often be less connected. I'm big on appreciate and gratitude however I think I need to get bigger on appreciating the people I'm with when I'm with them.
Even telling them that.
It's so easy – and lazy – to 'Like' a status update or send a text.
To get caught up in your own schedule of busy'i'ness and ignore the opportunities for appreciation and connection you're given each day if only you looked up from that smart device.
The question to ask here: Can I appreciate and connect more in this moment if I do it NOT through the filter of the device I feel so lost without?
The thing that I found most surprising about my digital detox is how keen I am to keep going. I like being lessONline.
I'm beginning to believe I let a series of bad habits build and become the on-auto-pilot-norm without ever assessing the value or even the FUN in each little digital distraction.
If you can relate to checking Facebook each time you're stuck in a que… pouncing on each email as it arrives… or getting lost online as you crawl into bed and find your iPad on the bedside table instead of getting an extra half hours sleep then the approach I'm now taking might work well for you too.
The easiest way to ditch a bad habit is replace it with a good habit. Bed time for me is now time for appreciation. 3 gratitudes written old school style with pen and pad – and the iPad and iPhone are out of bounds.
Three: Reflection and Rejuvenation.
As my plane landed in back in Sydney and I sat gazing out the plane window at the stunning sunset airport scene reflecting on the trip I'd had and the weeks to come the last thing I wanted was to flip open that iPad that had sat on my lap the whole trip and get sucked into other peoples worlds.
It so often happens on auto-pilot though.
It fuels our mind with more info… more questions… more concerns and less opportunity to reflect on everything we've currently got swimming around in our mind.
I'm not sure about you however the one thing I don't need more of is information. 
I actually just need to reflect on what I've got already. Ideally to do that when I'm feeling fresh and rejuvenated. The funny – SAD? – thing is that a lot of the things we feel constantly pressured about, that suck our energy and lead us to belief we have zero downtime are of our own construct.
The world didn't stop for my digital detox. I bet I could delete every single email in every single account I have and life would go on too.
I've heard of people doing that before. I'm not quite there however absolutely I'm committed to being more OFFline.
The quote for today's show is from Bill Watterson, "We're so busy watching out for what's just ahead of us that we don't take time to enjoy where we are." 
I guess the solution is balance.
Something I regularly struggle with. It's funny it took me so long to realise what works for me in other areas of my life – and that is: GUIDELINES to encourage some balance is going to be the digital solution too. In the same way that with the actions you DO having a routine will set you free… with the digital actions you DON'T DO routine will set you free.
My new guideline to follow and routine to create is 24 hours each weekend digital detox. To get actionable today, I'd love you to try it too.
I'd really love to hear how you find it as well. You can let me know via the comments below.
That's it for me today.
I'll be back tomorrow with the Tuesday Tucker show and: How many fruit servings do you recommend in a day?
If you liked this you'll also like: Confused About What To Eat To Lose Weight?
If you're yet to share the Healthification love – just click here to zip over to iTunes and leave an honest rating and review. It'd help me out big time. With gratitude, Kate.