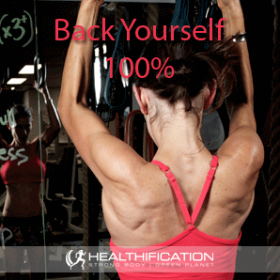 Podcast: Play in new window | Download
Subscribe: RSS
In this episode I share why Time. Money. Genetics. Even Food and Exercise all are minor insignificant little players so far as your ability to stick to a diet and exercise program.
There's so much more at play. Thankfully it's all 100%-without-a-shadow-of-a-doubt within your ability to change.
Here are the show notes for the original episode: 4 Biggest Problems You'll Have Sticking To Most Diet And Exercise Programs.
Dig this? Cool! On the 2nd Jan 2015 I hosted a live webinar to share: How To Program Your Thoughts To Create The Fit, Lean, Healthy Body You Were Born To ROCK 24/7 365 Days.
If you missed this FREE LIVE Webinar – that's all good – the recording will soon be available.
[UPDATE 04.01.15] Happy New Year!!! Here's that REPLAY LINK: