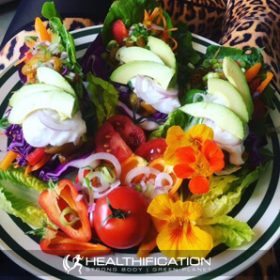 Podcast: Play in new window | Download
Subscribe: RSS
Although I'm going to share some new plant based recipe wins with you today first I have a question:
Do you have something – a belief about YOU – that you regularly repeat to yourself that just isn't true?
I have many. For years I had hang ups about my eyes. They don't work so well and they can go a little wonky and I'd get insecure about making eye contact. I turned something not so big into a really big deal. And then, at 16 my first boyfriend wrote me a love letter (does that still happen – maybe it's just in text format now?) talking about my "beautiful green eyes" and I was was pretty much cured of my irrational, out of proportion eye hang up.
For may years I also nurtured the limiting belief that I'm not a good cook.
It's true, if I were to compare myself to my mum – who is an AMAZING cook – who has a global reputation for her stunning cheesecakes, perfect pavlova's and irresistible friands (among so many other things) well then I'd come up seriously lacking. However dessert isn't my forte.
Delicious, nutritious, primarily one ingredient, high protein, low carb vegan is my forte! And that, I'm beginning to accept I'm pretty ok at!
Before we get rolling with 3 New Plant Based Recipe Wins: Watermelon Pizza, Jackfruit Tacos, Loaded Sweet Potato, I'd love you to consider the belief YOU might have that's holding you back?
Perhaps you also subscribe to the: "I'm a rubbish cook" or even "I don't have time to cook" belief?
Or maybe you're holding tight to: "I need meat to enjoy a meal, feel satisfied and function effectively"
Onwards with some plant based deliciousness…
Watermelon Pizza.
This is perfect for breakfast, desert or a snack. The options are limitless.
You'll need:
Watermelon: Either a whole one you can cut a huge pizza shaped disc out of OR if you're crafty (and like me, not a perfectionist about your kitchen prowess!) you can arrange 4 quarter sized slabs into a round disc shape and disguise it with toppings!!
Toppings: I started with a base of coconut yoghurt. Like anything some are highly average and some are outta-control-DELICIOUS! I love the No Udder brand. Now add whatever fruit, nuts, seeds you love / are in season / are handy at home! I used sliced strawberries and mango. Also pecans, pistachios, roasted almonds and pumpkin seeds. I decorated it with edible flowers and if I had the will power to keep the stuff at home I'd also drizzle it with a nut butter.
Loaded Sweet Potato.
This is a higher carb meal than I'm used to. I wanted to try it though and it was pretty yum. In the future I'd probably share 1 large sweet potato between 2 people and create a huge salad to go with it so there's a lot more fibrous veg.
You'll need:
A Large Sweet Potato: Wash and prick potato multiple times with a fork before baking at around 200 – 250 degrees for at least 45 minutes until tender (mine took closer to an hour and 15 minutes).
Toppings: 1/2 bunch of Kale. 1/2 can of black beans. 1/2 tablespoon of extra virgin olive oil. 1/2 clove garlic. 1/2 bunch of asparagus. 1 tablespoon of hemp seeds. I used a recipe from Kara Lydon and just added the asparagus for more fibrous love and the hemp seeds for more protein. Because audio might not be the ideal format for recipe sharing (!) all you want to do is cook the garlic in the olive oil then add the kale and then the rinsed black beans. Check out Kara's full details and pretty pictures though!
Green Goddess Dressing: This is an avocado and herb based dressing. Again I used Kara's (though used my fav herbs: basil and coriander) and it was very good. I've also bought delicious ones before. If I was being lazy (and I often am!) I'd just go with some smashed avo and it'd still rock!
To assemble:
Seperate your lovely baked sweet potato down the middle. Load it with kale and black been mix. Layer over cooked asparagus (I put them in with the potato when it was a few minutes off finished). Generously add dressing or sliced avocado. Sprinkle with hemp seeds to finish.
Jackfruit Tacos.
This was my first attempt at Jackfruit and I'll certainly be making it again! I used canned as that was all I could find and followed a recipe for the Jackfruit from Thug kitchen. The recipe was for a sandwich so I just turned it into Tacos with ALL the toppings!
You'll need:
For the Jackfruit: 1 20 ounce cans of jackfruit in brine, chopped. For the marinade: 1/8 cup veggie stock, 1/8  cup soy sauce or tamarin, 1 tablespoon vegetarian oyster mushroom sauce (I used extra soy), 1 tablespoon lime juice, 1 tablespoons maple syrup, 1/4 inch finger-sized piece of ginger, skinned, 1/2 clove of garlic, 1 spring onion, chopped. Again for full details check out the link to the gents at Thug Kitchen however the marinade is just a matter of blitzing everything in a blender. So far as the jackfruit, you want to drain and rinse it then separate it into bite sized pieces in a medium bowl. Pour in marinade and let sit for 1-3 hours. To cook you'll need 1/2 tablespoon of unflavoured oil in a frypan over a medium high heat. Scoop the jackfruit out of it's marinade and sauté until it goes brown in spots (it gets quite golden and caramel'y).
For the Tacos: Cos lettuce leaves and cabbage leaves.
Toppings: Coconut yoghurt (1 tablespoon per Taco). Sliced green, red and yellow capsicum, red onion, spring onion, coriander (or your herb of choice) and red cabbage. Grated carrot. Sliced avocado. Plus a tablespoon of hemp (or other) seeds per person. (this should serve 2-3 however I ate it in a sitting!)
To assemble:
Arrange cos and cabbage taco shells on a big plate. I used 3 large leaves of each (a cos sitting on top of a cabbage – it's going to be messy regardless though!) plus extra for decorating. First line your tacos with sliced capsicum, cabbage and carrot.  Then scoop in the jackfruit. Now add a tablespoon of coconut yoghurt to each taco. It'll hold in place your avocado, red onion, spring onion, coriander and hemp seeds.
The recipe that doesn't make the cut for todays show is banana pancakes. It tasted pretty super awesome raw – and then I added it to the fry pan and everything got sticky fast! I'm going to work on it – perhaps ask my mum for some tips (!) – though I know I tripped up by trying to rush straight to lower carb higher protein by swapping out oats for chia seeds!
To get actionable today: Have you been thinking of that belief YOU might have that's holding you back?
I'd love you to challenge that belief this week. Perhaps that means getting your cook on (!) and trying one of these recipes?
Maybe it's a matter of asking:
When did I start to believe that?
And Why? OR, Who first led me to take on that belief?
And is it still valid? OR (one of my favs), How's that belief working for me?
That's it for this week in Healthification. Huge across the pod-waves thanks to YOU for sharing this week with me.
The Healthification podcast is proudly bought to you by my FREE 'Easy Vegan' plan. It took me 25 years to transition from a meat eater to a happy, healthy, non-judgemental Vegan! You can do it in 7 short days with my simplified 'easy vegan' plan!  Get the fit, strong, and healthy plant based body you deserve…while avoiding ALL the mistakes I made along the way!
Learn more here:
Till next time, remember Creating a body and life you love is Freedom. (If this ex-carb queen, NON-genetically gifted, naturally uncoordinated VEGAN-chick can do it – so can YOU!!!)
If you liked New Plant Based Recipe Wins: Watermelon Pizza, Jackfruit Tacos, Loaded Sweet Potato, you'll also like: 5 Healthy Plant Based Substitutes
If you're yet to share the Healthification love – just click here to zip over to iTunes and leave an honest rating and review. It'd help me out big time. With gratitude, Kate.