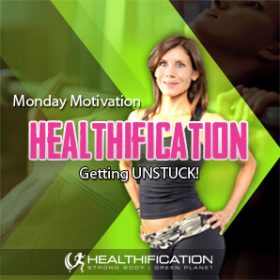 Podcast: Play in new window | Download
Subscribe: RSS
As I record todays show we're hurtling towards the end of the year.
I imagine there must be an age where life starts to slow down? When perhaps the weeks drag by as slowly as when we were kids – however at a few days shy of 41 (!) my years certainly are only speeding up. Can you relate?
Equally, what a quandary that the days can fly and yet your actual progress is markedly… meandering. Decidedly… dragging.
Of course I'm speaking for ME – however if you can relate, then today I hope I can help us both so far as:
Getting UNSTUCK!
As I read through the 5 steps I recommended a couple of hundred episodes ago they absolutely all still resonate however #5 is my current fav.  
The one I could definitely get better at.
I perhaps didn't give step 5: Change Your Routine, the focus it deserved in the original show.
It's one of those double edged swords. Routine can be a HUGE help. Especially daily habits like meal prep, exercise, meditation and gratitudes. However clinging too tight to routine – are YOU clinging?! – can also keep you stuck.
If your usual solution to attempt to get yourself unstuck is just to work harder. Rigidly dig in. Stoically push harder. Stubbornly ask more of yourself… then my recommendation to us both is that perhaps we could try to be a little more flexible? To mix it up?
Even, to EASE UP?!
I want to make this intro a little actionable so before we power into the original episode here are a couple of change your routine suggestions to help you get unstuck.
Do your creative thinking / dreaming in a different space.I first heard about this concept via Walt Disney. One of Disney's animators described three distinct roles Disney played:
The Dreamer – the visionary who dreamt up ideas for films and business ventures.
The Realist – the pragmatic producer who made things happen.
The Critic – the eagle-eyed evaluator who refined what the Dreamer and Realist produced.
Beyond that apparently Disney would have a different physical space in which to play each role. I love this idea – I heard about it a couple of decades ago and need to revisit it. Whether your different space is simply a different chair in your normal work room or perhaps it's a spot in nature, the idea is to be able to immerse yourself in your imagination to the exclusion of all else. Also, to take the time to sharpen the sword rather than hacking away ineffectively at whatever issue is keeping you stuck. 
Consciously decide on a few changes or breaks from routine you're going to embrace GUILT FREE. I find I can be prone to wasting more energy giving myself grief for something I didn't do than the time I spent doing something supposedly un-worthwhile. There's a skill, art and discipline to knowing when to just chill. To knowing when you actually need that break. Perhaps that's:
A sleep in.
A long afternoon coastal / bush walk.
Canceling your day (though ideally not appointments with anyone else!) to enjoy a leisurely lunch with a girlfriend.
Onwards with todays encore episode, Getting UNSTUCK!
Here are the show notes for the original 284 episode Getting UNSTUCK!
The Healthification podcast is proudly bought to you by the 30 Day Plant Strong Jumpstart. Over 30 Days Sculpt a Fit, Strong, Healthy, Body Simply and Sustainably.
This 59 page PDF with daily supporting email series shows you how to create a fit, strong, healthy smokin' body while eating Delicious, Nutritious, Healthy Vego or Vegan food. For the 1st 100 people you also get UNLIMITED PERSONAL SUPPORT, motivation and accountability with 30 Days FREE access to the Strong Body Green Planet Community. Essentially you'll have your own vegan health coach for 30 days!
Learn more here:
If you liked Getting UNSTUCK you'll also like: 6 Work-out Mistakes That Keep You Stuck.
If you're yet to share the Healthification love – just click here to zip over to iTunes and leave an honest rating and review. It'd help me out big time. With gratitude, Kate.