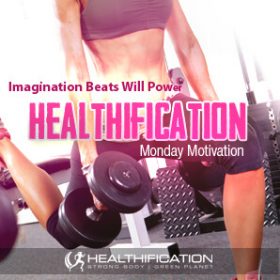 Podcast: Play in new window | Download
Subscribe: RSS
When I was about 15 I went to a sleep over at a girlfriends house where we watched The Silence of the Lambs. A group of terrified chicks cowering in sleeping bags in an all too spacious pitch black lounge room hanging with serial killer Buffalo Bill. At least that's what it felt like. There was zero chance anyone was risking a trip to the bathroom.
The fear was very real. 
I'm sure you've had that feeling too, whether it's with the Aussie horror 'Wolf Creek' which is now my most terrifying movie ever or perhaps 'Hostel' which I couldn't even finish… the point is your brain does not know the difference between what is real and what is imagined.  
And that is powerful.
In todays show I'm sharing why Imagination Beats Will Power and how to use it to your fat blasting advantage.
Perhaps you've been in the situation before where you turn the full power of your imagination onto that cake… those hot chips or perhaps the vanilla-bean-ice-cream-with-a-sea-salt-caramel-swirl-coated-in-rich-dark-chocolate.
It's not often that will power alone will muscle that ice cream out of your mind and out of your grasp, especially if it's within reach.
The solution is to instead unleash your imagination in the direction that makes it easy for you to make the choices that support your best body choices.
Let's get specific:
Imagining how good food tastes is fairly easy…
Likewise imagining how cold it is outside of your cosy bed…
Or how tough that work-out you've got scheduled will be, is also quite easy.
It's the path of least resistance and I'm going to say lazy. Lazy is the action that doesn't get you the result you want. Unless you're being lazy with volition as I am every sleep-in-Sunday, however I digress…
It's been said imagination can be the solution to all our problems and I absolutely agree.
It's just a matter of how we channel it.
Do your best to ensure it's not an excuse to resort to lazy actions and inactions.
=> When I imagine how challenging my interval training is I immediately switch to instead imagine how good I'll feel when it's over.
=> When I walk past that sandwich board advertising the latest premium ice-cream flavour I switch to imagining that ice cream stock-piling stubbornly as flabby, wobbly thigh fat.
Think of your imagination as:
1. The fire that fuels your motivation.
Imagine how your body looks, feels and performs once you have achieved your goal.
Perhaps as you imagine being able to rock into any shop and feel confident in whatever you try on.
Or maybe as you imagine being excited rather than traumatised at the prospect of bikini time. Possibly picturing finishing your first fun run is more your thing – the important factor is if you can imagine it, it's potent motivation fuel.
2. The solution seeking partner to find a way out of any situation.
Generally when you feel stuck without options or choices it's a result of limited thinking. Of allowing your mind to get caught up in rehashing old habits, ineffective actions and un-resourceful beliefs. Your imagination is an open door where anything is possible. It used to be as a child right?
It absolutely can be again.
It's simply a matter of opening your imagination up to the choices and the resourcefulness you do have,
3. The opportunity to create a future that knows limitless potential AND has zero correlation to your past.
For what purpose would we ever base our future dreams on our past regrets, failures, mistakes and hardships? However I know, I've certainly allowed the past to colour my expectations for the future.
That is absolute rubbish! Let only your positive reference points for success and self belief colour the future you imagine for yourself.
This is best summed up by my quote for today, in which I'll hand over to Stephen Covey "Live out of your imagination, not your history". 
Ok, let's get actionable.
I'd love you to take one situation in which you currently are in the habit of turning your power of imagination to focus on what won't get you to take the desired action and for the next 7 days see what happens when you start to imagine the best, the positive or the results instead.
Take it for a spin and if you like the outcome.
That's it for today. I appreciate you spending this time with me, so thank you. Go use that powerful imagination of yours for good and I'll be back tomorrow to chat about: Sneaky UNhealthy Health Foods.
If you liked this you'll also like: How can I build my will power to do what I know?
If you're yet to share the Healthification love – just click here to zip over to iTunes and leave an honest rating and review. It'd help me out big time. With gratitude, Kate.