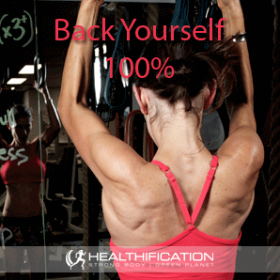 Podcast: Play in new window | Download
Subscribe: RSS
Isn't it true that many of the things you now 'do' really well are as a result of all the time you spent doing them not so well? The Learnings.
There is no failure only feedback. In todays show I'm sharing my most valuable fat loss feedback. My answer to the FAQ: What Would You do if You Had To Start Again? 
Learning gathered over the past 15+ years since I first joined a gym and decided to transform my body.
1. Focus on my MINDSET before anything else.
Yes, Brain b4 Body. I wasted years reliant on discipline. FIGHTING MYSELF! Rather than consciously aligning my ideal health with everything that I'm naturally
drawn to. The values I most covet and the personal identity beliefs I live by. I talk about my Brain b4 Body approach making fat loss easy.
The trick is to create the mindset that makes it easy to DO the things you used to find it difficult to commit to consistently.
2. Seek out Mentors that both inspire and stretch my definitions of success.
People who are achieving through their bodies – their business's – their attitude to life – their gratitude and generosity, success that explodes my old comfort zone. I used to hang on to the old excuse that I couldn't afford the right mentor. Or I didn't have time.
I now believe that's lazy, stubborn and ignorant. There are great mentors to be found online for free. Yes, it'd be easier to have the money and time to throw at the best mentor cash-o-la can buy however the results come from implementation not access and even more-so from modelling your mentors attitude more than just their actions.
This is proven time and again with my personal clients, the ones that get the best results are not the ones that spend the most money they are the ones that implement.
3. Back myself. 100%. To have absolute certainty in my ability to achieve whatever I desire so long as my
intention is always genuine.
This isn't about arrogance or delusion. It's about harnessing the natural human need for certainty – which I absolutely strongly seek out – and rather than allowing it to play out as an un-resourceful and limiting resistance to change to turn it into an empowering certainty of self.
To back yourself is to simple believe that no matter what circumstances are thrown your way you are in control of the way you response and you will come up with the goods.
4. Eat less Carbs and do less Cardio. Yes, I LOVE carbs too. It took me years… however I've decided I love being my goal health even more. I've admitted that I can either guzzle carbs 6 meals a day 24/7 like I used to OR have the body I want 24/7 365 days a year.
Not both.
When rational NON-mitts-in-the-box-of-crunchy-nut-cornflakes-Kate looks at it that way I can appreciate there's more joy and fun and confidence in the body then in the short term satisfaction of refined carb-o-la crap-o-la.
Re Cardio? I was scared to do less cardio. 
My first few gym obsessed years I felt like I was just hanging on to my 'almost how I want it' body. Although I did lift weights I was also still on the do-excessive-cardio eat-excessive-carbs cycle. 
Point #2 helped me with this one. I noticed my mentors for how I want my body to look didn't live in cardio land… and the cardio queens at the gym didn't have the body I wanted.
Gradually I relinquished my reliance on carbs and cardio.
5. Eat a greater variety of veggies and more good fats. 
At each meal. If you're getting all of the micro-nutrients your body needs from a huge variety of filling, fibrous veggies, eaten with
satisfying protein and good fats you won't get those crazy cravings for processed crap-o-la.
Once you cut the refined rubbish you'll also notice how much sweeter natural stuff like veggies taste. You'll be able to enjoy substantial serves that are more satisfying to your stomachs eye. And you'll escape the energy highs and lows that come as a result of high GI food induced blood sugar spikes.
I'd love you to quickly benefit from my slooowly learnt lessons so let's make this actionable.
I'm going to mix it up a little today with 3 actions steps in the format I include in my weekly email series which starts when you grab my free e-book '7 Costly Mistakes That Frustrate Your Fat Loss'.
So there's one for:
Fuel (which is food).
Move (which is exercise).
Life (which is time).
If you like the sound of these actions steps you'll find the email series opt-in in the search box at the top right of this post.
Ok, lets get actionable…
1) FUEL: Boredom is a big block to healthy eating. Thankfully with age our palates change as our 9,000 taste-buds' reactions to stimulants mature. I used to hate asparagus, brussel sprouts & broccoli…now they're all on the LOVE list!  Try 3 veggies you hated as a kid and let me know if
you're pleasantly surprised.
2) MOVE: *this is perhaps my best tip* If I only had 3 hours to commit a week & my
goal was fat loss…I'd split it into '2' 45 minute intense, minimal recovery weights sessions & the other 90
minutes to plan & shop for my weekly meals. If you're not yet training with weights ditch a cardio session or 2 and start lifting.
3) LIFE: How you start the day sets the tone for the rest of the day. Your morning mindset is key. Say yes to you by getting that quality breakfast and early am exercise session in 1st
thing.
Ok, that's bring us to the end of this week in Healthification.
Super huge thanks to you for hanging with me this week – I appreciate it and I absolutely value and welcome your questions, feedback and suggestions!
If you liked this you'll also like: How Certainty In Yourself Beats Weight Loss Overwhelm:
If you're yet to share the Healthification love – just click here to zip over to iTunes and leave an honest rating and review. It'd help me out big time. With gratitude, Kate.