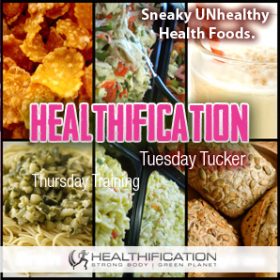 Podcast: Play in new window | Download
Subscribe: RSS
There's only one thing more frustrating than exercising hard, eating rubbish and not losing weight… and that is exercising hard, eating food you think is healthy and still not losing weight.
You get to endure the work and suffer the restriction without enjoying the results.
Today's Tucker show lifts the lid on Sneaky UNhealthy Health Foods. Foods I've been fooled by, that masquerade as healthy and yet are anything but.
Whether its:
Fake and nutritionally-void fraudsters.
Misleading-serving-size trigger foods.
Or simply the common food that clever marketing has convinced us is healthy… that actually is not at all.
Today let's look at some simple swaps to trade in those sneaky unhealthy health foods that may be sabotaging your results.
1. Fake and nutritionally-void fraudsters.
Any time a food has to advertise to you everything it doesn't have I'd be weary of what has taken the place of whatever they've taken out. Diet this, Low fat that… Sugar free-yet-artificial-sweetener-injected you get the picture…
Some of my past fake fiends include: diet yoghurt, diet soft drink, low carb chocolate protein bars.
How did I give up fake?
It was actually really easy using an emotionally charged association. 
I was lucky enough to know I guy at that time who was really fake. He was completely not genuine and I had zero respect for him. Now bare with me while I go a little unconventional… I associated fake food with this guy. Fake and fake right?  I basically made the rule for myself that eating such and such crap-o-la fake food means I'm being fake like him.
Part of why it worked so easily for me is that being genuine is super important to me. As such, being fake is hugely unappealing. I don't want to be fake. I don't want to be around fake. So why on earth would I feed my body fake?
=> Your replacements for any fake and nutritionally-void fraudsters in your life: greek yoghurt, sparkling mineral water, nuts, seeds and fresh fruit.
2. Misleading serving size trigger foods.
As much it's true that the packets you buy your food in will do their best to fool you… there is also a time for being brutally honest with yourself.  Although 200gm of cashews is better than 200gm of chocolate – you know 200gm is not a single serve right?
Some of my past serving size saboteurs include: any sort of sauce or dip like hummus, pesto and of course nut butter and nuts…
How to get beyond misleading serving sizes?
I still struggle with this one.
=> A good start is to buy in portion controlled amounts. Or if you have an absolute deal-breaker food you have zero self control around, to just not buy it.  
That may sound harsh however it does not matter how healthy something is if you consistently eat 6 times the serving size and feel guilty about it… then it's not healthy for your waistline or emotionally.
3. Common foods cleverly marketed as healthy.
I'll admit it. I'm a sucker for marketing.
And that's ok if it's not causing any harm. If I pay more for the jeans or the gym gear that appeals to the lil marketing tragic in me I'm ok with that. However, it's not cool if you genuinely want to feed your body the fuel that keeps it lean and energized and instead you're clogging it up with crap-o-la.
Some of my past marketing mistakes include: tofu or soy, cereal and juices or smoothies.
Ok, I'm getting a little controversial on this one right?
I've covered the estrogen mimicking effect of SOY in a previous show so I won't dig deep with that one today – further than to say, if your estrogen levels get outta whack it'll lead to extra fat storage in estrogen sensitive areas… like your hips and thighs.
Moving on to CEREAL, the almost admirable marketing success story. How to take a cheap easy to grow crop like grains which yield a high calorie-per-unit ratio, but terrible nutrient density compared to every other food available and sell it to the mass's as the healthy solution to the then demonised fat.
I do believe some people metabolise refined carbs better than others.
Not everyone will be hugely adversely effected by consuming large quantities of refined carbs, HOWEVER if you've been struggling with getting to your goal weight and you haven't given switching your breakfast out of a packet a go (or perhaps your easy-anytime-snack as it used to be for me) then it really is worth doing.
=> The alternative is either to build the breakfast bowl of goodness with no processed extras.
With nuts, seeds, fresh fruit, oats… whatever one ingredient foods you love. Or to stick to porridge. Or you guessed it… I'm never going to go past breakie without recommending eggs!
Finally, JUICE and SMOOTHIES, the liquid sugar hit or a power-packed blast of beneficial micronutrients.
If your juice or smoothie has all the ingredients of a dessert – just blended conveniently so you can consume more – then no matter how healthy and natural it's marketed to be, it's best avoided.
Like the huge banana smoothie I used to be so fond of: with skim milk, frozen yoghurt, banana, honey and malt.
Nothing too nasty there right – and absolutely fine worked into a maintenance eating plan… however if fat loss is your goal that's a huge dumping of calories – mostly carbs – on your body in one fairly unsatisfying hit.
=> The alternative is to build the juice or smoothie that looks more like a salad than a dessert.  
With 2-3 times the ratio of fibrous veg to fruit, a non-dairy liquid like coconut water or almond milk, some good fat like nut butter or avocado and ideally some protein powder too.
2 Considerations To Help You Ditch an Unhealthy Health Food:
1. Notice how you actually feel after consuming this food. Physically AND emotionally. Yes, you may get some short term enjoyment thinking about consuming and also in the time it takes to eat it.
However, than what?
Do you feel guilty… like you've let yourself down. Or maybe bloated… unsatisfied or lethargic.
Is there a short lived energy spike followed by a slump that leaves you unproductive and seeking out another fake fix?
Quality fuel can be just as enjoyable to eat. However the difference is that enjoyment factor hangs around after you've finished eating. You are guilt free yet satisfied with consistent, reliable energy.
2. Take stock of how much time and energy you commit to thinking about this food. Does it occupy valuable mind time that really could be better spent?  
It's natural to get enjoyment from food, however it's no fun if it's all-consuming. I used to get really strong cravings. For carbie, fatty, sugary stuff like hot chips and sour lollies and caramel chocolate.
In hindsight it really wasn't fun thinking about foods that I knew I shouldn't be eating and fighting the urge to indulge.
The simple fact is you crave what you eat. And that fake stuff is manufactured to induce strong, overwhelming cravings. In contrast the slight cravings I now feel for fresh veg or protein or good fats are so much more – well natural – that I feel completely in control of them and of what I chose to put in my mouth.
Time to get actionable.
Through-out todays show I imagine there's a food you've been thinking of that is a sneaky unhealthy health food. It might not be on the list I covered however it's in your regular eating routine and it's not doing you any favours.
Your action step for today is to find the switch – the food you can enjoy instead – that'll allow you to creep that sneak of a health food right out of your house.
That's it, just one food eviction. I've got a a whole bunch more actions for you to take on tomorrow if you're up for it. In the wednesday weigh-in show I'm covering my fat elimination standards.
I hope you can join me.
If you liked this you'll also like:  7 Sneaky UNHealthy 'Health Foods' (and what I now eat instead)
If you're yet to share the Healthification love – just click here to zip over to iTunes and leave an honest rating and review. It'd help me out big time. With gratitude, Kate.