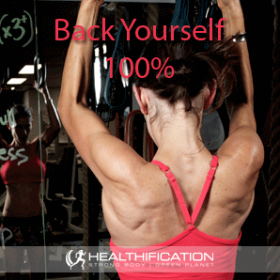 Podcast: Play in new window | Download
Subscribe: RSS
I think you may have noticed by now, I'm a bit of a rules girl.  As long as I set them myself.
Having rules or standards as I prefer to call them just makes the daily decision making process easier.
I actually find it freeing. I love that I no longer waste time with the exhausting self negotiation that used to happen before I was clear on my standards.
In today's weigh-in show I'm discussing: Fat Elimination Standards and also why high standards can be an excuse.
The difference between standards that are effective in guiding you to make the best decisions and impossible standards which are just an excuse… and in fact more like NO standards.
If you set your standards to a level that you can't possibly be expected to meet them… it's the perfect excuse to not even try.
I see this with the person looking for the perfect healthy takeaway – that often doesn't exist – so she resorts to a burger and chips or pizza instead.
She's flown straight from impossible standards to ZERO STANDARDS.
Or the guy looking for the ideal training program to slot perfectly into his schedule – that will never happen – so he never makes a start and never makes any progress.
His current standards are not high they are non existent. 
4 years ago I came up with the fat elimination standards to live my life by. The guiding principals that mean I'm never struck by indecision, so far as my health that is.
In the past 4 years these standards have made it easier for me to stay my goal body shape than I've ever experienced before… and in this time I've made only 2 slight adjustments to them.
The reason I'm sharing these standards with you today is not because they are the only way. They are certainly effective for me, however your personal standards will need to account for the following specific to YOU:
1. They will be aligned to your goal… so by that, I mean dependent on the size of your goal and how quickly you want to achieve it or how much effort is required to maintain it, your standards may be more or less extreme than mine.
2. They will be aligned with your core values and beliefs… Your values guide your decisions in that they are the states you are naturally drawn to and seek out both consciously and also subconsciously.
So for example: Freedom, Integrity and Passion.
The other driving factor behind your actions are your beliefs –  I covered them in show #006 if you want to check it out – however the important factor is when setting standards, for them to stick they will need to feel congruent with the beliefs you have about yourself.
Perhaps that you are a Genuine, Trustworthy and Family focused person.
3. They will need to allow room for fun, indulgence, VICE… however you like to view it, for sustainably and life enjoyment your standards need this little area of chillaxing the rules with volition!
A couple of other considerations:
One: Standards are non-negotiables. That's the whole point. There is no room for wishy washy sometimes standards… that would give you frustrating, self belief eroding NO-times results.
Two: Your Standards are yours alone and with regard to others this is a judgement free zone.
I found this one tough – perhaps I still need to work on it – like when someone who doesn't know me offers me a cigarette and I find the mere thought they would even offer so offensive that they feel bad about their personal choice to smoke.
Let's say I absolutely don't have a poker face!
It's actually one of the reasons I love podcasting and struggle with video – I've always been super expressive and incapable of hiding what I'm thinking… such as "I would never go near one of those death sticks"…
Ok, let's roll with these fat elimination standards. CLICK HERE to grab a PDF of these fat elimination standards:
Fat Elimination Standards:
Feeding Frequency 4 – 6 meals per day. This is one that I made a minor adjustment to. I believed 6 meals a day was the bomb for years. I know now it's quality rather than frequency. 4 meals works well for me as I never get crazy-over-hungry and equally I don't have to spend as long in meal prep as I did with the eating every 3 hours approach.
Avoid simple carbs (& even complex carbs at dinner -UNless I've just trained weights). The ditching carbs at dinner is just a positive restraint, it actually doesn't matter when you eat your carbs again it's about quality and quantity rather than timing… With the one caveat that your body is most primed to use your carbs as fuel (rather than store them as fat) straight after an intense work-out.
Train at a set time and love what I do. This is about creating a routine and taking the time to both find the exercise that's most enjoyable for you and at the same time to focus on everything that is and can be good about that exercise.
Eat natural, nourishing, non-fake food and drink. This one needs no further explanation.
Lift weights 4 times per week. The most vital component of any goal centered around body composition. Lifting weights lets you burn fat, choose your curves and build a cranking metabolism.
Include a cheat morning and rest day every week . This one is about sustainability and fun.
Multi-task cardio for time effectiveness (audio while walking the long way to the gym). One of the only times I'm down with multi-tasking. It will allow you to get in the extra movement that our increasingly sendentary lifestyle tries to cut out and also find the time for the audio books and podcasts that otherwise may also get squeezed out of your day.
Include heaps of veggies with lunch and dinner (& generally breakfast too). Fibrous veg will help you feel full, their low caloric density allows you to eat generous sized meals and their high micronutrient value battles annoying craving… Because those cravings are for micronutrients you're missing not a sugar fix!
Never be swayed by peer pressure / social inconvenience. Normal in todays society is unfit and unhealthy. If that not what you want then you're going to have to get good at out-planning inconvenience and at times being the odd one out.
Awake at 4.30am and walk 5-6 days per week. This is the other standard I made a slight adjustment too. It used to be 5am however I found the head start on my day that getting up that little bit earlier gives me so beneficial I started to set the alarm half an hour earlier. No matter what time you get up, if you struggle to walk each day then give yourself that extra half hour head start on the day.
Travel by foot wherever possible. This is my way of escaping boring cardio. I find it much more preferable to just walk more – like our ancestors used to – than to punish myself with machine cardio or to spend hours stuck in traffic or at the mercy of public transport.
Include lean protein with every meal. Protein is muscle fuel with the highest thermic effect of all food. Thats the amount of energy your body uses just to metabolize the food.
Organize my meals (always prepare multiple meals at a time). I believe any unsupportive food situation can be out-planned, it's just a matter of deciding its a priority and making the time to come up with your own quick, tasty and cost effective solutions.
Never start making excuses because where would I stop. Excuses build on each and eat away at your belief in you. The easiest approach is to simply not start with those excuses that have previously held you back.
To get actionable today you have 14 actions steps to choose from.
If I had to pick a favourite it'd be #14.  Never start making excuses because where would I stop. What is the reoccurring excuse in relation to your health that you're sick of hearing from YOU?
I actually believe there are a couple of ways to tackle reoccurring excuses.
One: to admit it's really not that important to you and funnel your energy elsewhere.
I actually did that with video – I was so over me – and my excuses not to record video.
Once I admitted it wasn't that important – at least not right now – because you can always change your mind and come back to it… that was the point where I decided to funnel my energy into podcasting instead.
Two: to admit just how important it is to you and stop wasting your time kidding yourself that your excuse is valid… and Yes, just do it.
That's it for me today.
In Thursday Training, tomorrow I'm covering: Your I.d.e.a.l. Training Plan.
If you liked this you'll also like: Consistency for Fat Loss v. Lean & Cut to Swallowed a Sheep!
If you're yet to share the Healthification love – just click here to zip over to iTunes and leave an honest rating and review. It'd help me out big time. With gratitude, Kate.