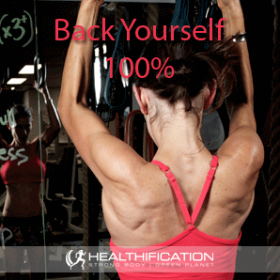 Podcast: Play in new window | Download
Subscribe: RSS
Todays fav work-out of the week is short and sweet. 
A half hour full body session for a gent I train in his mid 30's.
Now this guy is absolutely what I'd call genetically gifted – however don't hate him! – he only gets to train 1-2 short sessions a week as he and his wife both work very long hours and they have 4 year old twins.
So this is the routine he started his day with: at 5.45am.
My goal for this session is to combine the benefits of lifting heavy weights with the cardio effect of some slightly lighter movements for time. In case he doesn't make it to group training another day this week and this becomes the only exercise he gets in I want to ensure its a balanced high-bang-for-his-buck session.
So, if YOU'RE short on time and have access to a gym this is a great fat blasting workout however I'm also going to give you an equipment free version you could do at home.
It won't be as balanced however it will be effective.
Here's the gym version. Our structure is a circuit of just '3' big compound movements for 10 reps each. Followed by, at the end of round 1 a 4th exercise for time. At the end of round 2 that 4th exercise plus also a 5th exercise for time. At the end of round 3 – you guessed it – a 4th, 5th & 6th exercise for time and then also a 4-part (surprise!) core finisher.
So onwards the 3 exercise circuit, we'll call it A:
A)1. Barbell Lunge.
A)2. Flat Dumbbell Press.
A)3. Wide Grip Chin-up.
B)1. Kettle swing (30 seconds)
C)1. Renegade row (30 seconds)
D)1. Snatch to eccentric shoulder press (30 seconds each arm)
Finisher:
Dumbbell sit-up (10 reps each arm)
This is where you sit with almost straight legs, just a slight bend and then have one arm at a time holding the dumbbell (we started with 8 kilos) straight behind you and keep that arm straight as you sit up.
Oblique taps (20 reps)
We used a 15 kilo plate (ladies start with a 4-6 kilo medicine ball and work up to a 10 or 15! kilo plate)
V-ups (20 reps)
Reverse crunches (20 reps)
We only got through 1 round of the finisher however absolute you could work your way down to 8+8 of the dumbbell sit-ups and 16 of the other 3, then 6+6 and 12 of the other 3 and even 4+4 and 8 of the other 3 to finish.
That'd rock. My client instead chose the stretching option, funny that!
Ok so let's turn this into an equipment free routine.
Your 3 exercise circuit is:
A)1. 1.5 rep Split squat (12-16 reps each side)
A)2. Push up (12-16 reps either regular or try spiderman)
A)3. Body weight get up (12-16 reps)
B)1. Sumo in out jump squat (30 seconds)
C)1. Mountain climber (30 seconds)
D)1. Tricep dip (30 seconds)
Finisher:
Side plank oblique elbow to knee with hip dip & toe tap (10 reps each side)
Oblique V-up ( 20 reps)
Reverse crunch (20 reps)
Prone hold 60 seconds.
Again you can absolutely work your way down to 8+8 of the side plank number and 16 oblique v-ups, 16 reverse crunches and a 50 second prone.
Then 6+6, 12 and 12 and a 40 second prone. Then 4+4, 8 and 8 and a 30 second prone.
To get actionable today, you know the drill. Give either the gym based or the at home routine a whirl.
If there's anything you're not sure of just leave me a comment in the show notes below and I'll provide you with an explanation or alternative.
Additionally, if there's a type of work-out you'd like me to cover in the Thursday Training show I'd love to know?
That's it for me today. I hope you can join me tomorrow for the Friday FAQ show where I cover, Mental Toughness.
If you liked this you'll also like: 3 UNsexy Yet Impactful Components To Getting In Great Shape.
If you're yet to share the Healthification love – just click here to zip over to iTunes and leave an honest rating and review. It'd help me out big time. With gratitude, Kate.