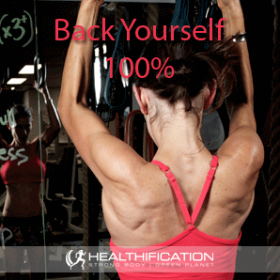 Podcast: Play in new window | Download
Subscribe: RSS
Some of the more frequently asked questions I get revolve around motivation and discipline and I guess just doing the do!
Another way to look at it is: Mental Toughness. 
I'm willing to bet that in whatever areas of your life you enjoy the most success… be it your career, your relationship, your role as a parent, your hobby – whatever it is – in that area it's not simply that you've been exceedingly lucky or purely just your abundant natural talent… it's that you have a Mental Toughness.
In todays show I want to cover: Mental Toughness AND how to cultivate it in relation to achieving your body gain goal.
Yes, absolutely mental toughness can be cultivated. It's an attitude you choose and a habit you build.
In fact I imagine when you think of the person who epitomizes mental toughness to you, it's not the silver-spooner or the over-night success.
Its the person who has had to dig deep and overcome some pretty challenging obstacles.
Here are: 3 steps to cultivate Mental Toughness,
One: PERSPECTIVE.
It's easy to be positive and motivated when everything's going well.
I remember at a really tough time in my previous business my new business partner bought a successful young gentlemen in to speak to our team. Now this guy was doing pretty well. He'd just started to grow a business in partnership with his cousin who ran the exact same business. It was a franchise you see. They were progressing nice and smoothly and good on them…However at the time my team and I were going through some seriously stressful things in the business.
Health, legal, financial, partnership things… it was the low point in my life.
I was hemorrhaging money and regularly resorting to taking cash off my personal credit card to put in the business account to pay the team on time. I was also in dispute with my new business partner, being threatened with a law suit from our landlord thanks to my genuinely well intentioned previous business partner and about to move business premises (do you know how much removalists do NOT want to jump onboard with a gym moving gig?!) ….basically I guess I needed to hear from someone who'd also survived a low point.
I remember I'd just get on the treadmill and run while listening to Tony Robbins or Brian Tracy audios.
It kept me sane when I was stuck at that studio 14+ hours a day.
When you hunt for it – as I did – and really none of us have to look too far: there is always someone doing it tougher than you. Like so much tougher.
You can choose the perspective that: everyone has it easier…. which is not motivating OR you can recognize that people have overcome obstacles far tougher then what you're facing right now and use that knowledge as fuel…  as proof that you can do it too.
Whenever I'm faced with a moment of mental weakness, I remind myself of the vast majority of the world population who I happen to have it a whole lot easier than. It's a really effective cup of concrete… as one of my colleagues likes to say. It's also a great lead in to step #…
Two: GRATITUDE.
The super cool thing with gratitude is that you get to choose the scale of what you can be grateful for.
If you're waiting for the mansion, the loving partner and that dream overseas holiday. Then prepare yourself to keep waiting. You can choose to be grateful right now – today – as I am, for NOT being stuck in that old business anymore, for working with only team and clients I love doing only things I love.
For my first coffee. For the warm bed I sleep in. For the safe home I live in.
When you choose a lack of gratitude and focus on what you haven't got yet you'll get more of that lack… it'll lead to apathy and resentment.
Why put in the effort if you're not seeing results?
If instead you appreciate all you have to be grateful for… the progress you are making, then those results – that progress will build on itself – not magically while you sit on your butt – literally when you stay motivated, disciplined and take the right actions that Yes, often do require a degree of mental toughness.
Three: PERSISTENCE.
In the same way that it's comparatively easy to take this right actions, to have that awesome attitude when all is going well and you've seeing motivating results… it's also relatively easy to swallow the cup of concrete for a short period of time.
Especially when the end is in sight.
However that does not qualify as true mental toughness in my book. True mental toughness takes stubborn, unrelenting Winston Churchill style "If you're going through hell, keep going" persistence.
And persistence comes when you lock and load the habits that your perspective and gratitude tell you you're lucky to even have the opportunity to lock and load.
I'll make that more clear with an example.
Say I'm demonstrating a fair degree of mental weakness so far as sticking to my regular exercise and avoiding the rubbish fuel that I mindlessly consume whenever I'm sad, bored, stressed or procrastinating.
I'm weak in the moment of exercise avoiding and food devouring and then super tough on myself for the rest of the day. Until the pattern repeats. Moments of weakness… Days of guilt, shame and tough self-UNlove.
Exercising regularly and not giving my body rubbish are great habits that I know will get me results.
Beyond that, I also know I'm lucky to have the time, resources, access and ability to exercise and provide my body with better fuel options.
However persistence is an uphill battle when there no routine… no habit to fall back on.
To exercise sometime this week is opening itself up to an episode of mental weakness.
To leave rubbish food and no healthy alternatives in your fridge is inviting mental weakness.
To get actionable today and build your mental toughness muscle: what is ONE habit you know will give you huge progress so far as achieving your body gain goal? ONE habit you know you're lucky to even be in the position to create? Your action is to lock and load that habit.
A set time, a set day, a set frequency.
It's all about making it easier on you. Persistence, like perspective and like gratitude BUILDS ON ITSELF.
Once you've created the habit you'll be less inclined to break it. Each day you make that habit happen you make it even more likely that you'll continue to make it happen tomorrow too.
You'll start to believe in your ability to stick with it. You'll start to believe in YOU. That's probably the over-riding component to mental toughness.
It's come back to my favourite advice – to both me and YOU – to back yourself 100%.
It only gets easier… not because the actions or the situations life throws at you get easier, more-so because your belief in your ability to deal with them gets stronger.
That brings us to the end of this week in Healthification.
My most genuine and heart-felt thanks to YOU for your support and for sharing this week with me.
If you've enjoyed this show and gotten value out of it I'd really appreciate it if you pop over to iTunes and leave me a review. It's actually super impactful so far as anyone new getting to discover Healthification.
So I'd hugely appreciate it if you like the show.
If you liked this you'll also like: Manipulate Your Addictions And Accelerate Weight Loss.
If you're yet to share the Healthification love – just click here to zip over to iTunes and leave an honest rating and review. It'd help me out big time. With gratitude, Kate.