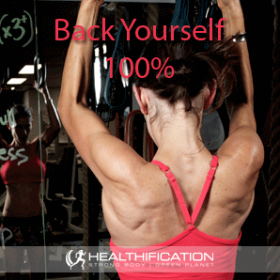 Podcast: Play in new window | Download
Subscribe: RSS
I listened to a fantastic podcast this week.
It was Lewis Howes interviewing Jack Canfield – I'll link to the exact episode in todays show notes, however it was on Jack's Success Principles. I read the book of the same name many years ago and this has prompted me to start rereading it.
What blew my mind in the interview was an experiment Jack shared to illustrate the notion of:
Describing = Prescribing.
If you've spent any time in Healthification land with me you'll know I'm a huge believer in what you focus on expands. I also believe that your unconscious mind is ALWAYS listening.
So whatever self-talk you choose to entertain is the self-talk your unconscious mind is going to believe… as such it's going to hunt for evidence to support that self talk. It just wants to prove you right.
You may have heard your unconscious described as an eager little puppy?
Bare with me if you haven't… The thing is, like an eager little puppy dog your unconscious goes to work 24/7 to hunt down the examples of what you're focusing on. Now you may think a fact is a fact and there is only one reality however that's just not the case. As I covered in show #096 every moment 3 million bits of info assault your 5 senses and you could never possibly process all of them.
What you chose to focus on is (so for the purpose of this analogy – what the pup is going to fetch for you out of everything available) is going to be determined by your unique beliefs and experiences and mores-eo what you're choosing to make those experiences mean.
Two people in a food court for lunch may have vastly different experiences even though they have the exact same potential information to choose from.
They will each DELETE certain bits of information… for body gain better or worse.
They will each DISTORT certain bits of information… for body gain better or worse.
And, They will each GENERALISE certain bits of information… for body gain better or worse.
Perhaps chick 1 and let's for the purpose of todays borrow from show #223 and think of One)as: one excuse after the next may experience:
=> "There is nothing healthy to eat here"
(deleting all evidence of healthy options)
=> "That skinny chick is chowing down on a huge sandwich so carbs at lunch must be just fine"
(distorting the fact that that skinny chick maybe enjoying her only sandwich of the week and is also refuelling her body after a massive weights session)
=> "Everything is rubbish for me so if I'm stuffing up my diet I might as well have the meal I really want"
(generalising that every single food court item is rubbish)
One excuse after the next, is in the burger and fries line quicker than you can say extra-cheese-and-hold-the-waste-of-space-green-stuff and she's also noticing how that guy that just passed looked at her sorta judgemental… he was likely thinking "Do you really think YOU should be buying that?"
Now chick 2 and let's also for the purpose of todays borrow from show #223 and think of Two)as: too focused on her goal to be distracted may experience:
=> "There's a fish and chips joint… I'll just ask them for grilled fish and hold the chips"
=> "Oh, wait that satay tofu is a pretty awesome deal… however I know that estrogen mimicking tofu is heading straight to my thighs… it's really not worth it!"
=> "Every single great meal I eat brings me one step closer to achieving my goal"
Too focused on her goal to be distracted, cruises straight to the fish line and faster than you can say grilled-not-fried-please-and-can-you-swap-the-chips-for-anything-green and she'salso noticing how accommodating the gent serving her is… it's amazing how helpful people are when you give them a chance to be.
To get back to Describing = Prescribing, whatever you communicate is not only describing the way it is now it's prescribing the way it will continue to be.
It's why I never say: "I'm sick" …I'll always say: "I'm fighting something off."
The funny thing is since I adopted this approach I never get sick. I always fight things off quickly.
If you think about it, have you ever felt better for wallowing in how sick, or tired or miserable you feel?
I'm not advocating muscling through and forcing your body to fire-up when all it needs is a decent nights sleep however I am saying the communication you choose is powerful.
Well this experiment with water proves just how powerful.
Here's the gist of it… and before we get into it remember YOU are made up of a lot of water. It varies however it's around 80% for an infant then from 50-75% for an adult. Importantly your brain is comprised of around 73% water. 
The experiment was undertaken by Dr Masaru Emoto who claimed that human consciousness has an effect on the molecular structure of water.
Dr Emoto took a regular bottle of water, placed it at the front of the class room and had all his students send negative energy to the water. I hate you. You're an idiot. etc.
Next Emoto froze the water in petri dishes, then bought it out, stuck it under a microscope and as the water crystals started to melt it had big ugly black blobs.
Now Emoto took a new bottle of the exact same type of water however this time he had all his students send positive energy to the water. Again he froze it in petri dishes and then stuck it under a microscope.
This time when melting the water formed beautiful snow crystals.
Let's cut to the chase:
By describing the present you're prescribing the future.
When you're saying negative things to yourself – you're affecting yourself in a physiological way.
So, how to make this actionable?
Is there a habit that you're struggling to create that you've been describing AND AS SUCH PRESCRIBING as a struggle to keep?
For me it's weekly video.
I seem to distort just how much time and energy doing it takes. I delete the evidence of the times it's been simple, easy, quick. I generalise that every time I film a video I have some little techie drama and that everyone else looks so much more professional and less overly-expressive (!) on their videos.
And it's just not true. Ok, maybe the everyone is less overly-expressive is true however that's me and I can embrace it!
To get actionable today, start consciously describing – Prescribing – how easy that habit is to create.
To finish today's show here's a quote from Winston Churchill: "The empires of the future are the empires of the mind."
That brings us to the end of todays show. I'll be back tomorrow with the Tuesday Tucker show and: 3 High Protein Vego Salads.
If you liked this you'll also like: A Day In The Life: REFRAMES
If you're yet to share the Healthification love – just click here to zip over to iTunes and leave an honest rating and review. It'd help me out big time. With gratitude, Kate.