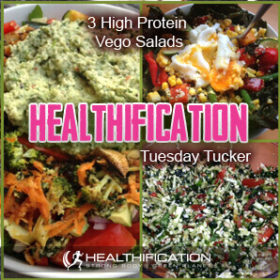 Podcast: Play in new window | Download
Subscribe: RSS
I'm Kate and I'm a vego and a reformed salad hater!
Thankfully, it's amazing how far vego salads have come. In today's show I'm sharing: 3 High Protein Vego Salads. If you're a meat eater – all good – these salads can be the gorgeous base to add your meat to.
However, in all transparency so far as food I'm going to focus even more on Vego and Vegan.
As that's how I eat and I feel wrong giving advice on meat in your meals when the fact is I was first vego for purely ethical reasons for over 20 years and am now vegan.
Download FREE 3 Day Easy Vegan Plan (PDF)
Also, I think there are a whole lot of people out there giving awesome advice on what meat to eat to get fit and lean… I want to be the resource that shows you how you can be Vego and eat primarily one ingredient foods and keep it high protein-low-carb… Oh, AND also rock around 24/7 in a fit, lean body you love.
I remember what salad meant in my first job in a silver service Italian restaurant.
It was the only disappointing thing on our entire menu… limp iceberg lettuce with a bit of tomato, cucumber, onion and a whole heap of gross oily dressing.
It was what I'd get served for staff dinner whenever Tony our oldest chef was on staff meals duty…. I think Tony subscribed to the sous chef Franco's line of thinking that "A vegetarian doesn't deserve to eat in my restaurant!"
Thankfully the younger chefs would pretty much complete to cook me an awesome vego dinner so I only went hungry one night a week!
Anyway, let's get rolling with those High Protein Vego Salads:
I'm going to make sure that these salads are delish and protein rich whether you choose the optional egg or dairy that they may have… so they CAN also be vegan.
One: Crispy Kale, Baby Cos and almonds with optional poached egg.
The first component of this salad is: gorgeous crispy Kale chips. To make the chips you want to wash and thorough dry your Kale. I use 1/2 a bunch for one person. Then chuck it in a plastic bag with a good pinch of salt, a teaspoon of great olive oil and a heaped tablespoon of nutritional yeast.
=> you get nutritional yeast in a health food store. It tastes a lot better than it sounds! That heaped tablespoon gives you around 4 grams of protein.
Cook your kale chips spread in one layer on baking paper on a baking try – either hot and fast or medium and slow… it really doesn't matter just watch them.
Fresh baby cos is a great contrast to the crispy kale, however baby spinach works just fine too. I also like to add some more substantial fibrous veg so for example: some broccoli, 1/2 bunch of asparagus, a small zucchini, a handful of green beans. Cook them as you like, I tend to just throw them in the oven with some coconut oil, chill flakes and herbs. If I have some starchy veg that needs using I'll add a bit of it too – like 1/2 a cob corn and a slice of pumpkin.
I'll also add some colour: 1/2 tomato, 1/4 red capsicum, some thinly sliced red onion.
Next up is good fat: you can use 1/4 of an avocado sliced or if you can be bothered make this:
Avocado sauce.
1 handful of basil leaves or coriander (small handful – part leaves part stems)
1 avocado
1 tablespoon lime juice
3-4 tablespoons coconut cream
Salt to taste
To make simple combine all ingredients in a food processor.
Still with our good fat additions: 1 tablespoon of hemp seeds and 25 grams of roasted and roughly chopped almonds.
=> you also get hemp seeds in a health food store. It does not make you high! That tablespoon gives you around 5 grams of protein.
=> you get another 5.2 grams of protein in the almonds.
To assemble: start with the crispy kale and cos. Add cooked veg. Add fresh veg. Dollop with a generous amount of avocado sauce (or add fresh avo). Sprinkle with hemp seeds and almonds.
If you so choose, top with a poached egg – and pierce it to further 'dress' the salad.
=> you get another 5 grams of protein in a 50 gram egg.
So before the extra grams of protein you'll accumulate in your veg you have over 14 grams without the egg and closer to 20 grams with the egg.
Let's move on to salad #:
Two: Cauliflower Tabouli with a twist.
This is a salad to make on mass so let's call this 3 larges serves of tabouli and then the additions to it will be single serving size.
For the Tabouli,
1/2 medium head cauliflower, chopped (or 1/2 cauli and 1/2 brussels)
1/2 bunch kale, ripped into pieces
1/4 cup basil and oregano, chopped
2 garlic cloves, minced
1/2 cup pumpkin seeds
1 red capsicum, finely sliced
1-2 spring onions, finely sliced
8 sun-dried tomato halves, finely sliced
Himalayan salt to taste
1 tablespoon olive oil,
3 tablespoons hemp seeds
2 tablespoons nutritional yeast.
Place Cauli in food processor and pulse until it resembles rice (rather than mush!). Transfer cauli to a large bowl and next process the kale until finely chopped. As kale is nearly done add pumpkin seeds and pulse a couple of times. Add kale, pumpkin seeds plus all remaining ingredients to the cauli and mix well.
To serve per person: Sprinkle with 25 grams crushed roasted pecans and if desired a splash of extra virgin olive oil. Plus along the side of the plate next to a mountain of tabouli I like sliced tomato, avocado and if you're ok with dairy some pan fried (or BBQ'd) slices of haloumi.
=> 30 grams of haloumi gives you around another 7 grams protein.
=> 25 grams roasted pecans gives you around another 2.4 grams protein.
Dividing each by 3 for 3 serves:
=> you get (17.9 total for 1/2 cup) 6 grams protein for the pumpkin seeds. and,
=> (15 total for 3 tablespoons) 5 for the hemp seeds and,
=> (6 total for 2 tablespoons) 2 for the nutritional yeast.
So before the extra grams of protein you'll accumulate in your veg you have over 15 grams without the haloumi and 22 grams with it.
Finally salad #:
Three: Soft Kale, Brussel crisps, roast veg and zucchini hummus.
This is a quick salad to throw together if you make your zucchini hummus in advance and bake your veg on mass once a week as I do. Or you can just throw a single serving size of veg in to roast with the brussel crisps… whatever works for you.
First step is that zucchini hummus: I vary it a bit each time however it's 1/2 a jar of tahini, a small bunch of coriander, 2-3 zucchini, the juice of a lemon, 1/2 cup of hemp seeds, 1-2 tablespoons of avocado or macadamia oil and salt, garlic and chill to taste. Here's the link to a more exact version zucchini hummus:
Next step is getting your brussels on to go all crispy. I use frozen often and just let them defrost in the fridge that day and then slice each into 3-4 rings, squeeze the moisture out of them and bake them in a hot oven with chill and coconut oil for around 30 minutes.
The base is 1/2 a bunch of kale washed and put in a large sauce/frypan with a good pinch of sea salt and ideally (for that protein and a nice cheesy taste) a tablespoon of nutritional yeast. Cover it and come back to cook it just a few minutes before serving as it doesn't take long to wilt once you pop it on a low heat.
To assemble I use a generous couple of cups of whatever veg I had on hand when I made my week veg bake: stuff like onion, cauli, sweet potato, zucchini, capsicum and eggplant. I also add rosemary and chill and fresh garlic. I cook it in 1-2 tablespoons of olive or coconut oil.
OR, if I'm roasting on the night when I put on those brussels I'll also add a couple of slices of eggplant, an onion, half a capsicum, a zucchini, some cauli and near the end some mushrooms and asparagus. I tend to just sprinkle these with chill, mixed dried herbs and some powdered garlic when I'm in rush mode.
So, back to assembly time (you can tell I'm not a cook right?!)… First start with a bed of kale that you cooked over a low heat tossing regularly for a few minutes when the other veg were nearly done.
Next add what ever fresh uncooked veg you might like: I go for fresh tomato, red onion, spring onion and sometimes grated carrot or beetroot.  
Now heap on the cooked veg: a couple of cups… and the crispy brussels.
Finally dollop a couple of tablespoons of zucchini hummus and sprinkle with a tablespoon of hemp seeds.
=> the protein is a little more guess-ti-mate in this one. You've got 3 grams for the nutritional yeast and 5 grams for the hemps seeds. Then there's the hummus. I could work it out but you know that's not so much my style!
Let's say if that batch lasts me 5-6 serves and it's got at least 45 grams of protein in the batch we're talking another 8 grams or so of protein in a serve.
That's around 16 grams of protein again before the extra few grams of protein you'll accumulate in your veg.
The keys for me to high protein vego salads success are:
A). Texture: I'm not up for any soggy, limp salad action! 
B). Ignoring the rules: anything can go in a salad – give it a whirl and see what works.
To get actionable today, I'd love to know what works for you?
Do you have any fav combo's for your high protein vego salads?
That's it for me today. In tomorrows Wednesday weigh-in show I cover: Embracing Disappointment.
I hope you can join me.
If you liked this you'll also like: 7 Sneaky UNHealthy 'Health Foods' (and what I now eat instead)
And: Fat Loss Mindset For Vegetarians (Part 1).
And: Healthy Vegetarian Eating (step by step).
And: Being Vegetarian And Getting Lean.
It's 100% free. It's fun. It's easy.
Here's what to expect each day: 3 abundant plant based meals. An awesome equipment free fat burning workout. And also the mindset tips that make your best eating and exercising choices simple and sustainable.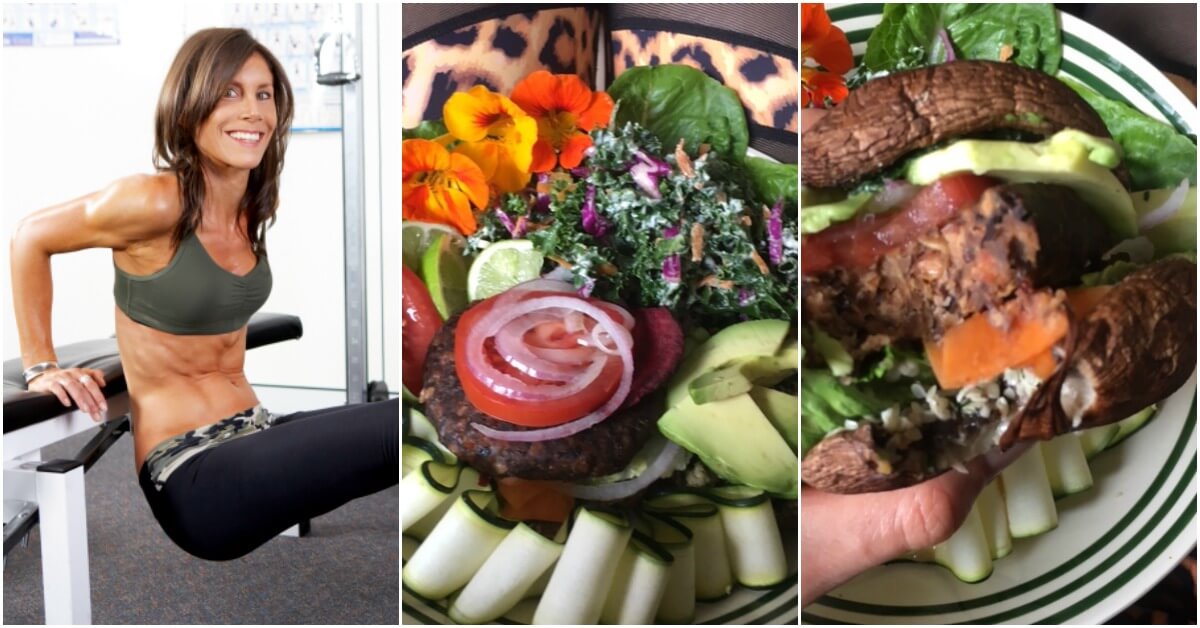 If you're yet to share the Healthification love – just click here to zip over to iTunes and leave an honest rating and review. It'd help me out big time. With gratitude, Kate.