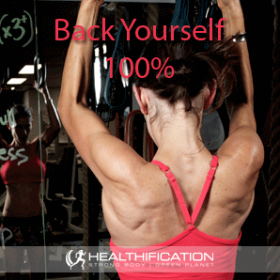 Podcast: Play in new window | Download
Subscribe: RSS
Tony Robbins calls disappointment an action signal. I absolutely agree. The thing is what action is disappointment driving you to take?
Can you remember the first or last time you were deeply disappointed?
Did it spur you into action?
Did it make you realise something wasn't really that important and cause you to cut your loses?
Or perhaps did it make you freeze with in decision?
In todays Wednesday Weigh-in show I'm covering: Embracing Disappointment. 
Specifically, how to ensure your past disappointments do NOT become a ball and chain to drag around with you.
Instead, how to use disappointment as that fire in your belly to fuel your future focus…whether that focus is:
A). In the same direction with the benefit of some valuable lessons learnt or,
B). Whether it's a "yeah not that important" / cut your loss's lesson and that focus is full steam ahead in another direction.
Here are 3 steps to embrace disappointment and to illustrate each I'll share a personal example:
Step one: (ask yourself) What does this mean?
One of the most disappointing and sad things I remember from my childhood – don't know why this is the story that comes to mind however let's roll with it – was when one of my favorite horses at the riding school I went to and worked at every Sunday and all school holidays was taken to the knackers when he went lame and wasn't fit for riding anymore.
To my memory Fozbie, was given a couple of weeks to come good. He didn't. I remember the horse float pulling up… and Fozbie limping along, ever trusting, as he was led to the float that would transport him to his future… as pet food.
Years of faithful service and this was the thanks.
Disappointed is an understatement. I was disgusted.
What did it mean? 
It meant I value trust and integrity. It meant I lost all respect for the owner of the riding school – who had 100's of acres of rich pasture at which other horses got to retire as long as they just aged gracefully without any vet bills.
I guess it also meant I was imposing my personal values and standards on someone else and that isn't always going to end so well.
Tony would say after a disappointment:
Set a new goal even more inspiring.
Realise you may just be judging too soon – perhaps this is just a temporary challenge?
Recognise the situation may not be over and develop more patience.
Develop a positive expectancy about what will happen in the future regardless of what has happened in the past.
Now, this is all AMAZING advice to apply to a lot of disappointing situations… however not so far as Fozbie.
Let's move on to step 2!
Step two: What can you learn?
Take that disappointing situation and extract the learnings.
This story has a happier ending. In my early 30's while I owned the business from hell (you may have heard me refer to it before?!) I trained to compete in a body sculpting competition.
Months of hours of exercise a day – living on egg whites and green veg AND most punishing byfar: late night posing practice… and then, as I was the leanest I've ever been, my trainer pulled the pin.
She was right. When she told me "Kate it's not your time – you have more important things to focus on" 
At that point I learnt how HUGELY UN-important competing in a body sculpting competition was to me.
I learnt that I want to enjoy every single day… every single meal!
I learnt that a goal someone else imposes on you (which was how the sculpting came about) is highly NOT compelling.
Step three: How can you prevent it happening again… At least not to the same extent or impact?
So, you know what your disappointment means. You've learnt format he experience. Now is your chance to prove you've learnt from the experience by taking action.
Before I became a personal trainer I worked in fundraising for charities.
For 5 years. I progressed to a decent role… on contract… managing a great team. The people I worked with and the charities with worked on behalf of were everything to me.
One day the business was robbed. Just small scale however it was a big enough deal. Senior management accused the team of causal workers as a whole. Just a blanket: "It was one of you" accusation directed at the guys and gals that I considered my team and my friends.
Again I was so disappointed in the lack of trust. The lack of respect. That I snapped. I handed in my resignation the next day… and you know what?
It was one of the best decisions I made.
Yes, because it meant I was preventing the same lack of respect (even if it wasn't personally directed at me it still made me irate) from happening again… however also because that is the career change that saw me move into personal training.
We must be at the time of the actionable.
Is there a disappointment that's acting a little like a ball and chain around your foot?
Or perhaps a disappointment that is holding you stuck? Frozen with indecision?
Once you get clear on: What it means…
Then also 100%: There's something to learn from it…
AND of course: There's also a way you can prevent it happening again… At least not to the same extent or impact.
The main take away is to let your disappointments be fuel for your future focus.
That's it for today in Healthification.
If you liked this you'll also like:  Turning B.A.M. Into Best & Most Effective Fat Loss.
If you're yet to share the Healthification love – just click here to zip over to iTunes and leave an honest rating and review. It'd help me out big time. With gratitude, Kate.