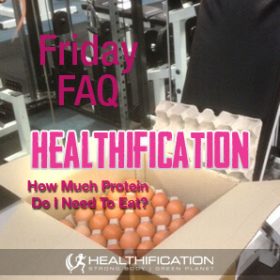 Podcast: Play in new window | Download
Subscribe: RSS
Todays FAQ is one where if you ask a different trainer, or dietician, or lady down the street who just lost 40 pounds or anyone… you'll get a different answer.
As with many things related to achieving your best body there is more than one approach that works.
As with everything I recommend the approach I'm going to share today is sustainable, simple and fun. Todays show covers: How Much Protein Do I Need To Eat?
Let's start with a number and then move beyond that to the more important factors to consider.
I'm a fan of 1-1.5 grams of protein per pound of your lean body mass.  So if I weight 58 kilos and 9 kilo's of that is fat then I'm eating to feed the other 49 kilo's. 49 kilo = 108 pounds.
So that'd be 108 – 162 grams of protein a day.
The quantity you eat is going to be dependant on your size, however we are not looking to eat to account for any excess fat.  
So say I weighed 87 kilos and the extra is all excess fat, then I'm still working with 49 kilos or 108 pounds of lean body mass… and I'm still aiming for 108 – 162 grams of protein a day.
Want to make it super simple?
=> Aim for at least 100gm of protein a day.
Unless you want to step on stage in a body building or body sculpting competition that is going to work just fine.
It's also going to be a massive increase for a lot of people who are yet to achieve their goal body shape.
Nearly every person I meet who is struggling to achieve their goal body eats too many carbs – especially refined carbs – and not enough protein.
So the solution is generally not to eat less it's just to eat better.
The easiest approach is just to have a serve of protein at each meal.  
With that in mind let's walk through a common day and add a little protein boost to each main meal:
Breakfast: Often the domain of cereal or toast and often seriously lacking on the protein front.
=> your easy switch, trade in your cereal for oats and sweeten with a scoop of protein powder.  Or have some eggs either with or even better instead of your toast.
Lunch: If you're stuck on the light-weight vego sandwich or salad option it's time to get more substantial.
=> your easy upgrade, add 100-150 grams of cottage cheese, tuna, salmon, chicken or even some more carbie but still quality black beans or chick peas.
Dinner: Perhaps you're into the quick and easy pasta or pizza option. Even gluten free pasta with a heap of vegetables is not a dinner I like to hear of from my clients who are not at their goal body shape.  Yes, I LOVE the vegetables.  However that pasta is still just carbs and a sprinkle of yellow cheese is not quality protein.
=> your easy solution, is quite frankly to swap to lean protein like meat or fish and keep that heap of varied veg. If you're a non-fish vego (and that was me for 20 years – I wrote about it here) and you're not down with 4 cups of broccoli for dinner… a good fix is some protein help from a powder, and yes you can get Vegan protein powder so it's absolutely possible just not quite as fun.
Let's do the numbers:
2 whole eggs at breakfast will weigh in at around 11 grams of protein.
a 100gm can of tuna in spring water is going to give you around 28 grams of protein.
and 200 grams of steak at dinner is going to deliver just over 60 grams of protein.
At this point you're nudging the 100 gram goal – however you can see without that big steak it'd be easy to go under right?
Of course you'll gather a couple of dozen more random grams with your veg (broccoli has 5.2 grams per 2 cup serve), nuts (cashews have 9 grams per 50 gram serve) and dairy (cottage cheese has 11 grams per 100 gram serve).
An even easier boost is to go the protein shake option either after training or as a snack, just powder and water is going to give you an extra 20+ grams.
Beyond the numbers… stepping away from the food scales and moving beyond peering at carb-fat-protein quantities on packets of food… is the SIMPLE, SUSTAINABLE and FUN factor.
Having a serve of protein at each meal is simple. It immediately filters your options from everything including the rubbish that you can eat massive quantities of without even feeling full to a starting point of high quality one ingredient fuel.
Reject the packets that try to trick you with obscure serving sizes, unrecognisable ingredients and confusing 'light and healthy' marketing messages. Simply pick your favourite fresh protein and progress from there.  
If you're feeling restricted, starving and unsatisfied after a meal that does not include protein, and you will – if not now then this afternoon or tomorrow – then it's just a matter of time before you resort to a binge-fest where quantity and quality of food are beyond your control. The starving to binge to starving to binge cycle is unsustainable and of course UN-fun.
In closing, I often wonder – and I'm talking to myself here too – why do we making eating so hard?
It can be the source of so much anxiety, disappointment and frustration.
In todays action step let's take a chance on fun. I'd love you to try a new protein and let me know how you go.  
I'm on a bit of a protein discovery ride right now – I started eating fish again last year – for the first time in 20 years.
So far barramundi is my hands down without doubt number one.  I also like snapper and salmon, however fresh prawns got the big thumbs down at Christmas time… I don't think I was ready for them, it a fairly an UN-fun experience… though no where near the smoked-trout-and-fish-roe-soup that was my vego-turning-tipping-point!
Do you have a fish you can recommend?
Ok, that's bring us to the end of this week in Healthification.
HUGE thanks to the awesome people who have left me iTunes reviews… If you know someone who'd benefit from these short actionable shows please share Healthification with them. I'd really appreciate it. Thank you.
If you liked this you'll also like: How to DUMP Measuring to Naturally Lose Weight.
If you're yet to share the Healthification love – just click here to zip over to iTunes and leave an honest rating and review. It'd help me out big time. With gratitude, Kate.