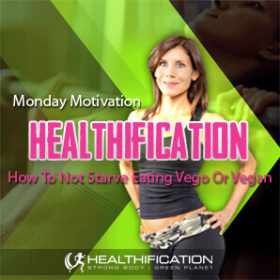 Podcast: Play in new window | Download
Subscribe: RSS
This show is for my fellow vegos or vegans with a really healthy appetite.
I want to address one of the common struggles in adopting a vego or vegan lifestyle.
An obstacle that may well prevent your meat loving friends from accompanying you to your fav veg friendly restaurant.
I've been called a bottomless pit on many occasions and today I'm speaking to you if you too love to demolish huge, generous meals. To feel delightfully full and satisfied.
Today 3 Keys:
How To Not Starve Eating Vego Or Vegan.
If you've ever been served the Lamb Salad minus the lamb… padded out with a few extra green leaves you'll know what I mean. Or if your only option on the entire menu was the side of steamed greens. Even if you've ordered that stunning sounding vegan pad Thai which on arrival is certainly pretty – it appeals to your stomachs eye – yet on consumption that pretty dish is insanely insubstantial.
It's really just a tease to your tastebuds. 
Key one: Prioriitse Fibrous Veg Over Light Leaves.
I've got nothing against leaves. I love them. However they tend to be hugely not satisfying. If you're making your own meal then for sure go generous on the leaves and then also add a heap of fibrous veg plus the fat to follow in key #2 plus the protein pimps in key #3.
My eating out strategy works every time if you're super polite and not too fussy.
Side 'fuss-pot' note: I used to be the fussiest person I know! However when you start eliminating a lot of food for ethical and health reasons the simple fact is you've got to get less fussy.
If you're a fish eater the simple strategy is to get in the habit of always asking for any green veg instead of light weight salad and carbie chips. However I still often find this pretty UNsatisfying.
Although I don't usually count or think in terms of calories, when it comes to not starving caloric density does need to be considered. Often your healthier choice is going to mean too drastic a reduction in calories. Like go home and demolish a whole second meal drastic. 
My latest strategy is to request a double serve of any green veg at least when I'm replacing salad and chips in a meal.
If you're swapping out an animal product generally it's also a good rule to double or more what you're swapping in.
For example, that Lamb salad minus the lamb? Or actually let's make it a Tuna salad minus the tuna and cater to my vegan friends. And this isn't theoretical – I'm currently checking out the menu of a local cafe. It's on my mind as I popped in yesterday for a coffee and was reminded how much this place pumps!
So this Tuna Salad (and Sydney-siders if you like the sound of if it's from Speedo's in North Bondi) also has: avocado, corn, olives, semi dried tomato, chia seeds, pumpkin seeds, leaves, onion, miso dressing. I'm loving the seeds for satisfying good fat and protein. There are actually so many other great vegan options on this particular menu however lets pretend I wasn't spoilt with the choice of 'The vegan burger' or 'The coconut chia pot' or the 'Garden to plate' mix. If that was the case I'd take than Tuna salad minus the tuna and politely ask for a couple of additions that feature elsewhere on the menu. In this awesome example they happen to be: zucchini noodles and baby beetroot. Now that salad's starting to sound pretty fab. But wait there's more…
Key two: Don't Be Scared Of Fat.
I've officially made friends with fat. I recommend you do too. Although it's a little against the natural instinct more fat in your meals will not mean more fat on you! As long as we're talking quality.
I recommend when eating out you get in the habit of scanning the menu for good fats that could be adding to your meal. Fat is satisfying. A little goes a long way. So although it has more calories than low fat carbie foods you will reach a limit. A happily satified limit… unlike the never ending need to continue demolishing I know we've all experienced with lot fat bread, cereal and yoghurt.
For my vego friends some common fats to be on the look out for are: eggs and dairy such as Greek yogurt, and perhaps haloumi or ricotta cheese. For my vegan friends your fats to scan for will pretty much be avocado, olives, nuts and seeds.
Side 'fatty-friends' note: I really can't think of a meal that wouldn't be enhanced by avo and/or nuts!
If we take the ZERO-tuna salad example and scan the menu for some more satisfying fats there's: smoked almonds, walnuts and sunflower seeds. Now if your salad didn't start with several good fats in it you may want to choose a fat addition or two however I have something else in mind for this example…
This is an easier option for the vegos… the easiest of which is to ask for a poached free range egg with that salad. However I also have a couple of ideas for vegans. Of course there's the option to carry your sneaky extra's with you. Additions like a tablespoon or two of hemp seeds or some of your fav nuts.
The less obvious option is the liquid protein pimp. This menu has a gorgeous looking shake which is going to fill you up and give you a little extra hit of protein. Again credit to Speedo's cafe for this Peanut Nutter shake with: almond milk, peanut butter, macca powder, banana, dates, cinnamon. Best case scenario I'd order one peanut nutter and 2 glasses to share… unless of course you're starving!
Side 'protein pimp' note: a lot of cafes have the option to add protein powder to their shakes and smoothies – that's an awesome option if you're vego and ok with Whey powder which it generally is. If a cafe has Vegan protein powder you've hit the jackpot!
It's also worth noting that many cafes now serve almond milk for their coffees so if it's not already an option in their smoothies just ask for it instead of cows milk.
As we draw to the end of todays show a few closing thoughts…
As you'll have likely heard in earlier shows I'm currently on the journey from Vego to Vegan. So I really am giving this a heap of thought right now. The question of where to draw the line?
When am I making too much of a fuss? When am I making an excuse?
Here's where I'm currently at with it and I hope this is of value to you regardless of where you currently fit on the meat eating / vego / vegan spectrum.
A) Aim to choose Best not Easiest. 
Easiest is appealing of course – however really, when in life does easiest give you the better result? Sitting on the couch is easiest. Toast for dinner is easiest. Eating something that does not sit congruently with your values and beliefs – be they ethical or health related – may seem easiest short term however long term I know I always feel better when I choose the best choice.
Letting yourself down so far as the standards you've chosen for yourself becomes the hardest thing long term. 
B) Be committed to grow the Awareness.
Sometimes I get a twinge of guilt if I'm requesting something that isn't the norm. Like why should my personal choices and beliefs inconvenience someone else? And that's reasonable when we're talking about the meal you eat at someone else house. However the meal you eat out – the meal and the service you're paying for – I see that differently.
Now I see the meal I eat out as an opportunity to spread awareness. To let business's know there is a demand for vego and vegan food. Even, for Low Carb High Protein Vego and Vegan Food! 
C) Consider your Long Term goal.
Although i advocate a guilt free, everything counts approach to eating and you can't expect yourself to be perfect from the get go it's also worth reminding yourself when temptation rears its head of where you want to be with your eating long term? This is close to mind for me right now as I'm heading to stay with the fam for a long weekend in Noosa this weekend. I know there will be temptation abound.
Although meat is never tempting because I've been vego for so long – dairy is a different story. In fact the dairy story sounds a little like mums comforting cauliflower cheese… and the most stunningly exquisite eggplant parmigiana at a local restaurant. Even simple heavenly haloumi on the barbie.
However I'm meant to not eat dairy. So the sooner I build a few more miles under my dairy free belt the easier it'll be to maintain. 
Whatever it is that resonates with you so far as the way you are meant to eat, know that it will only get easier. I'm certain of that. Both in that the longer you practice a habit the more it becomes natural and ingrained. Even more than that, you will have more delicious, nutritious options available to you.
The proof of this teases me daily via Instagram. If I could pick my meals via the mindblowingly amazing looking deliciousness being showcased there I'd never eye off a chessy parmi or white chocolate Lindt ball or creme brûlée again. There are scrumptious alternatives and they will get more available!
To get actionable today and I'm onboard with you in this actionable task… This week, if you're dining out and you're tempted to roll with either the food choice that isn't aligned with the way you're meant to eat OR alternately you're tempted to resort to the hugely insubstantial, UN-satisfying, UN-fun meal choice like that light weight salad or boring side of greens choose instead to ask politely for an adjustment or 3 to the meal.
So to recap those 3 potential adjustments are:
Prioritize Fibrous Veg Over Light Leaves.
Don't Be Scared Of Fat.
The Protein Pimp.
The way I see it, the more we ask the more we won't have to ask!
That's it for me today. I'll be back on Friday with the weekly wrap.
If you liked this you'll also like: Healthy Vegetarian Eating (step by step).
If you're yet to share the Healthification love – just click here to zip over to iTunes and leave an honest rating and review. It'd help me out big time. With gratitude, Kate.