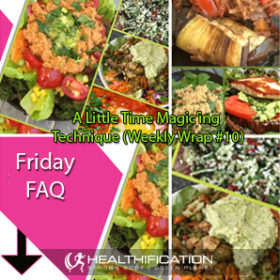 Podcast: Play in new window | Download
Subscribe: RSS
Hey Body Gainers!
Todays show is sponsored by The Body Gain Lifestyle. I'll share more about this community later on in todays show.
In this weeks weekly wrap I'm sharing:
A Little Time Magic'ing Technique.
I'll certainly chat a little food, exercise and mindset too. And of course I'll share the habit and the podcast I've been loving this past week and what's been more struggle street.
Let's get rolling…
First up FOOD. My thoughts this week surrounding food relate to just how much of an impact the people around you can have on your food choices.
I usually don't experience this first hand. I've gotten pretty ok with being: "That chick with the weird food choices!"
I'll ask for adjustments to the menu or leave stuff or my plate. I don't really care who's watching or what they're thinking and generally any smart comments are water off a ducks back. However right now I'm in a little bit of a transition with my eating and it's reminded me of just how much more open to persuasion I am before a new habit gets locked and loaded and is proven to be valuable.
The current case in point is: Fish.
As a long time vego, this year I'm experimenting with following closer (not there yet however closer!) to a vegan lifestyle. Although I've drastically reduced my egg consumption and eliminated dairy completely I had decided I was ok with eating fish occasionally. Basically when I'm out for dinner. You know, at a NON-Low-Carb-High-Protein-Vegan-restaurant where fish just happens to be the best option!
As it happens in the first few months of this year I haven't had the need or the desire to eat fish.
Until last night. Even though I had zero desire for fish the need appeared to be there as the rest of the vego menu looked hugely boring. And crazy carbie. I started playing back in my head the comments of multiple friends and clients:
"Goodbye lean muscle muscle!"
"Oh no, but fish is so good for you?"
"How are you going to get your protein?"
"Ugghhh, but vegan is sooo boring!"
I succumbed to the voices in my head and ordered the Grilled Barramundi… albeit: "with any greens instead of chips and salad please." Now this is a great choice from a body composition point of view.
It didn't feel great for me though.
To make this applicable to YOU, are there food choices you're currently making – partially in response to input from other people that don't feel great for you? Whether it's the second serving you don't need yet have to be polite or the shared pizza that's just convenient.
Sometimes I wonder: Why do we make eating so hard?
It really should be a matter of eating what allows us to feel good and function effectively yet we've made it about so much more than that. Before I get too distracted, I guess my food point for today is are the people you're choosing to spend time with positively or negatively affecting your food choices?
Let's move on to EXERCISE and my thoughts this week relate to the question: Are You Exercising Too Much? I devoted show #134 to this very question and I was reminded of it this week by a client who asked me about over-training.
Can it be done? In short. YES.
Is his son doing it? Very-hugely-likely. NO!
A couple of the points I cover in show #134 are:
A). Is it sustainable?
B). What's it costing you?
Let's take training for a fitness event out of the equation because that does not need to be sustainable and perhaps you're ok with what it's costing you in the short term. For the purpose of todays show I'm referring to the exercise you do to stay or get fit, healthy and happy with your body and energy.
The question of sustainability and cost are closely related and I put most value on cost. Or more so: Opportunity Cost.
Whenever you're choosing to exercise you're choosing not to do something else.
Now if that NOT happens to be watching trashy T.V. or sleeping in longer than your body requires then all good!
However if that NOT happens to be seeing your kids weekend sport or getting to work on time or waking up fresh and energized for the day to come then you have a problem.
When you start to resent what you're missing out on and your body is feeling constantly exhausted. Or worse, injured rather than strong and energized in response to your training then odds on, you're exercising too much.
It's the hugely-less-common scenario however it is possible.
Another consideration to throw into the mix is quality over quantity.
Often the unsustainable exercising approach that leaves your body tired and sore and your mind resentful and bored… is that tedious and time consuming moderate intensity cardio that can eat up hours without acceptable or any results for the opportunity cost.
If you're wondering: "Am I Exercising Too Much?" consider perhaps how you can exercise more super-focused-and-effectively in less time. I have a few ideas for you in the #229 show on: How To Progress A Beginner Level Workout 9 Ways. (it's applicable to any level workout)
The HABIT I'm deploying this week is a little time magic'ing technique I first heard about via John McGrath. The need for this habit is also my struggle street this week. I've caught myself wanting to utter those 4 words that fat LOVES to hear. Those 4?
I Don't Have Time. The time magic'ing technique?
It's called Stop, Start, Continue.
From time to time I do a little freak out and apply Stop, Start, Continue to an area of my life which is not running as smoothly, efficiently and time effectively as it should be. Now is one such time!
The area which is currently a massive time eat is food preparation. To get actionable a little early today: What is the area of your life in which you'd like to benefit from a little time magic'ing? 
Here's how to make it happen (and for todays example let's stick with food prep as I'm sure most of us could get better as that!):
Step one: First acknowledge 3 things you are doing well. Those things you'll, CONTINUE.
=> Perhaps that's mixing little snap lock bags of fresh veg & fruit for your smoothies each Sunday. I love knowing my breakies are sorted before the week starts. I think of eat as a head start on the weeks best eating.
=> Maybe you're in the habit of making '3' lunch time salads in one go. It works for me as I'm cool with eating the same thing each day. As long as it tastes fab and works. Even if you like a little more variety it's worth prepping the basics in mass and then adding different flavours / finishers on the day. Finisher doesn't have to apply only to exercise! I did a post on Salad Finishers which I'll link to:
=> Possibly you're in the habit of making your fav dip or sauce or salsa each week? With a little experimentation you can create the tastier, non-processed and even protein pumped version of your old store bought favs. You guessed it – like my zucchini hemp seed hummus or dairy free pesto.
Step two: Next decide on 3 things to STOP doing to buy yourself some time.
=> Perhaps that's visiting the super market more than once or twice a week. This is one I keep needing to RE-implement. It's also a vital component to stop supermarket sabotage. I cover 5 Steps To Stop Supermarket Sabotage in show # 155.
=> Maybe it's time to stop preparing multiple different meals to accommodate each fussy eater in the house? Pasta night doesn't mean you need to find a totally different meal for the low carb eater. It can be as simple as spiralizing some zucchini. There's a solution for every meal – it's just taking a little up front time to find it now and stop a lot of multiple meal cooking time in the future. Or if there is a fussy eater, that's me when I visit my family (!) perhaps take a leaf from my mums book and make something on mass and freeze it in portions so there's a base for that fuss-pot to start with and to be fair they can really add whatever else they want from there.
=> Ok, this third stop could be a little cheat… however how about you stop seeing meal prep as just meal prep? I see it as a chance to catch up on podcasts or even online training that is ok consumed as audio only. Or possibly, you and a good friend combine meal prep and a phone catch up and in doing so are also holding each other accountable to prioritizing planning your meals.
Step three: Now decide on 3 things to START doing to buy yourself some time.
=> Perhaps that's home delivery for at least some of your weekly shop. The stuff you get each week. It's not just the supermarket time you'll be saving it's also the brain time in planning what to get if the essentials are already locked and loaded on (someone else!) autopilot.
=> Maybe (and I'm only trying this short term) as it's not best practice however maybe you try some of those supermarket bought washed and ready to go mixes of green leaves. And undressed coleslaw. Even mixed frozen veg. Those 3 would get me super close to my 20+ veg salad (which is my Go2Lunch) with copious amounts of time saved washing and prepping veg. As I said, not ideal however worth a whirl!
=> Are there even more veg that you could prep on the weekend? Or perhaps on the weekend and then again mid week? I know I could get better at this. To invest a little more time on a Sunday when I'm listening to a cool podcast rather than resenting repetitive and rushed week night kitchen time.
Talking of a cool PODCAST this week I really enjoyed episode #153 from team fizzle.co of the: The Fizzle Show. This is more of a business'y type show. It's unique and entertaining with a fair bit of filler. A good show to listen to during meal prep in fact! Episode #153 is titled: How To Pace Yourself, Stay Productive & Avoid Burnout.
As with Monday's Healthiification show a lot of what the fizzlers share so far as business and burnout is hugely applicable to health. Here's a snippet of comments from a frustrated gent battling burnout:
Emotional ups and downs. I'll be super motivated, work very hard – for a period of 2 or 3 weeks and then burn out. I'll make a tonne of progress but it always leads to burnout. Then I'll take 4 or five days – do nothing but the bare minimum – and maybe binge watch some netflix.
WOW now that could easily be referring to exercising and eating well right?
The show is worth a listen.
That brings us to the end of another week in Healthification.
Healthification is proudly bought to you by The Body Gain Lifestyle – an online self-paced course, community and coaching program… which is currently undergoing a Vego/Vegan-i-fi-cation! What on earth does that mean Kate?
Well, as you'll know if you've been following Healthification for any period of time (and massive thanks to you if you have) I've gotten a lot more specific so far as the food I recommend. I'm really in all with the Vego/Vegan lifestyle – yes both – I'm committed to proving that a fit, lean healthy body you love can be created via a vego or vegan lifestyle.
In fact more than prove, I want to make it as simple and fun as possible.
And sustainable for both you and the planet.
And I want to be able to effect change as a community – a community of body gainers (!) – so far as issues and abuses that really bring out the crazy-extreme-blood-boiling-passionate in me.
It means the Body Gain Lifestyle needs a little overhaul to be completely congruent.
If you like the sound of where I'm heading with the community – or as a lovely and super appreciated podcast listener you have any feedback or suggestions – I'd really value hearing them.
In next weeks shows I'll share more about the Vego/Vegan-i-fi-cation of the Body Gain Lifestyle.
If you liked this you'll also like: My best Fuel, Move, Life advice for out-smarting weight loss overwhelm.
If you're yet to share the Healthification love – just click here to zip over to iTunes and leave an honest rating and review. It'd help me out big time. With gratitude, Kate.