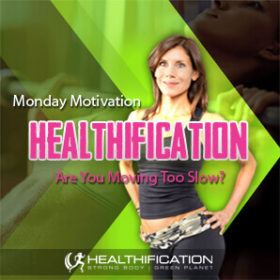 Podcast: Play in new window | Download
Subscribe: RSS
Do you ever feel like your progress is plodding along at such a pace it's infuriatingly near imperceptible?
Todays show is inspired by a thread in a forum I'm a member of, titled:
Are You Moving Too Slow?
Now this question was originally posed with business in mind however it's hugely applicable to health.
In fact when I asked: "I wonder if people who are hugely successful in business find it as simple to know and take the right actions consistently in business as I do in health?" it opened the flood gates so far as,
"Health is sooo much harder than business!"
and,
"No, business is sooo much harder than health!"
In the original post the forum's creator James Schramko listed 7 things he believes contribute to people moving too slow.
Credit to James for these 7. Do any of them resonate with you so far as achieving your body gain goal?
Fear
Lack of real motivation / it is not important (enough)
Poor productivity disciplines
Lack of knowledge
Overcomplicating it
Perfectionism
Hanging on to something that someone else could do
Let's dig a little deeper which each:
One: Fear.
Fear can keep you at a place far worse than slow. It'll literally paralyze you, if you let it.
If you can relate to not wanting to give your health goal your very best shot – because what if you try your best and fail – my question to you is: "Ok. What if??? What is the very worst that can happen?"
Perhaps it's a little embarrassing. Maybe you waste a little time, money and energy. However not really because that time, money and energy invested in finding out what doesn't work is research to let you know: Next time take a different approach.
The thing with health is: You always get another go.
There's no referee ready to jump in and drag you off the field. To ban you for life because: You didn't try hard enough! You're not going to lose your house, business, savings because of a bad health decision.
Unless of course that health decision is to stay stuck paralyzed with fear and do nothing. 
Two: Lack Of Real Motivation.
Perhaps a lack of motivation relates to fear as well because often it plays out like this…
You'd prefer to stay in your comfort zone rather than deal with the amount of discomfort needed to make a change.
If a few good days of eating and exercising delivered motivating results then you'd be able to stick with it. However real motivation is when you put on those sneakers or prepare those nutritious meals on mass when it's pouring with rain and you've had a late night and you've got a huge day and any number of other reasons to stick with comfortable.
Anyone can remain motivated when the going is good. Don't be just a good time friend to your body. If you want it enough you'll take the right actions especially on those days when motivation doesn't show up.
If you're after some motivation tactics in show #144 I share how to: Bullet-proof Your Motivation To Exercise:
Three: Poor Productivity Disciplines.
Of course this could be an entire show on it's own. However here are my top 3 productivity tips to help carve out some non negotiable time for the actions you need to take to attain your body gain goal.
A) Get to sleep 7-8 hours before the time you need to get up.
B) Plan your day to come the night before.
C) Batch your tasks.Both those that are important like perhaps email and phone calls. And alsothose that are less important and can just eat time, like social media and Netflix. If you're going to do them at least decide on the time and the amount of time – in advance – and choose how you invest your time with volition rather than meandering down the rabbit hole daily.
Four: Lack of knowledge.
I genuinely believe this is less common in health than in business. Most people know enough to get a result. They just choose the easier option over the better option.
For example: If I were to offer you the results of either sticking to a meal replacement shake 2 meals a day and getting in a  weekend walk when something more important didn't come up for 6 months OR eating 3 nutritious primarily one ingredient based meals each with fibrous veg, lean protein and good fat a day and doing '3' intense 45 minute weights sessions a week for 6 months… you'd have an easy choice right?
It doesn't even matter if you don't know the very best of the best exercises or the very most perfect super foods to eat! You really don't need too. In fact that brings me to…
Five: Overcomplicating it.
I absolutely do this in business and I'll admit the health industry does it's very best to encourage you to do this in health.
The thing is, there isn't ONE way. There are likely limitless ways to get a result. The important thing is to find a way you can stick with and then gradually – as you feel you're able to and want to – bit by bit upgrade your approach.
There's zero value in pre-workout drinks, complicated split programming for your weights training and to be honest even calculating your individual macronutrient goals if you're not yet even getting to the gym regularly or planning and eating non-refined-high-value-nutritious meals.
The thing is there's so much information available. 24/7. Often free. It's super easy to get caught in a results ruining rut of endless information gathering and minimal information implementing.
The strategy to avoid overcomplicating it is to settle on the ONE expert / mentor / program for what you're looking to achieve and model their / that approach. Rather than playing with a little bit of this versus a tad of that and not really making any significant progress.
Six: Perfectionism.
I absolutely used to use perfectionism as an excuse. However the thing that helps drag me away from my previous perfectionist tendencies is a quote from the late and legendary artist Salvador Dali: "Have no fear of perfection – you'll never reach it."
He's so very right. What could possibly be the value in moving slowly – or not at all – because you're waiting for the perfect time, program, mentor or whatever it is that will never arrive?
My first nutrition strategy when I started taking my goal to transfer my body seriously involved: 1 litre plus of cows milk with Whey protein powder, sour dough bread rolls and pasta every day. It was ultra low fat, high in refined carbs and seriously low on fibrous veg. However it was a start.
There is no way I could have jumped straight to the way I eat today. It would have seemed completely unrealistic and unsustainable. The takeaway is: If perfect is daunting that's cool – just make a start with a little better.
Seven: Hanging on to something that someone else could do.
This is possibly the thing I still struggle with most. Because it's not always so simple!
If you could instantly outsource every part of achieving your body gain goal that you move slow with – you'd do it as swiftly as I'd outsource every boring-tedious-confusing part of running my business right?
However that presupposes that each of us:
A) Know WHO to outsource to.
B) Have unlimited funds to make it happen!
Here's the strategy I'm going to start rolling with. That thing that keeps appearing on my daily-Weekly-MONTHLY (!) task list that I'm not personally actioning? I'm going to give it a deadline.
30 Days and it's Done or else it needs to be Delegated or Ditched!
If 30 Days seems slow to YOU then nice one – you're likely a faster action taker than me. I realize this doesn't magic-fix the question of who to delegate to and how to pay for it however the deadline gets you (me!) thinking about solutions rather than indefinitely hanging on to something that someone else could do.
To get actionable today: Which of the 7 reasons people move too slow resonates most with you? 
#Seven: Hanging on to something that someone else could do is mine and I'm taking action on it today as it's certainly been slowing me down for more than 30 days!
That's it for me today. I'll be back on Friday with the weekly wrap.
If you liked this you'll also like: Weight loss mindset: If I had to start again, this is what I would do.
If you're yet to share the Healthification love – just click here to zip over to iTunes and leave an honest rating and review. It'd help me out big time. With gratitude, Kate.