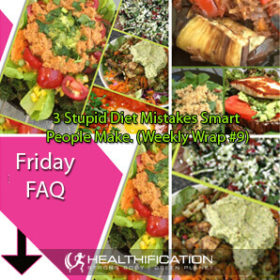 Podcast: Play in new window | Download
Subscribe: RSS
Hey Body Gainers!
Todays show is sponsored by The Body Gain Lifestyle. I'll share more about this community later on in todays show.
In this weeks weekly wrap let's talk about eating as much food as you can possibly get away with!
I'm serious… in fact I want to share:
3 Stupid Diet Mistakes Smart People Make.
I'll certainly chat a little exercise and mindset too. And of course I'll share the habit and the podcast I've been loving this past week and what's been a heap more struggle street.
Let's get rolling…
My thoughts so far as FOOD are compiled with love and compassion yet also with a hefty side of frustration. Perhaps, '3 Stupid Diet Mistakes Smart People Make' is a little harsh however I am a little frustrated!
Mistake One: Not Considering, Is It Sustainable?
One of my super dear long term clients informed me today (albeit somewhat sheepishly as she knew what sort of response she'd get!) …she's giving some meal replacement shake a go.
She told me the brand though to be honest I have so little interest in giving your body fake processed rubbish in a desperate attempt to see results in an unrealistically short time frame that disappear the second (ok maybe the week!) you return to normal eating… that my brain didn't hold onto the name!
With anything food, one of the most important questions to ask yourself is: Is It Sustainable?
As I told my client, "That's cool if you can do that FOR THE REST OF YOUR LIFE – actually it's not cool because your body deserves better fuel – however my point is, your results will last only as long as the actions you're taking to get those results last."
My client is smart. "Hmmm, that makes sense" she said.
However, will she take my non-sexy-less-easy-SUSTAINABLE advice and eat real food or will she be seduced by the multi-million dollar meal replacement industry that promises quick, easy results??
Mistake Two: Focusing On Restriction.
I had a first session with a new client last week who was referred to me by and I quote "The fitness inspiration and yummiest mummy in the school!" who I've been training for a couple of years now. I haven't been to the school however I'd absolutely agree – to her credit – my client trains hard and has sculpted a smokin body. Anyway, back on track (!) I'll always chat food with a new client:
What's worked in the past. How's it looking right now. What I'd recommend.
"Severe food restriction – basically starving myself" is the only thing that had worked in the past.
"Eating to get me through the day" is how it's looking right now.
This is a super common situation. Because focusing on restriction has worked in the past it's semi logical to conclude that's the solution. However back to mistake one, if it's not sustainable – has it really worked?
My recommendation is to turn that focus around and instead focus on: Eating as much food as you can possible get away with.
As I shared with my client, "It's about building your body up to be a fit, strong and yet still lean machine that processes the food you give it efficiently – rather than starving it into a sluggish, weak and miserable state that forces it to to hold on to anything you feed it. And eating plenty of great food is just more fun that miserable restriction mode right?!"
Of my client agreed. "WOW, that sounds so much better!" she said.
The vital consideration is it needs to be Eat Better Not Less as opposed to Eat More Not Less. As I know I've shared before: the toughest way to lose weight is via strict caloric restriction of crap-o-la food!
In pretty much any aspect of life – if you're on the same team – you're going to get the better result working together rather than working against each other.
Perhaps it's not conscious however too often I hear people talk about their body as if it's the enemy.
You and your body are absolutely and always on the same team.
In fact it's amazing how forgiving your body is. From meal skipping, to meal replacements, to addictive-craving-causing-calorie-controlled-this and low-fat-high-refined-carb-nutrionally-void-diet-that… For the super vast majority of us, once we quit the rubbish: Both literally and the rubbish we tell ourselves like,
"I deserve this little treat" and then perhaps later that day "I'm so weak and greedy – it's disgusting – now I have to make up for that complete lack of discipline with a couple of 500 calorie days!"
Once you quit that type of rubbish self talk, and the rubbish food that feeds it then your body truly will respond well.
Let's move on to EXERCISE.
My thoughts this week relate to the concept: Respect The Momentum.
Generally I'll cover something because I'm either killing it or struggling with it. Well this week I'm struggling a little. So let's make this officially my struggle-street of the week too!
I skipped my interval training last week – no good reason – simply my amazing ability to reason myself out of a good action!
Anyway, I find myself getting pretty damn creative again with reasons might it might be ok-Sensible-A-GREAT-DECISION (!) to bypass those intervals again this week!
I cover respect the momentum in depth in the #179 show however here's the bullet point version:
Reason One to Respect The Momentum: It's hard to build.
Reason Two to Respect The Momentum: It can easily slip away if you let it.
Reason Three to Respect The Momentum: How frustrating it is to try and drag yourself to back were you were months ago, when really the goal was to be progressing rather than playing catch up?
3 great reasons that I reminded myself of today in response to:
"You could get a solid 20 minutes work done in this break" and, "It's been a busy morning you deserve to chill."
Side note: It's always worth having more reasons why you should do something valuable up your excuse-beating-sleeve than reasons why you shouldn't do something.
I did those pesky intervals and they were just fine. Even, almost fun. After I felt energized and even better almost Proud and certainly happy that I came through for ME.
I think that's a good spot to get actionable today, even though it's not the end of the show: What is the habit in your life perhaps relating to exercise and perhaps not… where you would benefit from Respecting the Momentum a little more?
Talking HABITS I'm going to take a new one for a spin this week. It's an idea that an online mentor of mine, James Schramko shared in his live online monthly training. James credits Dan Dobos for the idea which I'm going to trial as a focus honing habit.
Now I may butcher the wording however here's my takeaway…
Let's say have 25 goals. And let's say of those you have your top 5 goals. Leaving the other 20.
Here's how to work those 25 goals:
Your top 5 become your To Do List.
The other 20? = NEVER DO!
I know it sounds overly simple however in any area of life you're not yet winning you're likely over complicating it. Potentially getting overwhelmed or just distracted and sucked into busy yet less effective.
I'm sure you could think of 25 things of value to do so far as your health. However there will be 5 that are the most important. Those stubborn reoccurring actions / goals like:
Eating natural primarily one ingredient food. 
Planning your natural primarily one ingredient food based meals.
Exercising daily.
Prioritizing enough sleep.
and whatever #5 is for YOU – for me it'd be daily Gratitude.
My podcast recommendation this week is: The James Altucher Show.
I really enjoy most of James interviews. The one I listened to this week was episode 158 with Gary Vaynerchuk: Be Successful By Being Yourself.
One of many great insights was Gary's big and bold (true to style!) statement that the: "Single greatest attribute anyone can be gifted with is Self Awareness."
It got me thinking… and I don't disagree.
There's massive value in being aware of your strengths. As well as your weakness's.
In using your self awareness to be a more successful – and happier YOU – rather than a frustrated, disappointed and disappointing shadow of someone else.
I highly recommend the show.
That brings us to the end of another week in Healthification. Huge thanks to you for sharing this week with me.
As I mentioned at the top of the show, Healthification is proudly bought to you by The Body Gain Lifestyle – an online self-paced course, community and coaching program to Create A Fit, Lean, Healthy Body That's Sustainable For You And The Planet. I've got your food and your exercise covered. I'll tell you exactly what to eat, how to exercise and when… However, If your MIND is stuck you're wasting your time moving your body.
My Main Focus inside BGL?
To make the MINDSET component of Body Gain simple, implementable and sustainable.
To learn more simple cruise to strongbodygreenplanet.com/bodygainlifestyle
If you've enjoyed this show and gotten value out of it I'd super appreciate it if you pop over to iTunes and leave me a review. It helps other people find Healthification and it will inspire me to continue with the twice weekly shows and also get some Wednesday Weigh-in Interviews pumping!
If you liked this you'll also like: Here's Why You Can't Out Train A Bad Diet.
If you're yet to share the Healthification love – just click here to zip over to iTunes and leave an honest rating and review. It'd help me out big time. With gratitude, Kate.