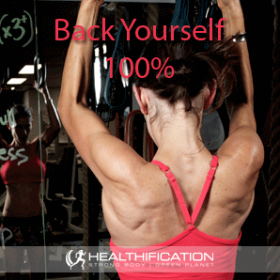 Podcast: Play in new window | Download
Subscribe: RSS
Today's training show was inspired by a quote – or perhaps rather a personal philosophy curtesy of Edward Massey and that is: "Respect The Momentum."
Particularly at this time of year as work deadlines… social engagements… perhaps school commitments if you have kids all fight for your time and attention while equally there's that slowing building desire to gleefully surrender to holiday mode and embrace some much needed chillaxation!
I do believe in a structured rest from weights once a year – for ONE week – a week that personally still happens to involve a heap of walking and also a couple of rare long runs… however, extreme-me-aside (!) the key here is that if YOU'RE going to ease off the exercise it needs to be a conscious decision made to benefit your body rather than a series of bad habits you acquire as the holiday season progresses that amount to an all out loss of that momentum you worked so hard to build this year.
Your FIRST reason to Respect The Momentum: It's hard to build.
It's what I call the run-way phase … the plane going full-throttle before take-off. It takes a lot of fuel and effort and it certainly can't be maintained indefinitely. In the body gain game unlike the planes' run-way… there is no guaranteed point of take-off!
When you're still racing along the body gain run-way it's easy to wonder if all the effort will ever really pay off?
However when you look at that ridiculously fit and healthy guy or gal… they're cruising, flying high and it's easy to forget the dues they paid prior to take-off.
Conversely, once you're soaring it can seem little hinges swing big doors. 
You have momentum: You know what works and so you do it again and you have faith in the outcome based on your previous reference points for success.
Your SECOND reason to Respect The Momentum: It can easily slip away if you let it.
That one gym session declined to head out for drinks instead. Or that 15 minutes of extra sleep that turns into an hour and a skipped walk before work and a rubbish breakie to boot…
Sadly it's easier to break a good habit than to create a good habit.
And Yes it may be really easy to create a bad habit however the important thing is, it's tough to live with your bad habits. Like really-super-tough on your body to live with those destructive things.
Your THIRD reason to Respect The Momentum: How frustrating it is to try and drag yourself to back were you were months ago, when really the goal was to be progressing rather than playing catch up?
It's reality pretty uninspiring working towards that same goal you had last year and didn't achieve last year.
Your goal is stale before you even start. It's not the compelling emotionally charged life-changing goal that pulls you through and entices you to take action even on the tired, time-poor and generally just 'struggle-street' days.
Let's get into solution mode!
Here are three ways to Respect The Momentum:
Remind yourself of your PROGRESS.
It's easy to take momentum for granted, you might not appreciate what you've built up until you're starting again from a solidly depressing stand-still. The far more fun approach is to build on what you're got. So take a minute now to acknowledge the progress you've made. Whether it's your strength, fitness, fat loss… or just as importantly the fact that you're in the habit of consistent exercise… or perhaps that the once daunting gym is now if not quite a place you look forward to frequenting at least somewhere you feel comfortable and welcome.
Side note: you can and should feel comfortable and welcome at your gym. If you don't please check out show #039 where I share: 6 reasons to not be afraid of the weights floor.
Have easy to achieve B.A.M's.
BAM stands for Bare Arse Minimum. I never want you to rely on BAM – it's not a long term strategy for great results – however I always want you to have it to fall back on. In those times when ideal just isn't going to happen. For whatever reason. In those times BAM always beats nothing.
I know I would have lost momentum many a time with my interval training if I hadn't had a really doable option.
I have a 5 minute routine on the treadmill or the rower or the stepper. Now 5 minutes may not be best case scenario however I've stuck with it. I have enough momentum that if the mad desire hit me to up the cardio anti – totally can't imagine that happening however just say it did… well it actually wouldn't be that daunting.
Seek some ACCOUNTABILITY.
Sometimes it's nice to know it's not ALL ON YOU right?
So perhaps you're lucky enough to have a regular couple of sessions a week with a trainer. Or maybe a reliable commitment to train with a gym buddy. A group exercise class where you'll be missed if you skip it is also a good solution. Or perhaps you're a member of a community where support and accountability are nurtured.
The thing with accountability is you want to have it in place before you need it. You absolutely don't want grief after the event, there's zero value in guilt-tripping for the work-out you didn't do, it's more about knowing someone is on your team and backing you to make that next exercise session… and to keep the momentum.
To get actionable today, I'd love to go with point 1 where you, Remind yourself of your PROGRESS. Take a minute now to acknowledge the progress you've made… and even better do it every day, when how far you've got to go is getting a little daunting the best cure is to feel gratitude for the progress you've already made.
That's it for me today, I hope you can join me tomorrow for the Friday FAQ show where I cover, How To Prevent Weight Gain Over Christmas and New Year. (part 1)
If you liked this you'll also like: Results yesterday v. Actions tomorrow (that equation doesn't work!)
If you're yet to share the Healthification love – just click here to zip over to iTunes and leave an honest rating and review. It'd help me out big time. With gratitude, Kate.