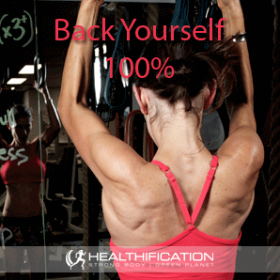 Podcast: Play in new window | Download
Subscribe: RSS
Today as we finish the first month of spring in stunning Sydney it's due to hit 30 degrees… it's gorgeous summer-like-strip-off-the-layers-type weather.
And talk of less layers often comes accompanied by a self-imposed pressure to up the exercising anti. I know I'm not alone in feeling this. Even though I stick to a pretty awesome training and eating plan at least 51 weeks a year, there's still some instinctual unease about what will be revealed when those short shorts and bikini's get their first airing!
I find myself thinking: Do I need to just step-away-from-the-computer and schedule in an evening walk? Or run?!!
And then I get annoyed at myself because it's time – again – to actually step back and take my own advice. I know I'm doing enough and today I'll share with you how I know and how YOU can know too.
In todays training show: Are You Exercising Too Much?
3 factors to consider before you up the exercising anti on yourself:
ONE: Is it Sustainable?
When I joined my first Sydney gym 16 years ago, I remember a trainer there Eddie telling me "the more you do the more you have to do" …it didn't make so much sense to me back then. Sadly I didn't take Eddie's advice on that gem and did take his advice to incorporate heavy seated calf raises into my training (!) …so I became the chick who had to exercise for a couple of hours a day who also had MASSIVE CALVES!
To cut to the chase, unless you have a very extreme goal – exercising more than an hour a day 6-7 days a week is really a reflection that it's time to put more effort into your clean eating rather than your exercising.
I feel like I need to provide caveats here: there's exercising and there's exercising right?
Just moving more like walking to work – low intensity stuff like that – absolutely counts and is awesome, however I don't count it in the you're doing too much category. I believe we were made to move and incidental movement needs to be worked back into our normal lifestyle in a way that is sustainable.
It's the medium to high intensity stuff that you don't want to be doing an unsustainable amount of.
How do you know what is sustainable for you? That brings us to factor two…
TWO: What's it Costing You?
Not financially, I mean so far as opportunity cost. Is your increasing exercising – or the increased exercising you're considering – coming at the expense of other things that are important to you?
Here are a couple of indicators:
=> Does exercise feel like 'Precious ME Time' because it can and should OR is it starting to feel 'restrictive' and 'all-consuming'… more along the lines of 'Pressure ME Time'?!
=> Are you getting resentful that the Results v. Effort ratio is just not acceptable?
From time to time I test the opportunity cost of my exercise routine. Perhaps I consciously shorten my work-outs or skip a walk here and there… I let myself get sucked in to the 'Must have more time to work!' spiral. However so far each time I've swiftly scuttled back to my current exercise routine as less just leaves me feeling moody and irrational and even resentful.
The thing with opportunity cost, when you take away from something to give to something else you're going to want to see some pretty good results pretty damn quick or you're going to find yourself focusing on what you've given up. Resentment creeps in and it's only natural.
How to know when resentful is reasonable and a sign to change v. when it's time to just push on, focus on the positives and choose your mood? That brings us to factor three…
THREE: Do You Wake Up Feeling Refreshed and Energised?
So, I have to have caveats here too. If you're getting poor quality sleep or regularly less than 7 hours a night then it's going to be tough to judge this one. So I guess that counts out all my dear clients, friends and listeners with young kids. However everything is relative, is there a 'more fresh and energised' on your scale of always exhausted??
I find when I get myself to bed for 7 hours sleep (that's my magic number – go with whatever your body needs) the way I wake up is a good indicator of am I doing too much of something and feeling UN-fresh, UN-energised and generally just UN-inspired.
You've got to be brutally honest with yourself here. Generally you could either resort to lazy-time-hit-snooze-and-roll-over OR you could bounce straight out of bed and give your body the breakfast that fuels it's most effective, productive day. Most of the time your body has either in it – it's YOUR MIND making the decision as to which one you either roll-over with or rock-on with!
If I look at working or working out generally it doesn't matter how hard or how much I did yesterday once I get 7 hours sleep I'm going to wake up ready to rock today!
So to be ultra clear, let's adjust Factor three just slightly to: Do You Wake Up Feeling Refreshed and Energised – or COULD YOU?
Because there are those rare UN-fun periods in life where you're in absolute survival mode – your body feels like lead, barely even able to roll over and attempt to hit snooze.
This is not the time to up the exercising anti… it's the time to get serious about some more sleep.
To get actionable today, if you're thinking you may just be exercising too much and yet you're certain you're not enjoying too much so far as results (!) I've got a two part solution for you:
One: Exercise Smarter Not More.
Specifically, todays action step is to increase your training intensity by getting more done in less time.
=> If you fall into the "I need to do less" camp then aim to get the same amount of work done in less time.
More focus, less rest is the way to achieve this – with both your weights and your cardio.
=> If you're more in the "any more would be too much" camp then aim to get more work done in the same time.
Again, more focus, less rest is the way to achieve this – with both your weights and your cardio.
Two: Eat Better Not Less.
For a whole lot of specifics here's a link to a post I've written on exactly this principle: Eat Better Not Less.
One part of this solution is likely jumping out at you as worth implementing. Even if you know you could do better at both pick one and make just a simple upgrade to it this week.
That's it for me today, big thanks to you for spending this time with me and I hope you can join me tomorrow for the FAQ show where I cover, Cost Effective Healthy Eating.
If you liked this you'll also like: How To Maximize Your Daily Eating and Exercise Discipline.
If you're yet to share the Healthification love – just click here to zip over to iTunes and leave an honest rating and review. It'd help me out big time. With gratitude, Kate.