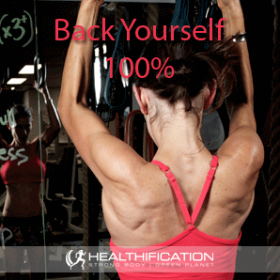 Podcast: Play in new window | Download
Subscribe: RSS
Some of the people I respect most in health and fat loss are huge carnivores and some are vegan. Some swear by intermittent fasting coupled with entire cheat days where no processed crap-o-la carbs are off limits while others practice a Paleo approach.
I respect people who train primarily with Kettle-bells or body-weight and others who are Cross-fitters. People who are alcohol free and also people who drink even more than me!
Without exception every single person I follow and respect in my industry has a different opinion on some element of getting and staying fit and lean to me. And that's ok.
In today's weigh in show, I'm revisiting why I believe OVERWHELM is lazy thinking and sharing 3 tips to escape: Info Overload Overwhelm.
I covered overwhelm in a broad sense in show #013, it's worth a listen if you haven't yet.
The thing I find most valuable in escaping overwhelm is to admit that you will never get it all done.
This is actually incredible freeing.
It means focusing on managing YOU and your priorities rather than trying to become a time-management ninja!
When we apply the potential for overwhelm first purely to the information that assaults our 5 sense every single moment – and now let's narrow that down further to: the eating and exercising information that bombards us every single moment there is of course an inclination to indulge in frenzied, ineffective, hazy-LAZY-thinking.
Fish-eating-dairy-limiitng-high-protein-low-carb-primarily-one-ingredient-split-program-heavy-weights-high-intensity-interval-training-incidental-walking-intermittent-fasting-cheat-meal-vegetarian… is just my approach.
It works for me yet focusing on it ALL is a little, well, Overwhelming!
Here are those 3 tips to escape Information Overload Overwhelm:
One: Decide On ONE Proven Approach… and commit to stick with it 100% for a fair, reasonable period of time.
=> That's minimum 6-8 weeks, even better 3-6 months.
Here's the thing, there are a multitude of approaches that can work. However none will work when you cheat and program hop and mix bits of this with bits of that.
So to make tip one work for you,
A) Find an approach that looks like it could fit sustainably into your lifestyle.
B) Do your due diligence and find the evidence that this approach has gotten results. That may be as simple as do you trust that the person advocating the program is genuine – do they walk their talk and embody the results you'd love to have?
C) Now, you're going to need to apply some exciting-shiny-new-thing-blinders.
Two: The One Next Thing.
=> There is always one next most important thing.
Once you admit that you will never get it all done then you also must acknowledge that some stuff is going to miss out.
So, what is the one thing that will have the most positive impact right now?
So to make tip two work for you,
A). Decide your one next thing and take action on it today.
B). If that one thing is a reoccurring action (like exercise or meal planning) then schedule it into your daily and weekly routine, at a set time and day.
C). Practice zero tolerance for any actions that try to push in before your most important one next thing… this one only gets easier. When you feel a downward spiral of distraction building ask yourself: What is the one thing that when I do it today I'll go to bed feeling happy, proactive and like I've made progress?
Three: Focus Only On What You Can Control.
=> There is limitless potential for stuff beyond your control to sap your precious energy and time.
Thankfully, this will only happen if you let it. If you let your focus wander there's no telling where it'll end up.
So to make tip three work for you,
A). Guide and guard your focus
B). Nurture and build your positive and supportive thoughts
C). Slam the door of your mind on anything that is not within your ability to control or change for the better. This will allow you to process only the most relevant information and respond to only the most beneficial opportunities.
To get actionable today let's dig in with tip three: Focus Only On What You Can Control.
This is relevant within ANY situation.
Even if all you can control is your reaction to the situation.
To give a personal example I was experiencing information overload overwhelm recently over a component of my business.
In short I was subscribing to two major factors of overwhelm: believing I could get IT ALL done and focusing on stuff that is beyond my control.
So what have you been wasting energy on that is beyond YOUR control?
=> A fear that likely will never eventuate?
=> The chick with more time, support, money and better genetics who has it easier?
=> The attempts in your past that didn't work… and are zero reflection of how your attempt in the future will pan out!
i don't usually finish with a quote in today's show however this one jumped out at me last night!
"You can do anything but not everything" David Allen.
Perfect right?
That's it for today… In tomorrows Thursday Training show I cover: Are You Exercising Too Much? I hope you can join me.
If you liked this you'll also like: Smart Simple Weight Loss: Prioritise v. Overwhelm.
If you're yet to share the Healthification love – just click here to zip over to iTunes and leave an honest rating and review. It'd help me out big time. With gratitude, Kate.