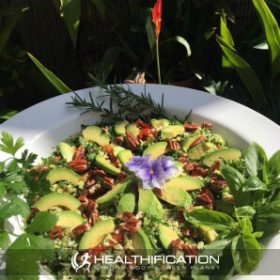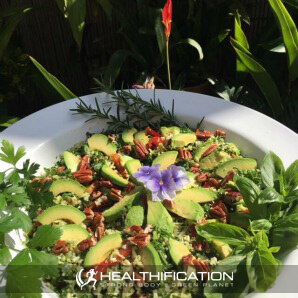 Podcast: Play in new window | Download
Subscribe: RSS
There's something really comforting to me about having a well stoked fridge and freezer.
I guess it's the ever-hungry-fuss-pot-eater-and-Planner in me. Although I pass a supermarket at least daily its nice to know if I ever got suddenly stranded in the house I won't be left high and dry starving or have to endure boring food.
Equally it could be that I find cooking rather tedious and time-consuming and if I can do it on mass less often then that is preferable.
Whenever I'm home for Xmas it's a source of angst for my mum, who does LOVE cooking and who's also all too keen to 'rationalise the fridge' – which basically means my little bowls of left-over-this and I-might-need-that and pre-planned-salad here and part-cooked-veg there are in serious danger of being binned!
In today's Tucker show I'm covering how to: Turn 3 Mass Cook-ups into 9 Different Meals.
Meals on mass one: Cauliflower and Kale Tabouli.
Download FREE 3 Day Easy Vegan Plan (PDF)
This is such a fresh and versatile dish. The base is 1/2 a medium head cauliflower and 1/2 a bunch kale.
From there the options are limitless. I like to add:
1/4 cup basil and oregano, chopped
2 garlic cloves, minced
1/3 cup mixed pumpkin, sunflower seeds and pine nuts
1 red capsicum, finely sliced
1-2 spring onions, finely sliced
8-12 sun-dried tomato halves, finely sliced
Sea salt to taste
Some awesome optional extras: 2 tablespoons nutritional yeast, 1 tablespoon avocado oil, 2 tablespoons hemp seeds (if eating these little beauties is legal where you live!).
Once you have a base you love, it'll live well in the fridge for several days. Here are 3 ways to transform it:
Salad: Add dry-fried / BBQ'd haloumi OR a sliced avocado and some roasted pecans for a stunning and satisfying salad.
Patties: Add egg substitute (such as 1 tablespoon of chia seeds mixed with 3 tablespoons of water) + canned beans / legumes of preference and make into easy patties.
Wrap: Add some left over roast/ BBQ'd veg + hummus and wrap with tabouli in collard greens or cos lettuce leaves.
Meals on mass two: Chilli Mince.
I used to make this on mass with kidney beans. I now favour the lower carb version and add extra veg instead of beans. I find eggplant works super well if you grill it till the skin blisters then scoop out the flesh and discard the skin. It gets a better texture.
The base here is veg like baked eggplant and zucchini plus canned or fresh tomatoes, onions and chilli.
From there again the options are limitless. I like to add:
1 grated carrot
1 red capsicum sliced
2 tablespoons of tomato paste.
2 cloves of garlic, minced
1/2 teaspoon smoked paprika
Fresh chopped herbs like oregano, rosemary and marjoram to taste
Sea salt to taste
An awesome optional extra: dairy free basil pesto.
This beautiful base will live well in the fridge for several days or in the freezer for yonks! Here are 3 ways to transform it:
Nacho's: Use kale crisps instead of corn nacho's, add your chilli mince and then fresh guacamole plus your extras of choice like, olives, spring onion, fresh corn and cashew cheese.
Cottage pie: Pop a couple of cups of your mince in an oven proof bowl, stir in a handful of something green like beans or spinach and cover with creamy cauli-mash made with: cauli, garlic powder, rosemary and some coconut milk.
Spicy Baked Eggs: Throw your mince in a frypan to heat. Make a couple of dips in the sauce, crack an egg into each and cook covered for 6-8 minutes till the eggs are done to your liking.
Meals on mass three: Coleslaw.
Ok, so this one sounds a little un-sexy right? It is however a great way to use those leftover veg that you've always got on hand. Pretty much anything goes and it's super quick if your have a food processor to do the grating/slicing for you.
The base is cabbage, carrot and some sort of onion – maybe spring or brown or red.
From there I like to add:
Broccoli (even just the stems!), zucchini, fennel, corn, coriander.
An awesome optional extra: cashews.
As this colourful collection is dressing free it will live easily in the fridge for days. Here are 3 ways to transform it:
Omelette: Just add a couple of eggs to a cup of coleslaw mix and this quick breakie is good to go.
Stir-fry: Choose your protein such as tempeh, cook in some sesame or coconut oil and flavour with some fresh chilli, ginger and gluten free soy.
Creamy Coleslaw: add Coconut Yoghurt for an easy side to have with BBQ'ed veggie skewers.
It must be the time of the actionable!
I'd love to hear your most versatile meals on mass? Perhaps you have a rockin meal on mass that you've just thought of another way to use? You can let me know via the comments below.
That's it for me today. I appreciate you choosing to hang with me today. Thank you.
I'll be beck tomorrow with the Wednesday Weigh-in show where I discuss: Info Overload Overwhelm… and how to avoid it! I hope you can join me.
If you liked this you'll also like: My Food Diary: Cheat Day + Ideal Fat Burning Day. (part two)
It's 100% free. It's fun. It's easy.
Here's what to expect each day: 3 abundant plant based meals. An awesome equipment free fat burning workout. And also the mindset tips that make your best eating and exercising choices simple and sustainable.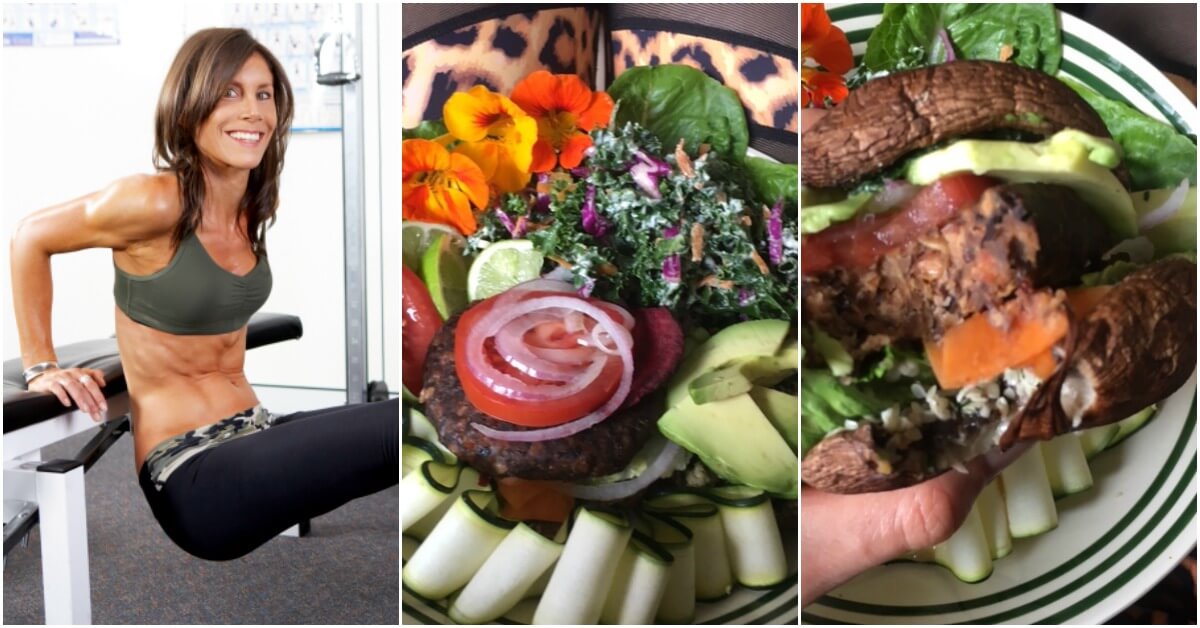 If you're yet to share the Healthification love – just click here to zip over to iTunes and leave an honest rating and review. It'd help me out big time. With gratitude, Kate.