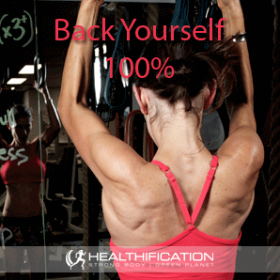 Podcast: Play in new window | Download
Subscribe: RSS
In todays show I'm discussing 3 C's Of Successful Fat Loss. I'm keeping it simple because I know Confusion, is a C word that holds too many people back when it comes to success in the body gain game.
Perhaps Confusion has even stopped you from starting in the past?
And Cardio is that C word that makes fat loss feel like a frustrating battle to stay afloat…
AND Carbs is that C word that can bring pure-bliss-and-joy coupled with restriction-and-guilt…
For each C of Successful Fat Loss I'm going to give you an example of how to make it apply to your FUEL (that's food!), your MOVE (that's exercise!), and your LIFE (that's time!).
The Fuel and Move are obvious right? #3 Life = Time because I believe they are one in the same. If you're wasting one you're wasting the other… and when you get the most out of one you get the most out of the other.
So, onwards with 3 non negotiable C's Of Successful Fat Loss:
One: Be at CAUSE.
To be at cause is to accept personal responsibility. Responsibility for the actions that have gotten you to where you are now and for the actions you take today that will bring about your results in the days, weeks, years to come.
To be at cause gives you control. It means you get to choose the way it's going to be from now on – rather than live at effect, reactive and a victim of the circumstances that happen to you.
With Fuel: To be at cause means, you never "had to eat the…."
You either chose the tastier, easier, quicker or more socially acceptable option OR you didn't.
No one held a gun to your head.
You decided to prioritise instant gratification over long term pleasure OR neglected to plan and prepare OR chose ordinary over extra-ordinary.
With Move: To be at cause means, your training schedule does not live at the mercy of the weather… or a great nights sleep, or your training buddy or most anything else.
The things that are most important you make happen regardless. Perhaps picking your child up from school – you wouldn't skip that because of a little rain!
With Life: To be at cause means, planning your day and working your plan. Taking 10 minutes tonight to plan the day to come tomorrow will make you more efficient and effective at getting the most important things done in less time.
Having a plan means you get to chose what gets done and what doesn't. It's the only way to ensure the important and not yet urgent doesn't get nudged out of your day by un-important and urgent.
Two: Be CREATIVE.
To be creative means to always seek out a solution, to know there is always a way. Your imagination is both the source of many of your problems – those sneaky 'What if's?" – and also the solution to ALL of your problems when you chose "How can I?" instead.
Creativity gives you options.
With Fuel: To be creative means, you can always find the meal that tastes great and is great for your body.
If you're sick of tuna, cottage cheese and broccoli… well that's both totally understandable and 100% with-in your control to change. I'd get sick of that or boring old meat and 3 veg too.
Once you take the time and put the energy into finding the meals that work well for you you'll be pleasantly surprised at just how enjoyable and sustainable eating the food that supports your best body can be.
With Move: To be creative means, you can work around almost any injury and with any to zero equipment. Creativity kicks in when the situation is not ideal and let's you get the job done regardless. Actually when you think about it a lot of creativity, whether it's music, writing, painting comes as a result of or response to the non-ideal.
With Life: To be creative means, you can squeeze maximal value out of your non-super-focused training, working, family time. I'm not a fan of multi-tasking usually however in the following situations it works well:
=> listening to a podcast or audi-book while preparing your meals on mass, cleaning the house or walking to work.
=> going for a walk while chatting to a family member on the phone or conducting walking meetings with your colleagues.
Three: Be CONSISTENT.
So this one got a whole show to itself back in #004. It's worth a re-visit though.
Do you remember the little certificates they handed out in primary school? I remember I always used to get 'Consistent effort' and I always wanted to get 'Good work.' The super brainy chicks got Good Work. That was just never me… I had to work hard to do well, and more so I had to work hard consistently.
In hindsight, I now actually believe a great work ethic and consistency counts for more than raw talent, in school, in business and Yes, in fat loss and body gain.
Those genetically gifted gals and guys generally don't have the best bods. They've had it too easy and struggle with another C word: Complacency!
With Fuel: To be consistent means choosing fuel that is of value to your body when it's what you're craving and also when it's not. The light at the end of the tunnel here is the more you choose food of value the more you crave it.
With Move: To be consistent means sticking to your training plan for long enough to actually see results. Whether you exercise today is dependent on the training plan that's propelling your towards your goal NOT how you wake up feeling. Lock and load a training plan and commit to it. In show #059 I cover: Your Ideal Training Plan.
If you're used to getting what you want when you want – at the drop of a hat – with minimal effort then you're in for a harsh shock.
Nature is neutral. You can't bludge, buy or bribe your way to your best body – it's going to take hard and consistent effort.
With Life: To be consistent is guaranteed to get you results, however there is zero guarantee on timeframes. You've got to decide first that you want it enough and then commit to consistency and let go of conditional timeframes for your consistency.
So there you have it, my 3 C's Of Successful Fat Loss. You'll notice that in any area of your life in which you already excel you're at Cause, Creative and Consistent. Equally in any area you struggle you'll have some work to do on at least 1 of the 3, as do I in the area's of my life which I find a little struggle-street.
That is the action step for today. So far as your body gain goal, which C would you see most value from getting better at?
I'll finish todays show with a quote from Ralph Marston: "Concern yourself more with accepting responsibility than with assigning blame. Let the possibilities inspire you more than the obstacles discourage you".
That brings us to the end of Healthification #131. I'll be back tomorrow with the Tuesday Tucker show where we: Turn 3 Mass Cook-ups into 9 Different Meals.
If you liked this you'll also like: My Food Diary: Cheat Day + Ideal Fat Burning Day. (part one)
If you're yet to share the Healthification love – just click here to zip over to iTunes and leave an honest rating and review. It'd help me out big time. With gratitude, Kate.