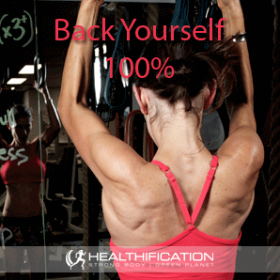 Podcast: Play in new window | Download
Subscribe: RSS
Right up there with the "Eating healthy takes to long" excuse in my list of top ten ways to talk yourself out of your best body is "Eating healthy costs too much".
Yes, I do feel a stab of anger as I pick my paltry-yet-pricey $3 avocado and walk past the entire block of chocolate for $1.94.
However, the fact remains healthy eating CAN be cost effective and in the long term it's a lot less expensive.
In todays FAQ show I'm covering: Cost Effective Healthy Eating.
Here are 6 steps that I started using when cash-o-la was really UN-fun-ly tight… and I've stuck with them because:
A) I believe waste is selfish and lazy.
B) Every single cost cutting step has the happy double benefit of also helping me prioritise the food that is best for my body and avoid the rubbish that is not!
First step: Have a rough weekly plan of what you're going to eat.
So that's the types of meals and also how they might fit together with cooking in bulk and using leftovers later in the week.
Ideally exactly what lean protein, or veg or good fat you're going to have at each meal isn't set as stone as you want to be able to take advantage of whatever is on special or is a great deal to buy in bulk.
So for example when I knew I was planning a mass cook up of vego curry to have with cauli-rice this week I was able to jump on the huge 'imperfect' eggplants on special at the market for .89c each and bags of onion for a dollar, bargain right?
Coupled with the leftover zucchini, red capsicum and green beans I had hanging in the fridge this became a super cheap few meals. Side 'protein' note: if I didn't obsessively follow low protein meals like that curry with my addictive choc-protein pancakes I would have added some fish scraps to the curry. That sounds a tad repulsive doesn't it?
It's actually not, I just have a little habit of chopping off the end of a fillet of fish that's more than 150 grams and chucking it in the freezer. Fish fillet size seems to really vary and I'm not going to eat 200+ grams just because that's the size of the cut.
Step 2: Shop once or twice a week rather than daily… I like once at the big supermarket (as there's just some stuff only they have) and once at the farmers market.
Every time you hit the supermarket becomes an opportunity for tempting treats to jump out at you, it's not good for your goal and it's not good for your wallet. 1/2 price biscuits are not cheap when they are just that nutritionally void extra you didn't need to eat anyway!
You can if take this shop to the ultra-planning-level of checking out the supermarkets specials online first. Be aware they pimp out their 2 for 1 chocolate deals in the prime catalogue space however it's probably safer to see these from the safety of your computer and get ready to walk right past them when you hit the actual store.
Step 3: Buy in bulk HOWEVER only when you have a plan.
It's like the shoes you bought 1/2 price and 1/2 a size too small (!) if you never wear them they were not a good deal! If something you use anyway – or could incorporate easily – is on special Go For It.
Especially if it lends itself to cooking in bulk and freezing.
Step 4: Get creative with quality carbs and filling fibrous veg.
Yes, those comforting, and quick carbs like rice, noodles and pasta are also really cheap – however you can find body and energy friendly alternatives.
For those of us looking to lose some fat or maintain leanness that doesn't come super easily (yep, that's me – I absolutely have to work for it!) I'm a fan of cauli-rice and cauli-mash. Add a tablespoon of nutritional yeast (it's sorta cheesy) or for creaminess 1/4 of an avocado or 1/4 of a cup of coconut milk and this stuff tastes better than regular rice. If cauli is out of season and pricey, use frozen.
For the pasta or noodles substitute, zuchunni and summer squash work great however if they are out of season and pricey then really any green veg can be your base. If asparagus are in season I'll use them as a base, sometime whole of even in fine peels.
When you're flexible and focus on eating fresh and in season you'll find there's always an option.
You'll also likely find that some veg you might have hated as kid is now a lot more enjoyable. Perhaps thats because our taste buds change as we mature, or maybe it's because we now also value the good stuff fuel does for our body beyond just taste or possibly it's due to the fact that we've learnt more creative ways to jazz up our veg than just boiling the life out of it!
As you swap out your cheap low value carb fillers for fibrous veg you'll also find you'll feel fuller for longer – that's the fibre effect AND you'll have less cravings – they'll be satisfied by the quality micronutrients you're fuelling you bod with.
Step 5: Cook in bulk and have a variety of uses for your meals on mass. I covered 3 of my favs in the Tuesday show #132: Turn 3 Mass Cook-ups into 9 Different Meals.
Some of us can find a meal we love and eat it 5-6 days a week. If that's not you that's ok! Find the base you love and get creative. I'm a huge fan of Jamie Oliver and he has some super great ideas… especially in his book and T.V. series Save with Jamie.
Step 6: Waste Nothing! It's obvious I know however here are 5 ways to cut down on waste:
Keep a clean fridge and know what's in it.How often has something good lurked at the back of your fridge, forgotten… and rotting?
Use those scrappy bits of veg they're just fine!I always have a bowl out for my omelette tomorrow when I'm preparing lunch or dinner the day before. Almost anything works in a veggie omelette, mushie and spring onion ends, the small bits of carrot and onion at the bottom of a bag of frozen edge, the spinach that's going a tad limp.
Make friends with your freezer.I'm a freezer fiend. I use it both to not waste food ANDto stop myself from mindlessly munching away at something just sitting in the fridge… like cashew cheese. Small quantities of liquids are great frozen in ice-trays. Herbs are fab to freeze. As are berries and that 1/2 can of coconut milk. Or you can get super organised and buy some fruit and leafy greens in bulk and freeze portions in mini bags for smoothies.
Have a couple of Go2Scrape-user meals.So perhaps it's a mass veg soup or veg bake in winter. Maybe a lighter scramble or stir-fry in summer. It's really just getting in the habit of having that use up the leftovers meal – and make them yum – rather than binning them. Herbs jazz up any meal – and now you've got some frozen and ready to go right?
Find a couple of sauces/dips that jazz up your meals, are a little pricey AND a lot fake to buy & make them for the week yourself. You get to cut the preservatives & unnecessary sugars they add, and save some cash-o-la too. I'm not a cook however I've just started doing this as it really is quick enough once you know your recipe, and its so much tastier. My favs are my zucchini hummus & kale pesto. Perhaps yours is a sugar free salsa or pickle? The thing is if you have your fav flavour add sauce at hand you'll be much more likely to swipe it over that leftover veg or meat to create a tasty meal rather than feeding the bin.
To get actionable today I'd love to get some sharing happening in the comments for today's show notes.
Do you have fav Go2Scrape-user meal that you'd like to share?
Mine is probably a big frittata/omelette creation. If I'm away for a long weekend I'll generally throw all my left-over veg and herbs into a mass frittata which can then be breakfast the morning I leave, lunch at the airport before I catch my early arvo flight and dinner several nights later when I get home too late to want to cook!
That's it for this week in Healthification.
Big thanks and appreciation to you for choosing to spend your time with me this week.
If you liked this you'll also like: 7 Sneaky UNHealthy 'Health Foods' (and what I now eat instead)
If you're yet to share the Healthification love – just click here to zip over to iTunes and leave an honest rating and review. It'd help me out big time. With gratitude, Kate.