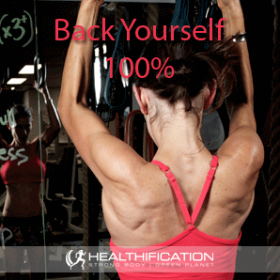 Podcast: Play in new window | Download
Subscribe: RSS
This week a dear client of mine asked me my thoughts on 'pushing through' a detox.
I actually feel quite strongly about this one – however I've also learnt that my natural passionate black or  white dichotomis response is not always best.
Sometimes it's of value to tone it down a tad, to recognize the pro's and con's and the present a calmer response.
So if you're considering a detox – and your primary goal is weight loss – then here are my thoughts.
Let's start with two key considerations:
One: there are detox's and there are detox's.
If the detox you're considering cuts out protein, then I'm not a fan.
Here's why,
Protein is the fuel your lean muscle needs. Your lean muscle is the fire behind your metabolism. Restrict your protein and you'll sacrafice lean muscle… and in doing so slow down your metabolism.
AND that's something I imagine you're pretty keen to avoid.
Two: I'm a fan of sustainable long term rather than crazy extreme short term.
If the detox you're considering is restrictive and feels like a punishment to endure before you get to return to normal eating again, then I'm not a fan.
Here's why,
Any approach to weight loss needs to focus on making 'normal' awesome and enjoyable. There's zero value in cycling between extremely restrictive and extremely indulgent… it'll only lead to extremely frustrating!
How about finding a middle ground that you can maintain?
If you want to maintain the body you're creating you need to find a way to eat that you can also maintain. Otherwise your detox results will disappear as soon as you return to normal eating. Actually if your detox was the protein cutting kind then it's likely you'll end up in a worse position than you started as you'll be back to normal eating with a slower metabolism to boot.
AND that's something I imagine you're also pretty keen to avoid.
These first two considerations are the primary reasons why I've never done a detox and never recommended one to a client.
However there is also the FUN factor. 
I get a lot of enjoyment from food and I've never seen a detox that looks more enjoyable than eating the primarily one ingredient foods 80-90% of the time with a slightly more relaxed approach to weekend eating and a cheat meal Sunday that is my personal eating strategy.
On the positive side of a detox is the positive habits you may want to continue after you finish it.
Perhaps things you may not have tried if not for the detox and yet when you gave them a go they surprisingly become something doable long term.
I've had an experience similar to this…
In my old business, which was part of a franchise there was the expectation that every business owner MUST compete in either a marathon (1/2 marathon doesn't count) or a body sculpting event.
If you didn't do it you were considered UN-inspirational to your team and clients.
Now I hated the idea of training for a marathon and even more so of the muscle-eroding-joint-recking-results such tedious-to-me training would entail. I do hugely respect the commitment and effort of anyone who completes a marathon however it's not my thing. In fact I find all fun-runs highly UN-fun.
So I chose the body-sculpting competition.
The hardest part of the body sculpting was not the huge amounts of exercise, or even living off egg whites and green veg for a couple of months… it was actually the posing practice.
I hired a trainer called Tiger to teach me to pose and wow did she have her work cut out for her.
As I've mentioned, I'm naturally fairly un-co… well put me on a severely calorie restricted diet, strap on some stripper high heels and expect me to look elegant practising my poses at 9pm after a 4.30am wake up… it was not a pretty picture!
Anyway, I digress… my point is that in following the diet Tiger put together for me I actually found upgrades that I chose to keep long after I gave the sculpting away.
Although I joyously welcomed weekend bread, vodka, avocado and cashews back into my routine… I happily chose never to return to tofu or milk. I reduced my cottage cheese and ricotta consumption by 1/2 and also cut back on the fruit.
Now all this may sound a little extreme to you, however I'm not making food recommendations today… merely illustrating how RESULTS can transform what you think is sustainable.
Less thigh fat was oh so very worth giving up on soy. And less bloating made milk fairly easy to farewell too.
However I might not have tried either – just then anyway – without the sculpting and Tigers' firm insistence.
That, is my stretch at providing a positive for detox.
If I were good at succinct I would've just said: Don't do it.
How to make today actionable?
I would look for the upgrade you can make long term for your body that incorporates the benefits you're looking to gain from a detox.
Start with one simple detoxing action.
If you think you drink too much coffee and not enough water, then why not half your coffee and double your water. It's probably something of benefit to you long term right? And even sustainable.
Perhaps you're lacking some green veg love in life? How about starting the day with a green juice?
Or maybe alcohol is your biggest vice? Rather than give it up, how about aiming for a set number of alcohol free days a week. A number that gives your body a break – yet is also sustainable.
Maybe sugar is your toxin? Perhaps you evict it from home and stop buying it as a snack, and on occasion enjoy a high quality dessert when dining out?
If you liked this you'll also like: Confused About What To Eat To Lose Weight?
If you're yet to share the Healthification love – just click here to zip over to iTunes and leave an honest rating and review. It'd help me out big time. With gratitude, Kate.