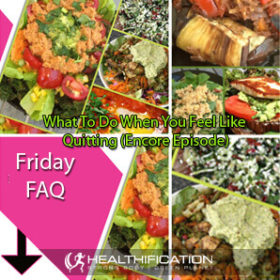 Podcast: Play in new window | Download
Subscribe: RSS
As I write the intro for todays encore episode I'm reflecting on the huge pressure we heedlessly heap on ourselves.
Certainly self imposed pressure might flourish as a result of all the access we now have to everyone else's success. Their highlight-reel-happiness – more on that soon.
I first want to provide a couple of caveats before we get rolling…
One: Quitting rocks when you're giving up on something that doesn't work for you. Like when I quit beer. Andmore recently dairy.
Or even just quitting with volition an activity that has an unacceptable opportunity cost. That perhaps worked for a while and now doesn't. Like the weekly networking meetings I loved for 12 months that then became a bit of a low return on investment drag.
This show address's the quitting that you're tempted by simply because something is too hard. Or is taking too long. Or is putting you out of your comfort zone.
Caveat Two: Back to that HUGE pressure factor… What if instead of quitting something excruciatingly hard, time-consuming and uncomfortable you just eased off a tad? Perhaps lowered the bar slightly or took a mini break… and considered that to be an investment in your ability to continue rather than evidence you're not cut out to achieve whatever it is that you're tempted to quit?
Onwards with,
What To Do When You Feel Like Quitting:
Here are the show notes for the original episode: What To Do When You Feel Like Quitting.