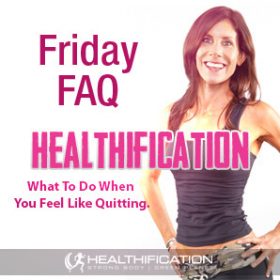 Podcast: Play in new window | Download
Subscribe: RSS
As much as I love that Winston Churchill quote, "Never, never never give up" there is sometimes a time when giving up is the answer.  Like the boyfriend I should have given up on after 4 months not 4 years… or perhaps my fine arts degree which is not super duper valuable in helping people transform their bodies or certainly my first business… although at least in the later the lessons were worth the time and money invested.
Back to YOU – the one thing you should 100% never, never, never give up on is your health.
In todays show I've got 7 solutions to this FAQ: What To Do When You Feel Like Quitting?
Let's get rolling…
1. Focus on how far you've come rather than how far you have to go.
Make a habit of this. Of consciously stopping and acknowledging the process you've made at regular intervals rather than always madly pushing for the next goal.  And I'm not only referring to the visual progress.
For example, lets say you're a number of weeks, months, or years into your weight loss journey and you're not happy with the progress you're seeing. This is a long term game. You're in your body for life. It's not just about how many kilo's you can shed or what size you can fit into… it's about the attitude and knowledge and habits you're creating that will allow you to keep that smoking body once you create it.
2. Ask for and graciously accept support.
When everything comes down to you it can feel a little overwhelming. However, in the same way that I imagine it gives you pleasure to be able to help someone close to you or perhaps even assist someone you don't know so well achieve an important goal… other people will be happy to support you. Sometimes it's a greater strength being able to put up your hand and ask for help rather than muscling through on your own and potentially reaching your breaking point rather than your goal.
I'm absolutely talking to myself with this one too.
Whether you're aware of it or not everyone you see who is excelling at something has help. They are not machines that endlessly power on regardless. They have mentors to hold them accountable, advise and inspire them AND they have close friends or family to be open, honest and vulnerable with because it just isn't possible to maintain your 'A' game 24/7 without support.
3. Recharge with a mini break.
Sometimes I get caught up in the push – Yes, like in point one where I'm focusing only on what's next rather than celebrating what's I've already achieved however also to the point where I'm so head down tail up (I'm referring to business here however it's absolutely applicable to weight loss) that:
A) It can seem like life is just flying by without me.
B) My actions are getting less efficient and less effective.
This reminds me of the axe analogy… and the woodchopper who spends hours and hours hacking away a a tree with a blunt axe versus the woodchopper who first takes the time the sharpen his axe and then powers through his tree in no time.
Maybe hours of tedious moderate intensity cardio and punishingly restrictive low fat processed food is your blunt axe?
To sharpen the axe, swap to weights and short interval training and fuel your body with generous amounts of fibrous veg, lean protein and good fats.
4. Look at obstacles others have overcome and be inspired.
It doesn't take much digging to find the 10,000 hours of commitment or failure upon valuable-lesson-instilling-failure that every 'overnight success' has endured and risen beyond.
This is where it's time to choose your thoughts and beliefs with volition. There's no value in focusing how anyone may have had it easier in you. That type of 'poor me' thinking will make you want to quit. Instead focus on reasons why you can achieve success by doing as they have.
Cultivate the belief: If someone can do it – anyone can do it.
5. The anti-mentor.
This is that person you really don't want to be. The QUITER. The unfit, unmotivated, soft and sluggish person… I'm sure you have one in mind. They are just as valuable as that mentor who inspires you and who is the perfect role model.  In this instance you are simply doing the opposite of what they do, motivated to not get their results and not lead their life.
=> never let someone know they are your anti-mentor 🙂
6. Picture that thing you felt like giving up on in the past – and didn't – and remember just how awesome it felt to master that skill.
Perhaps learning a language, an instrument, a sport?
If you've done it before you can do it again… and whether you choose to quit or choose to continue you're going to strengthen your ability to do either. So the compelling choice is to strengthen your ability to continue.
7. In support of all else remind yourself exactly WHY you are doing this? 
Focus on the results and the experiences achieving your goal will allow you to enjoy in the future… ask yourself:
For what purpose do I want this?  
and, What will this mean to me and to those I love and to our ideal life?
That's it for another week in Healthification.
My most geninue thanks to the awesome people who have left me iTunes reviews… like KaikuSydney, MrBobblehat and jakefel. The ratings and reviews motivate me to give my best to these daily shows and I'm excited to share this month we easily doubled our downloads which means more people are finding and listening to Healthification which makes me super happy and grateful.
If you liked this you'll also like: There is no Weight Loss Failure: When Giving Up is The Answer.
If you're yet to share the Healthification love – just click here to zip over to iTunes and leave an honest rating and review. It'd help me out big time. With gratitude, Kate.