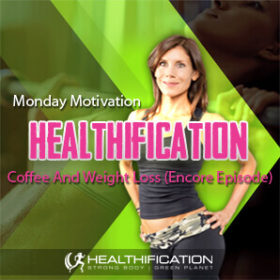 Podcast: Play in new window | Download
Subscribe: RSS
Last week one of the boys at the gym questioned the third (reusable!) glass of coffee in my hand.
He knew I'd been proud of the my recently hard fought for only 2 coffees a day habit. I replied slightly guiltily: "Yeah dude, I've completely lost the plot – I'm outta control!"
As he pointed out, if coffee is your worse addiction – I think you're probably doing ok. In todays encore episode I agree with him, mostly…
As with everything, of course you can have too much of even a supremely good thing!
Onwards with,
Coffee And Weight Loss:
Here are the show notes for the original episode: Coffee And Weight Loss.
The Healthification podcast is proudly bought to you by my online community for Vego's and Vegans who want to create a strong, healthy body and also help eradicate inhumane and unsustainable animal agriculture.
Learn more here:
If you liked this you'll also like: Making Addiction Work For You.
And: Are your daily eating triggers working to your best fat blasting advantage?
If you're yet to share the Healthification love – just click here to zip over to iTunes and leave an honest rating and review. It'd help me out big time. With gratitude, Kate.