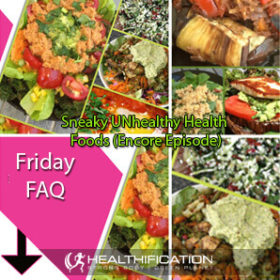 Podcast: Play in new window | Download
Subscribe: RSS
I was somewhat bemused during a recent trip to Melbourne when while weighing up brunch options the lady eager to serve me declared: "It's Healthy."
She was referring to a salad that certainly was a better option than some filthy bacon and egg McMuffin. However I hadn't stumbled through the golden arches. I'd purposefully sought out the healthiest looking fresh food joint around. And the salad in question was seriously lacking in green fibrous veg or plant based protein. It more resembled a stodgy clump of roast pumpkin with a stingy sprinkling of cheese. 
Of course healthy is subjective and that salad certainly wasn't bad. The thing is there are a bucket-load of trickster health foods that really do deserve to be evicted from your eating routine. I cover my top few in todays encore episode.
Onwards with,
Sneaky UNhealthy Health Foods:
Here are the show notes for the original episode: Sneaky UNhealthy Health Foods.
The Healthification podcast is proudly bought to you by my online community for Vego's and Vegans who want to create a strong, healthy body and also help eradicate inhumane and unsustainable animal agriculture.
Learn more here:
If you liked this you'll also like: 5 Sneaky Sugars: 5 Simple Swaps.
I dig in with your simple alternatives to:
One: The LAZY BREAKIE.
Two: The CARB OVERLOAD MORNING TEA.
Three: The EASY HABIT LUNCH.
Four: The HORMONE DESTROYER.
Five: The CRAPPY CHEAT MEAL.
You may also like: My Food Diary: Cheat Day + Ideal Fat Burning Day. (part one)
And: My Food Diary: Cheat Day + Ideal Fat Burning Day. (part two)
If you're yet to share the Healthification love – just click here to zip over to iTunes and leave an honest rating and review. It'd help me out big time. With gratitude, Kate.