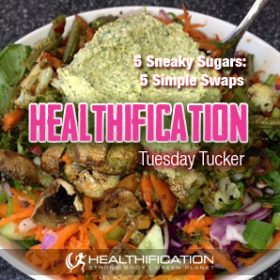 Podcast: Play in new window | Download
Subscribe: RSS
You've likely heard that sugar is more addictive than crack cocaine?
A study by researchers at Connecticut College involving rats – a maze – rice cakes – Oreos – saline – and Cocaine… measured that "Oreos activated significantly more neurons" than cocaine. For due props here's a link to the article in the Huffington post that I'm referring to however whether it's a statistically valid enough conclusion I'm not sure.
I am adamant no more rats need to be tested EVER to try and help us justify, excuse or battle our sugar addictions.
The visual evidence is non-negotiable. To be fit and healthy is now not the norm.
The emotional evidence is non-negotiable. How often do you turn to sugar in response to a non hunger related problem? No judgement. I absolutely did too for years.
The reason I no longer turn to sugar is not because I acquired more discipline. Or even because I decided fit and healthy is more compelling than sugar. That's a rational decision and it gets annihilated by the feel good emotions a sugar hit delivers.
My solution and your solution is to,
First admit: Sugar is HUGELY addictive.
And second: Stop throwing yourself at the mercy of that addiction by trying to stick to manageable amounts of it.
The blunt truth is that with a few foods everything in moderation is rubbish.
You're always going to be fighting a losing battle flexing your discipline muscle against the hundreds of millions of dollars spent on food deliberately manufactured to be as addictive as possible. Manufactured to have the perfect 'bliss' point… a concentration of fat, salt and sugar that makes it near impossible to stop eating those high caloric density concoctions once you start.
If you'd like to dig deeper into this check out 'Salt Sugar Fat: How the Food Giants Hooked Us' by Michael Moss and I'll also link to a couple more resources:
The Extraordinary Science of Junk Food.
I Love Marketing episode with Dr Mark Hyman.
The thing is it's not just the obvious sugars like those Oreos, or Tim-tams for my Aussie friends.
It's those Trojan Horse sugars that sneak in using the guise of healthy or light or low fat.
The things that you eat and tell yourself you're "being good."
I'm actually not a fan of framing food as either good or bad. I feel like good or bad can become a one for the other tug-of-war where you make no progress.
"I accidentally pigged out on pizza, garlic bread and soft drink but it's ok I skipped breakfast and had salad for lunch!"
You either eat great fuel that supports and nourishes your body or you feed it rubbish that clogs it up, slows it down and eagerly encourages it to store fat.
Back to those Trojan Horse 5 Sneaky Sugars and 5 Simple Swaps. For the record I held tight to a lot of these sugars my first few years as a Personal Trainer. I lived and breathed health and fitness and still I fell for these sneaky tricksters!
So without further a-do lets roll with 5 Sneaky Sugars and 5 Simple Swaps:
One: The LAZY BREAKIE.
For me this was cereal…I swapped from my all-time-fav-Crunchy Nut Cornflakes and had healthy-yet-NOT Special K… Then I progressed to gorgeous multi-grain sour dough rolls.
=> the lazy breakie basically only fuelled my desire for more processed carbs. I thought I had a cranking metabolism – however needing to eat every couple of hours actually getting annoying fast – and with the lack of protein and good fat I was never satisfied. Always craving…
The simple swap? Eggs and fibrous veg. Perhaps an omelette or frittata made on mass or maybe a mixed breakie of eggs and your fav sides.
If you're not into eggs breakfast is also the perfect place to have a green smoothie or protein shake.
Two: The CARB OVERLOAD MORNING TEA.
Sooo many options here… I was seriously addicted to cafe bought fat-free yoghurt and fresh fruit from home. I was a bottomless pit. No matter how vast the serve I always wanted to demolish tomorrows serve too!
=> the carb overload morning tea just left me wanting more. As will many other sneaky sugars, like the muesli bar or the fruit smoothie. Always thinking about that next meal…
The simple swap? Nuts and a protein shake (I just mix mine with water). Or combine the 2 and chuck some nut butter in your shake. Different nuts have different benefits to offer. With this high caloric density food I tend to just recommend unsalted, devise a portion control method (so for example a 150gm bag lasts you 3 days) and from there go with the one you most love (that's roasted cashews for me).
Three: The EASY HABIT LUNCH.
That's the sandwich. Of course it's better than a burger and fries or pizza however its still sneakily fuelling that sugar addiction. I've always taken my lunch to work and I thought a sandwich was the easy option.
=> the easy habit lunch meant my weekly bread count was massive. The bread at lunch wasn't even the best of it – it was just convenient. I had an insatiable desire for bread. Always wanting more
The simple swap? A hearty salad. Once you add a generous amount of protein, fibrous veg and some good fat to your salad it's as least as satisfying than a sandwich. Short-cutting the process with mixed frozen veg and bags of pre-washed salad greens and undressed coleslaw makes it super easy too.
Four: The HORMONE DESTROYER.
This is soy. I guess it masquerades as a protein however I'm counting it with the sneaky sugars because it craftily creeps in to countless processed sugary foods. By 'hormone destroyer' I mean soy sends your estrogen levels outta whack. Too much bad estrogen will lead to extra fat storage in estrogen sensitive areas.
Ladies, that's the hips and thighs!
=> the hormone destroyer infiltrated my every meal. From soy milk on my cereal and in my coffee and protein shakes. To tofu in my sandwiches and with my dinner. Even if you don't eat tofu or drink soy milk here are some other places soy sneaks… baked goods like breads, biscuits and cereals. Dressings, sauces, seasonings. Snack foods. Simulated meat and fish products. Frozen deserts and cooking spray.
It can sneak into anything. Always the flabby thighs…
The simple swap? Initially (as a vego) I upped my eggs and egg whites. Eventually – and super happily – I turned to fish. The good news regarding those non-tofu or soy milk soy instances? Well those foods really don't deserve to feature in your day to day eating anyway, so you're all good!
Five: The CRAPPY CHEAT MEAL.
I'm a huge fan of the glorious cheat meal. However I'm starting to seek out better quality so far as how I choose to cheat. I used to indulge in fully fledged refined carb crap-o-la once a week. Perhaps a Golden Gaytime ice-cream and some Maltese's and some hot chips.
=> the crappy cheat meal just fuelled my taste for that food though. Once a week wasn't enough. I'd bend 'the rules' and 'borrow form tomorrow.' Borrowing from tomorrow is when you tell yourself you'll make up for excess food or skipped work-outs tomorrow or the day after… or the day after that… so perhaps hot chips at the pub tonight and none as planned at lunch tomorrow? However the thing with borrowing from tomorrow is all too often you don't come through. Always owing exercise and in surplus with cheat food…
The simple swap? Choose the type of food you most love and decide on a generous amount of a high quality version of that food. So it may be The Best hot chips or dark chocolate or as it is for me bakery gorgeousness in the form of cape-seed rolls and a spelt scone. Also eat a generous amount (although buy just enough for that serving without lethal leftovers) and include some satiating good fat and protein too. So I'll have avocado and hummus with my rolls and scone and follow with protein pancakes so I'm happily satisfied.
To get actionable today, is there a sugar in your life that you try repeatedly to stick to manageable amounts of?
Food should not be a constant battle. We really have far greater things to throw our energy at.
I promise you, from personal experience every single refined carb food has an equally delicious – nutritious yet non addictive alternative. It just takes a bit of trial and error to find the simple swaps that work best for you.
That's your action step for today: to find just one – one sneaky sugar to ditch and one simple swap to embrace.
That's it for today… in tomorrows Wednesday Weigh-in show I'm covering: 5 Things Wealthy and Healthy People Have In Common.
If you liked this you'll also like: 7 Sneaky UNHealthy 'Health Foods'
If you're yet to share the Healthification love – just click here to zip over to iTunes and leave an honest rating and review. It'd help me out big time. With gratitude, Kate.