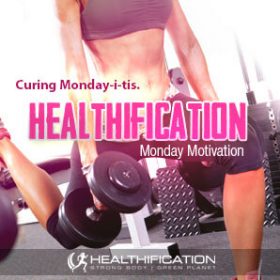 Podcast: Play in new window | Download
Subscribe: RSS
I Love Mondays.
You knew I was weird right? So this is perhaps just further confirmation! To be clear I don't LOVE Mondays quite as much as Fridays, Saturdays, Sundays, Thursdays or possibly even Tuesdays and Wednesdays however I still Love them.
In today's Monday Motivation show my mission is to put a stop to Monday-i-tis.
It's really pretty UN-fun. And also absolutely UN-necessary.
Today (it is Monday as I plan this show) I got to encounter a couple of chronic cases of Monday-i-tis.
First, from a colleague who's suffered (I use that term lightly) from this affliction for the entire 8 years I've known him.
Now his case, isn't as extreme – although he'll claim to hugely dislike Mondays – it's more that he really loves the weekend. So the context is that a Monday just can't compare as it drags him away from everything super awesome about the weekend.
And he's actually quite entertaining.
Hang on in there – I am going to make this applicable to your body gain goal… soon!
The second case of Monday-i-tis is demonstrated to me every 7 days by a client… it's actually quite draining.
This is the more detrimental Monday-i-tis and combating it is the focus for todays show.
Because the thing with Monday-i-tis is… it can turn into Wednesday-i-tis and Friday-i-tis. In fact, even the weekend can be worthy of winging about and so too (in this particular extreme case) can 5-Star international holidays!
At the very heart of this attitude comes a lack of gratitude and appreciation.
Here are 3 steps to Cure Monday-i-tis:
1). Diagnose: What are you focusing on that makes Mondays so unappealing?
It can be easy to get sucked into focusing on un-fun, tedious and what doesn't go so well. In the same way that you may eat fabulous food all week and then blow out at one meal and focus on that blow out to the point where you feel so guilty and hopeless that you turn that one little blow out into a results ruining 3 day fast-food-fest…
So, diagnosis is about awareness. What are you letting yourself focus on and what are you making it mean?
Monday could be the first day of a 6 day working week. Alternatively, it could also be the fresh start to this week in which you have the opportunity to make huge progress towards your most compelling goals.
That works for me because I'm very goal and achievement orientated. There's no right or wrong – or better or worse with what motivates you. The thing is awareness. So if you are for example very family orientated perhaps one of the things you love about Monday is breakie with the kids before you leave for work? Or the special dinner you have with your partner Monday evening?
2). Treat: What could you either do to,
A. Change the situation. Or,
B. Focus on differently to change your experience of the situation?
The thing is in any situation you have the choice to either change your procedure or change your perception. So if you suffer from Monday-i-tis because you hate your job is that something you can work towards changing?
If a new job is too big a step then let's focus on the perception angle.
What can you focus on that is good – worth appreciating about your job? Your colleagues, your clients, the income that allows you to pay for the essentials you need and the personal activities you do love?
There is no limit to what you can appreciate if super pressed – perhaps you appreciate the lessons your manager is giving you in how NOT to manage a team! Anti-mentors can be as helpful (short-term!) as mentors. Possibly a couple of clients are pretty valuable at teaching you patience and tolerance!
3). Repeat: How can you systemise this strategy until it becomes automatic?
As with any new habit, choosing to ditch Monday-i-tis will take a conscious effort initially. Stick with it and it will become unconscious. In the same way that after choosing to include veg at each meal for long enough it'll become a habit where you feel wrong when you miss it.
While you're waiting for conscious to become automatic lock and load a few systems to make the process as smooth and easy as possible on yourself. Here are some examples:
=> I have a habit of thinking about everything I'm excited about/grateful for when i wake up each morning.
The key here is that you can be grateful for anything and getting good at feeling gratitude for small things makes life a whole lot more fun. Your first coffee. That podcast you love that is due out today. Your favourite playlist. The work-out you're going to do that'll leave you feeling awesome once it's over. Again it's all in the framing. Today I trained lower body – my favourite – so it's easy to feel excited/grateful about that… however tomorrow when I wake up and know it's interval training day (my least fav) I'm still going to feel grateful that I have the time and physical capacity to make those treadmill spinets happen!
=> Catch yourself and reframe when any old negative language creeps into your thinking. Self talk is potent. You want to get in working in your favour. So the "Oh no, it's Monday already – where'd that weekend go?!" becomes your personal version of "What an awesome weekend – now how can I make this a Monday that I'll feel most satisfied with when I crawl into bed tonight?"
=> Strategically insert some of the things you love into your Monday. To be clear, I'm not meaning Monday can become muffin day! However perhaps, you save your fav podcast or audio book for Mondays and listen on your way to work? Maybe you do your favourite work-out on Monday? Perhaps Monday is date-night? Or Skype night with your bestie overseas? Maybe you simply read a book you love in bed at the end of a productive day?
As another super dear client of our studio observed today in relation to Monday-i-tis: "It comes up any day you want it!" Thanks for that gold Scott – you rock!
To get actionable today, if you subscribe to Monday-i-tis or Any-day-i-tis let's treat that sucker!
What could you either do to, A. Change the situation. Or, B. Focus on differently to change your experience of the situation?
I'd love to hear some of the actions or attitude switches that work for you. You can let me now via the comments below.
That's it for today. I'll be back tomorrow for the Tuesday Tucker show and, 5 Sneaky Sugars: 5 Simple Swaps.
I hope you can join me.
If you liked this you'll also like: 4 Ways to Choose Your Mood.
If you're yet to share the Healthification love – just click here to zip over to iTunes and leave an honest rating and review. It'd help me out big time. With gratitude, Kate.