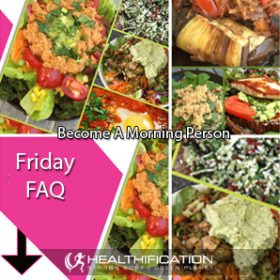 Podcast: Play in new window | Download
Subscribe: RSS
While residing at 'the-cess-pit' as my first flat become not so affectionately known I was very much NOT a morning person.
Cesspit aside the whole flatting with friends experience was AWESOME. I moved out of home at 18 with 3 of my best friends and at any given time 2-3 others into a 6 bedroom (and one bathroom) apartment in the heart of Wellington N.Z.'s night life district… and Yes, for a small city Welly has a fab night-life… honestly.
We lasted over a year – partly because it was mostly a heap of fun and partly because all of our parents said we'd never see out the year. For the course of that year I'd sleep through breakfast, go out for lunch and get given dinner at work. Because:
A) any food not locked in your bedroom tended to disappear
and 
B) no matter how much crockery and cutlery we acquired it all always seemed to be stacked on mass, dirty and unwelcoming in the sink.
It was about as opposite to my current up at 4.30am 6 days a week schedule as you can possibly get.
In todays FAQ show I'm sharing possibly too much of my messy-moody-morning-missing past and also: How To Become A Morning Person.
First the facts: although the true-night-owl does exist most sources I've come across state that the extreme-night-owl and extreme-early-bird combined only equate to max 20% of the population.
That means 80-90% of us – and I'm absolutely in this majority – can be a morning person if we choose to be.
It really comes down to habits and potentially the bad habits you've let creep into your daily and nightly routine.
I'm going to cover 3 SIMPLE steps To Become A Morning Person and also 3 HUGE benefits to enjoy once you do.
Step 1: Quit making excuses.
Consider every excuse you have to explain why you're not a morning person… is there even one that is valid?
Because night-time T.V. or late dinners out or 'it's too hard' 'too cold' 'too dark' 'I hate alarms' …none of these excuses are worth you not achieving the results that are yours for the taking once you quit making excuses.
If you could wake up fresh, motivated and energised to power into your work, your work-out, your best meals each and every day would that out-rank the excuses that keep you from being a morning person?
Step 2: Get to bed earlier.
Yes, I left out the 'I'm too tired' excuse because this step fixes it. You absolutely cannot expect to feel fresh getting up earlier if you don't first get to bed earlier. The important yet often missed mini-step here is to start small. Aiming to get to bed 2 hours early could feel daunting and limiting.
As with everything, anything counts. Even start with getting to bed 15 minutes earlier and getting up 15 minutes earlier – and build on that – it'll get you there quick enough.
Step 3: Design a winning morning routine.
This step got a show of it's own in episode #005: How To Start An Ideal Fat Burning Day. If you haven't yet I recommend you check it out.
Your routine will be unique to you however the idea is that you start your day as you mean to continue.
So zero hitting snooze… instead focus on:
1. Eating the very best fuel for your body. Ideally some lean protein and fibrous veg.
2. Ensuring you have something positive and enjoyable to look forward to in your winning morning routine. For me it's a yummy green smoothie, my gorgeous first coffee and a fab podcast to listen to as I walk to work.
3. Being proactive and starting with whatever is most important to YOU and your best day. So that may be your #1 business task or perhaps a work-out… it is never getting sucked into other peoples priorities via your inbox or voicemail.
So, there are your 3 simple steps, let's check out why they are worth the effort with 3 huge benefits…
Benefit 1: Increased Efficiency and Effectiveness… with work, exercise and play.
You know that great work you power through uninterrupted at 10pm, 11pm, or even 2am when you finally hit your stride?
The key here is super-very-likely 'UN-INTERUPTED.' Although uninterrupted may currently be once you escape the office and the kids or your partner are in bed… are you actually just struggling through uninterrupted yet exhausted? Or at the very least less than optimal?
I've seen countless people in the online field make the change from the night-owl routine to the early bird routine – AND RAVE ABOUT IT – vastly improved efficiency with work, and more energy for exercise and play has got to be worth at least trialling it right?
Benefit 2: Better Utilisation of Your Limited Daily Discipline Quota.
You may have heard me discuss your daily discipline quota previously. Whether you refer to it as discipline or will power, the fact is it's FINITE. You only have so much to go around and so – like time – how you spend it is key.
Your discipline is at it's highest first thing in the morning. That's the time to be up and at'em… to be attacking the most important task of your day, be it business related or work-out related before you've eaten through too much discipline with those tedious yet unavoidable little daily battles like traffic, telemarketers and tempting treats…
Benefit 3: No Looming Ugly Frogs.
As Brain Tracy says if you have a big ugly frog of a task the best thing is to Eat That Frog straight away.
You get to start the day knowing that you've accomplishing something. You have a big reference point for success. Likely the worst – hardest – part of the day is over first thing. You also get to avoid that DRAINING, looming feeling you have hanging over you when something you know needs to be done is waiting for you at the end of the day… week… month.
To get actionable today I'd love you to rate your morning routine and how it's working for you?
Could a better start to the day get you better results?
If you liked this you'll also like: How To Start An Ideal Fat Burning Day.
If you're yet to share the Healthification love – just click here to zip over to iTunes and leave an honest rating and review. It'd help me out big time. With gratitude, Kate.