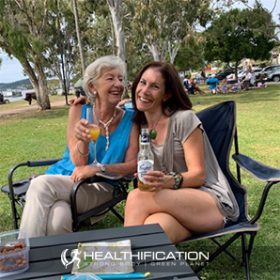 Podcast: Play in new window | Download
Subscribe: RSS
Two years on from when my mum first declared: "Katie, I think I'll give this plant based thing a try for 2 weeks!" I'm republishing our original chat because I know so many people will relate to the experiences mum and I share. It's certainly a heart felt, open and fiercely honest chat.
If you're an animal rights activist struggling with non-vegan loved ones. Or perhaps you live with someone strongly opposed to even the very idea of not eating animals and you're nervous about the conflict your "vegan curiosity" might prompt…
My intention is that this chat might give you hope. I've seen my mum's perspective change so much over the past 2 years. She tried plant based for her health and yet as she removed the animal products from her plate, her mind and her heart opened to ALL the other reasons to not eat animals.
She watched Dominion. She listens to all my podcasts. She even freely and proudly uses the V word although always with compassion and grace which is something I'm working hard to model. I'm more prone to charging in with vegan #truthbombs or forcing myself to stay silent for a period before in exasperation I give in and launch the brutal, confronting YET factual (!) #truthbombs.
Mum and I have learnt so much from each other these past 24 months – and it's not just about sharing recipes for extreme vegan deliciousness – though that's always good to lead with. I hope you enjoy this conversation with my dear mum, Annie Galli.
Check out the original conversation: 624: My Mums Plant Based Journey: How To Transition To Plant Based Without Restriction Or Conflict! 
In this interview we cover:
Mums experience growing up on a farm and memories that jump out so far as the food she ate or the food animals that also lived on that farm. 
Mums experiences with vegetarians and vegans before I turned vego at 16.
How mum imagined eating plant based would be before she tried it. Did I sell it well?!
Mums fears / hesitations.
Mum decided to give this "plant based thing" a try after watching WTH with me at the beginning of Jan. What were particular vegan seeds leading up to that point? 
What surprised mum? Good and bad?
Mum lives with someone who is vehemently not vegan. Yet she makes it work. What are her tips here? 
Mum is an amazing cook. What's it been like making such huge changes to the way she eats and the way she cooks? 
Does mum have any advice to someone who might be vegan curious yet hesitant? 
Does mum have any advice to vegans who are desperate for the people they love most to become vegan too? 
That's it for today in Healthification however before you go – as you listen to this, the first 10 episodes of my NEW PODCAST all about rockin a #plantstrong lifestyle focusing purely on the POSITIVES are live! 
Plant Positive is, a weekly fix of everything good for my vegan friends and the plant based curious.
I chat training tips, self care, good news stories, recipes wins, inspirational vegans plus plenty of eating and exercising motivation.
To get plant positive with me, simply search Plant Positive wherever you listen to podcasts!
If you like the show (either Plant Positive or Healthification!) now is the time to rate, review, subscribe and share because there is only one chance for any new show to hit New and Noteworthy and that is what gets a show visibility in the mass of 1.6 million podcasts! If you'd like to help get the plant strong message out there, then this is your chance to help make it happen!
Till next time, remember Creating a body and life you love is Freedom. (If this ex-carb queen, non genetically gifted, naturally uncoordinated vegan chick can do it – so can YOU!!!
If you liked "My Mums Vegan Journey" you'll also like 7 Ways To Stay Healthy as a Vegan and 2020 Hindsight with Annie Galli!
If you liked "My Mums Vegan Journey" you'll also like E662: 12 Months Plant Strong and Festive Season Deliciousness Recap with Annie Galli.
If you liked "My Mums Vegan Journey" you'll also like E655: Festive Season Vegan Deliciousness with Annie Galli (Mum's Top Christmas Tips!)
If you liked "My Mums Vegan Journey" you'll also like Mum's Back and We're Spilling The Beans On Our Vegan and Non Vegan Coronavirus Lockdown.
If you liked "My Mums Vegan Journey" you'll also like E561: The Last Pig Film with Allison Argo.
If you liked "My Mums Vegan Journey" you'll also like E552: Dr Melanie Joy, Carnism and Creating Effective Communication Between Vegans and Non-vegans.