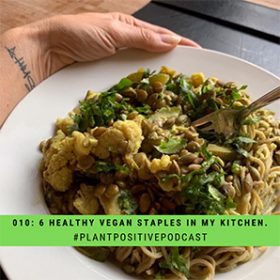 Podcast (plantpositivepodcast): Play in new window | Download
Subscribe: RSS
Hey plant friends,
Welcome to Plant Positive where my intention is to share with you how simple, sustainable and of course DELICIOUS a #plantstrong lifestyle can be.
In todays show we'll touch on good news stories plus abundant plant based eating inspiration / motivation however I want to start with a skill that most of us (putting my hand up here) could get even better at: Delayed Gratification. 
There are a lot of benefits to our fast-paced have everything now society. I love having the worlds knowledge just a few seconds away rather than spending hours researching in a library. I appreciate that I can pick up my mobile and speak to those closest to me on their mobile in an instant rather than waiting for them to get home to their landline. Or prior to even that having to actually go to where they are to have a conversation.
However I do wonder at the expectations of immediate gratification all this availability is conditioning in us. Are we getting worse at cultivating the ability to forgo an immediate benefit for a bigger or better benefit in the future?
Taking the time, giving the energy and making the effort to take the actions that may not be most pleasant right now because your focus is on the results it will allow you to enjoy in the future.
When I was a kid my favourite holidays were to my grandparents farm.
I loved venturing out to the veggie garden with my Papa to see which tomatoes were ripe to have on toast for breakfast… and picking fresh apricots that my Gran would make into the most amazing dried apricot slice.
The seeds were sown for all these lovely foods, and then the crops were diligently and patiently cared for and eventually the harvest was delivered. The dues were paid – in advance – BEFORE the harvest could be enjoyed.
Impatiently digging up seeds to see how they're going is not going to give you a good result. At the farm or in relation to your health.
The ability to delay gratification is a success habit applicable to every area or your life.
Here are 3 steps to help you build your ability to focus on the long term benefit and take the less fun actions now that deliver the superior result in the future:
Get clear on exactly what's in it for you when you get good at delayed gratification. Often the ingrained habit kicks in before you're even aware of the actions you're taking. Stop. Ask yourself: What do I stand to gain?
I'll open the fridge and eye-off the nut butter – fork in hand – and then I'll STOP and ask myself is a few moments of blissful consuming better than rocking around in a body I love?
Of course I know one nut butter event does not foil every great decision I do make and result in a body blow out, however my first key take away for you is to see each action as leading to a result.
The "it's only once" attitude builds on itself and becomes a result destroying habit quicker than you can say half-the-jar-of-cashew-almond-brazil-butter-is-demolished-and-that-caramalised-onion-hummus-is-looking-temtping.
Plan some easy win delayed gratification habits. Make them part of your routine.
For example;
=> Do your hardest yet most vital daily task first.
=> Do your toughest workout on Monday.
=> Save the best part of your meal to last… as I always have with the crispy outsides of mums roast potatoes.
Commit to a reliable Instant Gratification Day every week.For me this is bread / processed carbs and rest day Sunday. The "rest" actually refers to no work more than no exercise now, as I see a long walk each Sunday as more treat than struggle-street.
Firstly, it means that no matter what I always know I'm only a few days away from relaxing my food and my work focus each Sunday.
Equally, isn't the anticipation of a pleasurable experience almost as good as the experience itself? That's why it's great to book your yearly holidays at the beginning of each year, so you've always got one to look forward to. Yet, another reason Covid-19 times are so very unsettling as it's tough to know what sort of travel will be possible when. You can "book" those little experiences though.
Ok, let's get actionable early in the show. The ability to delay gratification is something you already display in the areas of your life you're most successful. This success you currently display in one area of your life can be modelled across and learnt from in any area of your life.
What is new habit of delayed gratification are you going to create this week?
I'll share first: I'm back and forth on this one, however I'm intent on making it stick! Zero alcohol during the week so I can Cheer's gleefully and in moderation on the weekend!
A component of making any delayed gratification habit stick is securing your environment for success. That means not keeping the things that tempt you at home. That's Shiraz or roasted cashews for me. It also means stoking your house full of all the healthy staples that allow you to enjoy your every single meal without ever feeling guilty or restricted. Which leads me to…
6 Healthy Vegan Staples That Live in My Kitchen.
I'm a bit of a routine girl. I ate the same breakfast 7 days a week for years – back then it was 3 olive sour dough rolls. Once I find something that works I tend to stick with it for a long time. Basically until I decide something else is going to work even better, which is what I did when I swapped to oats, nut milk, fruit and mixed seeds for breakfast.
Although perhaps I take routine to the extreme the reason I do it is to make making the right choices easier on myself. I actually find it freeing to NOT waste energy deciding what to eat.
There are decisions in my day that are more important than food and I'm sure that's true for you too. Like your daily discipline quota – your daily decision making power is also limited.
With preserving both your discipline quota and your decision making power in mind there are 6 staples that always live in my kitchen.
They cover 6 specific purposes. Your 6 will likely be different, however it's absolutely worth finding the healthy staples that YOU can count on in your kitchen. Here we go…
One: The VERSATILE Go2-Meal-Starter. Firm Organic Tofu. 
To think I never used to like tofu. It's all about how you treat it. Some of my favs are: tofu scramble, marinated tofu in a sushi bowl or with sheet veg (just a variety of veg baked or roasted on a sheet / pan with the tofu). And tofu salad / buddha bowl thrown together with whatever is in the house and topped with vegan mayo.
It's the perfect versatile any meal food. Great for breakfast, lunch, dinner – even snacks, is there anything tofu can't do?
=> are you a tofu fan like me – or is there something else – something natural, satisfying and VERSATILE that can be a Go2-Meal-Starter for you?
Quick tip: Tofu freezes fine. It may darken on freezing however it's all good and whether you defrost it naturally or in the microwave the texture comes back good as new!
Two: The QUICK Safe-Sweet-Fix. A variety of fruit: Apples, mangoes, frozen berries, watermelon. 
My sweet fix used to be protein powder however that stuff gets addictive. Now I keep it at work and keep my house abundantly stocked with whatever fruit is seasonal and delicious. Goodbye fruit phobia!
Fruit is now one of my emotional eating solutions. It's quick. It's portable. It's near limitless in variety and much of it needs no refrigeration.
=> do you emotionally eat – or at times just want that QUICK Safe-Sweet-Fix that isn't going to do your body composition goals any harm. If so, I recommend indulging in the seasonal fruit that you love.
Three: The COST EFFECTIVE Fall-Back-Veg. Fresh zucchini or frozen cauliflower.
These two veg are crazy versatile. I love them both in lentil curry or baked and added to bulk up salads. They both disappear into smoothies.
Sure, they aren't super sexy however I got sick of running outta veg… and that frozen cauli fixed the problem. It's also great when some of your favourite fresh cruciferous super veg like broccoli, cauli and brussels are just way over-priced (fresh cauli's got to $9 each here recently) and it's super quick and versatile.
=> what's your favourite cost effective fall back or frozen veg to have on hand for those nights when you discover your fresh stuff is rotten or those mornings when you can't be bothered washing and chopping anything for your smoothie?
Four: The LAZY Salad-Starter-Solution. Kale-slaw or mixed green leaves.
I just feel wrong when a day goes by without any green leaves like baby spinach, rocket, kale etc. It's also the LAZY Salad-Starter-Solution. I love to eat big, colourful meals that are pleasing to my stomachs eye however I'm not going to spend time every day washing and rinsing and mixing.
=> if you like to eat big quantities then starting with a bed of dark green leaves is a micronutrient rich and low caloric density way to do it. Buy the pre-mixed and pre-washed bags and it's super quick too.
Five: The GOOD FAT I Can-Portion-Control. I'm cheating, I must always have hemp seeds, pumpkin seeds AND avocado. 
All three are satisfying GOOD FATS I Can-Portion-Control. Fat is essential in your diet however even with good fats like nuts, seeds, olive oil and avocado there can be too much of a good thing. I just find it too challenging having roasted nuts or nut butter living at home. I'll even turn to the tahini with a fork however avocado and these whole seeds are fats I'm yet to find myself stalking the fridge for.
=> is there a fat that is a trigger food for you – something that once you start you just can't stop? Rather than enduring daily temptation I strongly recommend you evict it from your kitchen in favour of a substitute you can commit to portion control with.
Six: The EASY Mega-Flavour-Enhancer. Nutritional yeast. 
This is quick, versatile and often loaded with B12! It will pump up the flavour in your soups, salads, stews, stir-fries, pastas and baked veg. It's also a vital addition to home made dairy free pesto and cheese.
=> if you find quick and healthy somewhat bland and boring it's simple a matter of finding the easy Mega-Flavour-Enhancer to add to your kitchen crew.
I hope I've got you thinking, What are your 6 top kitchen staples? 
Let's further explore the plant based deliciousness by continuing with my 10 Tips To Make Adopting A Vegan Lifestyle Easy (we covered tips 1-6 in previous shows and the complete 10 are available as a free PDF via the show notes). Today let's dig in with tip seven.
Seven: Find Plant Based Protein Pimps To Add To Any Meal. Aside from legumes, nuts and nut butters how about:
Hemp seeds. 1 tablespoon contains 3gm of protein AND 1000 mg omega 3's.
Pumpkin seeds.1 tablespoon contains 3gm of protein AND 2 mg iron.
Nutritional yeast. 1 heaped tablespoon contains 3gm of protein AND up to your daily requirement of B12.
Spirulina. 1/2 a teaspoon contains 1gm protein AND 1.33mg iron
Edamame. 100gm contains 11gm protein AND 2.3mg iron
Action step: Try a new #plantstrong protein. 4/5 of these are favs for me which I've only had the joy of embracing since becoming vegan and expanding my food horizons!
Speaking of expanding horizons let's finish with some Good News Stories:
First from Plant Based News: Ben & Jerry's Release 'Climate Conscious' Vegan Ice Cream Urging Political Action:
The ice cream giant has released a new vegan flavour – a combination of coconut ice cream with chunks of chocolate and a cookie swirl – and is calling for the British government to step up its response to the climate crisis.
Ben & Jerry's teamed up with lobby group, The Climate Coalition. The company urges customers to sign the declaration calling on British prime minister Boris Johnson to 'lead the UK towards a healthier, greener, fairer future'.
The call focuses on protecting green spaces and boosting clean energy. If successful, it is hoped the call will help the UK reach net-zero emission goals.
The flavour, Save Our Swirled NOW, is available from supermarkets across the UK.
Next from VegNews: Brooklyn President To Biden We Need A Dialogue On Plant Based Nutrition:
Brooklyn Borough President and vegan advocate Eric L. Adams (a previous Healthificatuon podcast guest!) urged the Biden-Harris administration to adopt policies that promote plant-based nutrition to the American public.
To quote VegNews: Adams is among a growing list of leaders who publicly support the JIVINITI Women's Coalition—a diverse group of organizations composed mostly of women of colour led by nonprofit The Virsa Foundation which advocates for social justice through initiatives that promote plant based nutrition. In December, the group launched a campaign to challenge Vice President Kamala Harris to go vegan in January and beyond to set a plant-based example for all Americans.
Adams said. "We must turn food deserts into food oases, particularly in communities of colour where nutritional foods are scarce. Switching to a whole-food, plant-based diet taught me about the transformative power of what's on our dinner plate."
Away from quoting and back to Kate, I think Vice President Kamala Harris might just have bumped Joe Rogan off the top of my vegan wish list!
That's it for this week in Plant Positive.
If you enjoyed this episode then please share the love with a friend or family member that might appreciate it.
Please stay tuned for a quick snippet from a super inspiring episode of the Healthification podcast – that's my interview show where I have conversations with amazing athletes, activists, authors and generally passionate and compassionate individuals! Today my chat in E624: with my dear mum, Annie Galli.
Two years ago my mum declared: "Katie, I think I'll give this plant based thing a try for 2 weeks!" 
I've seen my mum's perspective change so much over the past 2 years. She tried plant based for her health and yet as she removed the animal products from her plate, her mind and her heart opened to ALL the other reasons to not eat animals.
E624: My Mums Plant Based Journey: How To Transition To Plant Based Without Restriction Or Conflict! 
624: My Mums Plant Based Journey, How To Transition To Plant Based Without Restriction Or Conflict!
Plant Positive was proudly bought to you by: Energybits.
I was merely a causal Spirulina consumer prior to chatting with Energybits Founder Catharine Arnston who has spent the last ten years educating consumers and wellness professionals about algae. Now I'm a huge fan of this cultivated one ingredient power algae known for aiding performance and energy. I'm an even bigger fan of the lessor known algae on the block, Chlorella.
US customers can purchase Energybits online and use the code "Healthification" for 20% off.
Check out: www.strongbodygreenplanet/deals to find all the sponsors of this show listed on one page. Again, that's www.strongbodygreenplanet/deals.
With love and compassion plant friends.
If you liked "6 Healthy Vegan Staples That Live in My Kitchen" you'll also like 7 Ways To Stay Healthy as a Vegan and 2020 Hindsight with Annie Galli!
If you liked "6 Healthy Vegan Staples That Live in My Kitchen" you'll also like 624: My Mums Plant Based Journey, How To Transition To Plant Based Without Restriction Or Conflict!
If you liked "6 Healthy Vegan Staples That Live in My Kitchen" you'll also like E655: Festive Season Vegan Deliciousness with Annie Galli (Mum's Top Christmas Tips!)
If you liked "6 Healthy Vegan Staples That Live in My Kitchen" you'll also like Mum's Back and We're Spilling The Beans On Our Vegan and Non Vegan Coronavirus Lockdown.