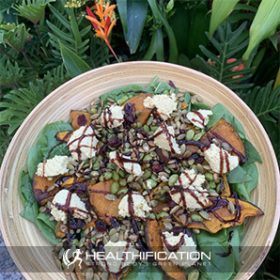 Podcast: Play in new window | Download
Subscribe: RSS
Annie Galli – MUM – welcome back to the Healthifcation podcast!
It's become a fun little tradition to check in on the podcast as we near the end of my stay here in Noosa with you, dad and now little Pango.
I also couldn't resist the perfect opportunity last year – 2020 – has given us for hindsight. I have a couple of thoughts here and of course I'd love your input too. Then I'd like to get our acronym on with
7 Ways To Stay H.E.A.L.T.H.Y. as a Vegan. 
First up though those 2020 hindsight learnings…
One: The unimportant things are the important things. Those things you take for granted. The things you don't realise you need and value until they are taken away or even hinted at potentially being taken away.
Walks in nature. Weights. Hugs!
Two: Routine is sanity. In times of uncertainly little daily and weekly routines let you carve out a fraction of calm and control.
A sunrise walk. That early morning cafe conversation. Bean-Burger Friday! Now let's get our acronym on with,
7 Ways To Stay Healthy as a Vegan.
H.ave as much compassion for YOU as you do for the animals.
This relates to your self talk. The frequency with which you exercise. The quality of your sleep. And of course, the food your fuel you body with.
Speaking of which….
E.at a diverse range of colourful whole plant foods. 
As an old or new vegan it's easy to fall into a pattern with your meals. And yet, one of the countless amazing things about a vegan lifestyle is the vast number of new foods you get to try.
You can turn it into a little game, by perhaps trying a new recipe or new food item each week or each month.
Aiming to get as many different plants as possible into each meal or trying to "win the rainbow" when eating with others.
Veganising animal product including magazine / online recipes.
A.wareness of how your body feels after certain foods. 
Although I believe everyone can and yep I'll go there "should" be vegan, our bodies and especially our gut microbiome are so incredibly different.
Most of us don't have access to amazing plant doctors like gastroenterologist Dr. Will Bulsiewicz, however we can all pay attention to factors likely energy, bloating and all the important movements.
L.earn to pick your battles in communication with loved ones.
This was a hard learnt session for me in 2020. I just got really aware of how I felt after certain interactions. Rather than "WOW, that was fascinating, eye-opening, encouraging or a little seed planted" – I'd just feel sad, angry and exhausted.
That's not how I want to feel after an interaction with someone I love. So I decided to pick my battles. To really minimize the times I'd "go there." Not because I don't care, rather because I care too much and it was effecting my mental health and happiness… not to mention my relationships.
I recommend this strategy if you've become "white noise" to your loved ones. Perhaps leave the animal rights or vegan lifestyle advocating to someone else and focus your energy on those (maybe less close, less triggered, less resistant) who you can have more impact and positive, supportive influence with.
T.ake the necessary supplements to optimise your health and performance. 
The need for a small amount of supplementation is not a reflection of anything lacking in a vegan diet. Rather it's a reflection of the less nutrient rich foods we now have access too, vegans or carnists alike.
B12 is the one non-negotiable everyone seems to agree on. I also take an algae based Omega 3. Vitamin D is recommended for many people. It's important to do you own due diligence though and I'll link to an article on Optimum Nutrition Recommendations by Dr Michael Greger from nutritionfacts.org in the show notes as Dr Greger is my most trusted source of evidence based information.
H.ave blood work done to know where you're starting from and what you're working with. 
It's natural to fall for the propaganda of mainstream media and animal ag and believe any little issue or end of year energy slump is due to your vegan diet. It's likely not (!) however it's still wise to be in the know.
It also means you'll be well prepped to counter those annoying conversations where everyday carnists become experts in nutrition and quiz you on your health and impending severe nutrient deficiency.
Y.our loved ones might not be supportive, seek out the community that IS and where you feel at ease and free from judgement or justification. 
This might be face to face or it might be online. It could even be through a reliable weekly little podcast or 2!
You were giving yourself a headache by banging your head against the wall and the noise was annoying your father! #veganpodcast #healthyvegan #animalrights
Click To Tweet
That's it for today in Healthification however before you go – as you listen to this, at least the first 7 episodes of my NEW PODCAST all about rockin a #plantstrong lifestyle focusing purely on the POSITIVES are live! 
Plant Positive is, a weekly fix of everything good for my vegan friends and the plant based curious.
I chat training tips, self care, good news stories, recipes wins, inspirational vegans plus plenty of eating and exercising motivation.
To get plant positive with me, simply search Plant Positive wherever you listen to podcasts!
If you like the show (either Plant Positive or Healthification!) now is the time to rate, review, subscribe and share because there is only one chance for any new show to hit New and Noteworthy and that is what gets a show visibility in the mass of 1.6 million podcasts! If you'd like to help get the plant strong message out there, then this is your chance to help make it happen!
Till next time, remember Creating a body and life you love is Freedom. (If this ex-carb queen, non genetically gifted, naturally uncoordinated vegan chick can do it – so can YOU!!!
If you liked "7 Ways To Stay Healthy as a Vegan and 2020 Hindsight with Annie Galli!" you'll also like Coronavirus Recipe Wins, Emotional Eating and Self Distraction Tactics With Annie Galli.
If you liked "7 Ways To Stay Healthy as a Vegan and 2020 Hindsight with Annie Galli!" you'll also like E662: 12 Months Plant Strong and Festive Season Deliciousness Recap with Annie Galli.
If you liked "7 Ways To Stay Healthy as a Vegan and 2020 Hindsight with Annie Galli!" you'll also like E655: Festive Season Vegan Deliciousness with Annie Galli (Mum's Top Christmas Tips!)
If you liked "7 Ways To Stay Healthy as a Vegan and 2020 Hindsight with Annie Galli!" you'll also like Mum's Back and We're Spilling The Beans On Our Vegan and Non Vegan Coronavirus Lockdown.
If you liked "7 Ways To Stay Healthy as a Vegan and 2020 Hindsight with Annie Galli!" you'll also like 624: My Mums Plant Based Journey, How To Transition To Plant Based Without Restriction Or Conflict!
If you liked "7 Ways To Stay Healthy as a Vegan and 2020 Hindsight with Annie Galli!" you'll also like Dr. Will Bulsiewicz and How To Become Gut Healthy Through A Plant Based, Fiber Rich Diet.