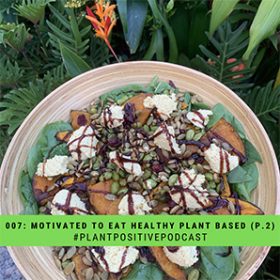 Podcast (plantpositivepodcast): Play in new window | Download
Subscribe: RSS
Hey plant friends,
Huge Happy New Year! I know that dates the show, so if you're listening in the future, well huge happy today!
This year as most years I've chosen a word to focus on – a theme for the year so to speak through which I can filter my daily choices. Though one word is tough right?
My words are LOVE and FUN. These are the things I want to make more time for in my every single day and they are the things I feel like I need to remind myself to prioritise. Work and exercise I have pretty locked and loaded and there's another non negotiable I always make time for. Can you guess? Food, glorious plant based deliciousness food.
Food Is It!
3-5 times a day 21-35 times a week the meals and snacks you eat are deciding how your body looks, feels and functions.
Soooo many opportunities for nourishing plant based deliciousness AND ALSO such potential for everything else.
In Plant Positive today, Part 2:
How To Stay Motivated To Eat Healthy Plant Based Meals. (tips 6-10)
To quickly recap these are the first 5 tips To Stay Motivated To Eat Healthy Plant Based Meals:
One: Focus on little hinges that swing big doors.
Two: Lower the bar to raise your chance of success.
Three: Set an action based goal.
Four: Find a way to enjoy immediate gratification.
Five: Travel back in your mind 12 months and use either the Pain or the Progress as fuel.
As we covered in part 1, Motivation is a habit and a skill that you either nurture and cultivate daily or you don't. The people you spend time with (either in person or online) will either help or hinder in this endeavour. Which leads me to tip number…
Six: Involve Community.
Food is such a natural and hugely pleasurable thing to connect over and share. It's how many people show love and generosity. Yet sadly the family traditions and friendship habits you might have once relished as a meat eater can become awkward, distressing and even hostile once you adopt a vegan lifestyle. 
This is normal – food is an emotional topic – and each of us are so fiercely protective of our personal beliefs around what we eat and why. Although I find it fairly easy to block out the nay-sayers and stay personally motivated in my food choices I know I'm not the norm so here are a couple of tips:
Start spending more time with people eating how you want to be eating. Yes, this is obvious and not always possible however even spending time with them virtually counts. An important consideration: use social media as inspiration not demotivation by playing the comparison game. Of all the social media / Youtube accounts to follow I'll keep it simple and recommend just a couple.
First, Pick up Limes where host Sadia shares "videos that help to nourish the cells and the soul." These videos / recipes are calm, beautiful, achievable and impeccably presented. The PUL team often share printable guides and checklists too.
Second, Avant Garde Vegan where host and chef Gaz shares #plantstrong deliciousness across the spectrum from fairly fancy to high protein vegan meal prep.
Sow healthy little plant based seeds with your current family, friends and community. I got this so wrong from the beginning. Thankfully previous Healthification podcast guests like Lauren Toyota from Hot for Food and Megan Sadd from Carrots and Flowers have set me straight! Every meal you share with your non-vegan friends is a chance to show them how delicious it can be. You can be as chill as you like. Even if they just see (and envy!) your huge stack of chia caramelised banana pancakes (and Yes, I deem them fairly healthy) at your local cafe.
Some easy wins with non-vegans you're cooking for are: desserts and sweet treats. I recommend ditching the refined sugars and flours for higher value ingredients like: nuts, seeds, dates and even avocado, beetroot and sweet potato.
Hearty side dishes can also be a hit. Stuff like corn cobs charred on the BBQ and served with cashew cream and fresh herbs. Or cauliflower wings. Or decadent salads made substantial and tasty with dry fried stone fruit, roasted nuts and crispy chickpeas, edamame or brussels.
One of the more important aspects in staying motivated with your own eating is you don't want it to feel like a constant exhausting battle!
If your loved ones are accepting (even appreciative) rather than critical and defensive it's going to be much easier for everyone. I'm learning that you (I!) can set the tone. The more chill, non-judgemental you are as the person not complying with societies carnist norms the more chill, non-judgemental and perhaps even curious your loved ones will be.
Tip To Stay Motivated To Eat Healthy Plant Based Meals Seven: Self talk. 
The only person you get to spend 24/7 with, is of course YOU and that means the way you talk to yourself will likely have a far greater impact than all of the other people you ever encounter!
The self talk you choose impacts your decisions and therefore your results and your happiness.
Yes, we just covered the need for community however when it comes to a running commentary on my food – I care so much more about what I think of my meals than what anyone else thinks.
I used to think salads were an absolute waste of time. Boring, bland and unsatisfying. You can imagine how inclined I was to eat salads right? And then I got a whole lot more creative. I started to see that a salads potential was limitless and it became something I "got to eat" rather than "had to eat."
When you choose words like "get to" you're embracing the language of possibility.
Conversely, "must" and "have to" has connotations of pressure, restriction and just UN-fun.
When I say "I LOVE" everything I eat it's true however of course I don't love my oats as much as the caramelised banana and chia seed pancakes. And I don't love either as much as my family or friends.
The main point is your language can carry huge emotional intensity. Your unconscious mind is always listening to your self talk. Nothing escapes it and it cannot tell the different between true and false so if you tell it: "I hate healthy food!" or "I love feeding my body an abundant rainbow of whole foods" it'll believe you.
To get a little actionable here are a few takeaways:
Self talk takeaway #1: Focus on what you CAN, even before you can. For example: You can prep and enjoy healthy plant based meals every single day.
Self talk takeaway #2: Manufacture and build positive MOMENTUM. For example: Regardless of how big or small, acknowledge the progress you made today.
Self talk takeaway #3: The way YOU talk to you, sets the stage for how others will perceive you. For example: You are the type of person who prioritises the food that keeps your body looking, feeling and functioning how you want it to over convenience and societal norms.
Eight: The Anti-mentor.
As much as the person walking the healthy-plant-based-meal-walk is motivating and well worth modelling there's also much to learn from the person you really don't want to be! They think the thoughts, that lead to the actions (or inactions), that lead to the results and the life you really don't want.
In the same way that I'll often ask: "What would the best version of Kate do here?" 
I'll also often ask: "What would (my anti-mentor) do here?"
Here are a few of the things an anti-mentor might do:
Skip breakfast and then fall victim to the muffins, biscuits, whatever-it-is-that's-unplanned-low-value-and-snacky later in the day.
Agree to eat at that flesh-fest restaurant where she knows she'll be stuck with a pathetic green salad and fries because she doesn't want to impose her eating requirements on anyone else.
Make meals on mass (Woohoo!) and then demolish ALL the meals on mass rather than freezing them in portions. 
Although of course you don't want to actively seek out anti-mentors their natural existence in your life can be made useful rather than merely frustrating when you use them as motivation to power on through your own natural tendencies to under perform / sell yourself short.
Nine: Consider the impact Social Media has.
When you scroll through your social media is it loaded with abundant, whole food plant based deliciousness? Jumping off the screen and inspiring you to create a rainbow of goodness at your next meal? Or conversely is your feed choca's with crispy fries and that urgent notification that now there are vegan magnums? Cornetto's. Ben & Jerry's!
We're in uncharted territory so far as the responsibility each of us has to filter and curate our social feeds to our advantage.
In the same way that some "fitness chicks" might be intimidating (or just annoying!) the food you let into your feed will also impact the eating choices you make and don't make.
I love that there's a flood of new vegan foods (and junk foods) however I'm also hugely cognisant that the junk food vegan (JFV!) is now a very real possibility to be actively avoided. As much as it's tempting to indulge in "eye candy" I find looking often makes me want to consume. Luckily there are just as many accounts to follow that flood your feeds with whole food plant based gorgeousness.
Here are a few ways to let social media positively impact your eating choices:
Whenever you're stuck for how to veganise a recipe search #vegan (that thing) in Instagram. For example: #veganpesto #veganomelette.
Marie Kondo your social feeds by getting rid of accounts that do not bring joy into your life. For me that's accounts full of animal products and also those with super fake vegan junk food. For some people it might be accounts with super fake vegans, shallow-light-weight fitness influencers etc!
Set boundaries that work for you with your social media consumption. For example: mindless scrolling after dinner might lead to mindless munching. Conversely perhaps scrolling accounts like Avant Garde Vegan prior to writing a shopping list and getting stuck into meal prep Sunday is a win.
Ten: Cultivate a Hope Strategy.
One thing guaranteed to sink your motivation is a lack of hope. It's not a lack of discipline or time or money stopping you from staying motivated to eat healthy plant based meals.
It's a lack of HOPE.
When you try and fail – repeatedly – each attempt eats away a little more of your belief that it can be any different for you.
As hope diminishes so does your resolve to give it 100%.
When really that is ALL you need… The resolve to Back Yourself and to give it 100% beats any and every quick-fix-silver-bullet-over-promising-hope-eroding-MYTH!
Be confident you can do it. Have certainty in YOU not circumstances. You can learn this the slow and excruciating way, or you can skip that frustration and use this simple Hope Hacking A, B, C approach to Back Yourself 100%:
A is for APPRECIATION that although you can't know what's coming today, tomorrow, next week or next year (!)… although trying to seek certainty in circumstances is a losing battle you can have certainty in YOU.
Know that no matter what turns up on the day, you can deal with it. Have Certainty in You.
B is for BUILD your daily references for success. Have you noticed how easy it is to focus on what didn't go according to plan? That processed-carb-fest meal? The half jar of nut butter demolished with a fork?
When equally every single day you make plenty of decisions that ARE propelling you towards your ideal health.
To build your belief in you choose one of those decisions – one reference point for success each day – acknowledge it and jot it down at the end of the day.
C is for CREATE an early win. There's nothing like results to build your belief that you can do it right?
Here's the simplest way I've found in the eating game: Cut your refined carbs Monday to Friday and double your fibrous veg.
No less food – just A WHOLE LOT MORE micronutrients and a whole lot less cravings.
I know we've covered a lot today so hopefully (!) there's at least something you're keen to get actionable with!
Out of these second 5 tips To Stay Motivated To Eat Healthy Plant Based Meals which resonates most with you as something you could work into your routine?
To recap:
Six: Involve Community.
Seven: Self talk.
Eight: The Anti-mentor.
Nine: Consider the impact Social Media has.
Ten: Cultivate a Hope Strategy.
That's almost it for today in Plant Positive. I know I've deviated away from my usual format however I wanted to get (Part 2) of these 10 Tips To Stay Motivated To Eat Healthy Plant Based Meals to you and also, I'm thinking I'll commit an entire show to Self Care.
A sort of blueprint. What do you think?
As always, I'd love to hear from you. Is there anything you'd like more or less of? I'm here to support you and I'm super open to any constructive criticism as to how I can get better at doing that. You can reach me via kate@strongbodygreenplanet.com or @strongbodygreenplanet across the socials.
If you found even a little seed of value in this episode then please share the love with a friend or family member that needs to hear it. It's quick to share and it'll mean a lot to your loved one and so much to me.
Finally, please stay tuned for a quick snippet from a super inspiring episode of the Healthification podcast – that's my interview style show where I have conversations with amazing athletes, activists, authors and generally passionate and compassionate individuals! Today my chat in E638 with PETA's Ingrid Newkirk.
Whether you support the at times controversial and provocative approaches PETA deploy to defend animals – I 100% DO – it's indisputable the organisation is without equal so far as getting press coverage and way beyond that, most importantly actually effecting positive change.
Since founding PETA in 1980, Ingrid today is at least as fired up and fiercely committed as she ever was.
638: PETA's Ingrid Newkirk | Animals Are Not Ours To Experiment On, Eat, Wear, Use For Entertainment or Abuse In Any Other Way.
Plant Positive was proudly bought to you by: BiOptimizers, a nutritional supplement company with the mission to help humans shift from a sick unhealthy condition into a peak biologically optimized state. You'll get a 10% discount for all BiOptimizers products by using the "Healthification10" code.
My personal fav is their Magnesium Breakthrough to help reduce your stress levels, feel relaxed and at peace PLUS sleep faster and deeper. Who doesn't need more peace and great sleep right now?
Check out: www.strongbodygreenplanet/deals to find all the sponsors of this show listed on one page. Again, that's www.strongbodygreenplanet/deals.
With love and compassion plant friends.
If you liked "10 Tips To Stay Motivated To Eat Healthy Plant Based Meals (Part 2)" you'll also like E547: The Ultimate Vegan Food Pyramid For Getting and Staying Lean.
If you liked "10 Tips To Stay Motivated To Eat Healthy Plant Based Meals (Part 2)" you'll also like 7 Day Easy Vegan Plan
If you liked "10 Tips To Stay Motivated To Eat Healthy Plant Based Meals (Part 2)" you'll also like Dr. Will Bulsiewicz and How To Become Gut Healthy Through A Plant Based, Fiber Rich Diet.