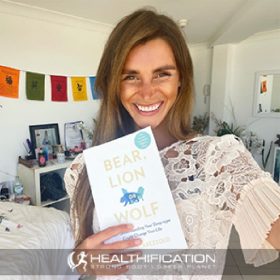 Podcast: Play in new window | Download
Subscribe: RSS
In this conversation with Australia's leading Sleep Expert, Olivia Arezzolo we cover the Chronotype's that regulate your sleep and wake times and dig in to the sequence of sleep strategies that you can deploy to sleep better tonight.
Olivia is all about the science however her approach is fun. Who doesn't want to know if they're a Bear, Lion or Wolf?
They are the chronotype's and unsurprisingly I'm a Lion. As Olivia suggests, a lion is early to rise and loves your morning routine – it's likely to start at the gym, yoga, or with a run. With productivity peaking in the first half of the day, you like to tackle the most challenging tasks of the day first.
As I can attest, I'm rubbish at anything scheduled later in the evening. If you're curious check out Olivia's free quiz via: https://oliviaarezzolo.com.au/
For a little official bio: After 9 years of study, Olivia's qualifications include a Bachelor of Social Science (Psychology), Certificate of Sleep Psychology, Diploma of Health Science (Nutritional Medicine), and a Certificate 3+4 in Fitness.
To date, Olivia has been featured on Forbes, The Today Show and The Morning Show, partnered with global brands including Sealy Posturepedic and Ikea.
Olivia has her own column in the leading health publication in Australia – Body and Soul – and has recently released a book, Bear, Lion or Wolf, which is now published in 10 countries.
In this interview we cover:
Chronotypes, what are they and why they are critical to sleep and productivity.
Olivia's Chronotype quiz, where we can find out if we're a Bear, Lion or Wolf.
What's needed in your sleep sanctuary to sleep properly.
Olivia's suggested bedtime routine.
Science based and actionable sleep tips.
The connection between diet and sleep, and in particular, a plant based diet.
Sleep Saboteurs: Light | Devices | Caffeine
What are the 3 steps our listeners need to take to sleep better tonight?
Friends I'm happy to report that although I have 100% failed at booting little Loki boy – that's my rescue cat – off the bed, I did follow Olivia's  number one sleep tip:
To wear 100% blue light blocking glasses before bed and do so according to your chronotype.
A 2016 Japanese study in Chronobiology International found individuals wearing blue light glasses 2 hours before bed:
* fell asleep 79% faster
* Slept deeper
* halved the amount of time awake through the night, compared to usual.
I can absolutely agree these glasses (purchased with a discount via Olivia's site) have positively impacted my sleep. They are easier to wear before bed than the eye mask – though it's next on my implementation list.
Asking Olivia her advice to the listener who knows what to do and doesn't do what they know made realize I wasn't taking enough responsibility for my own poor sleep.
If there's room for sleep quality improvement for you, I hope you've got an actionable tip or 3 to take away from this chat.
To connect with Olivia I have you linked up in the show notes below.
Connect with Olivia via https://oliviaarezzolo.com.au/
Take Olivia's Chronotype quiz.
Purchase Bear, Lion Or Wolf: How Understanding Your Sleep Type Could Change Your Life.
Connect with Olivia across the socials: YouTube | Instagram | Facebook | Twitter | LinkedIN
That's it for this week in Healthification. If you're yet to rate, review and subscribe please do! It counts big time in letting this little show – and the amazing guests I get to chat with achieve some visibility among the millions of podcasts out there.
Big thanks to YOU for sharing this week with me.
The Healthification podcast is proudly bought to you by my FREE 'Easy Vegan' plan. It took me 25 years to transition from a meat eater to a happy, healthy Vegan! You can do it in just 3 days with my simplified 'easy vegan' plan!  Get the fit, strong, and healthy plant based body you deserve… while avoiding ALL the mistakes I made along the way!
To learn more check out: strongbodygreenplanet.com
Till next time, remember Creating a body and life you love is Freedom. (If this ex-refined-carb queen, non genetically gifted, naturally uncoordinated vegan chick can do it – so can YOU!!!)
If you liked "Sleep Expert Olivia Arezzolo and Are You a Bear, Lion or Wolf?" you'll also like The Book Of Sleep and The Importance Of Habit Change For Better Sleep with Dr Nicole Moshfegh.
If you liked "Sleep Expert Olivia Arezzolo and Are You a Bear, Lion or Wolf?" you'll also like Toxic Food vs Food as Medicine with Tim James of Chemical Free Body.
If you liked "Sleep Expert Olivia Arezzolo and Are You a Bear, Lion or Wolf?" you'll also like E592: James Clear and Atomic Habits, Why True Behaviour Change Is Really Identity Change.