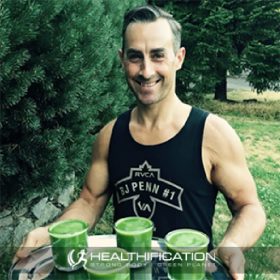 Podcast: Play in new window | Download
Subscribe: RSS
Friends this is a high energy ride with a gent who's turning 48 and feels like he's 18!
Tim James aka The Health Hero is founder of chemicalfreebody.com and host of The Health Hero Show.
Tim is all about helping people put themselves and their health first. The chemical free body.com goal is to rescue one gut at a time with honest, pure and natural ingredients that taste great, and absolutely no harmful man-made chemicals, no binders or fillers, just pure concentrated nature!
Here's the thing, I know these conversations can be overwhelming. Hearing about ALL the toxins in our food, our water, our lives… the value of raw living foods, infrared saunas and purified, restructured city tap water and yet equally, everything counts. 
There are many very simple actions we can all take. Although Tim and Chemical Free Body ship detox and nutrition products worldwide he also shares many hugely impactful quick and free tips including his core 4 secrets, which I love.
Tim has done a huge turnaround so far as the food he fuels his body with. He grew up eating all the animal products and experiencing multiple health problems as a consequence. 
After being airlifted from a family holiday and having an organ removed Tim learnt his poor health didn't just impact him it impacted everyone around him. Later while supporting a friend diagnosed with cancer and being treated at Hippocrates Health Institute Tim met a jacked vegan doctor who'd just turned 50 – that would be Dr Brian Clement – and had his mind blown.
Feeling charged with a duty to help others he started sharing his knowledge with anyone that would listen. So are you ready to listen? Let's talk Toxic Food vs Food as Medicine with Tim James of Chemical Free Body…
In this conversation we cover:
Tim's health journey.
The life changing (and saving) learnings Tim had at Hippocrates Health Institute.
Toxic food vs food as medicine.
The daily detox protocol.
The importance of purifying and restructuring city tap water.
Infrared saunas to help with pain and inflammation, sleep, nutrient absorption and fat loss.
Here's the link Tim mentioned: Thehealthysauna.com.
Why are most supplements toxic and how do you find the right ones?
The Core 4 Secrets that Tim teaches his coaching clients.
And so much more!
There's a lot there right? We didn't even get to touch on proper food combining for gut health though here's a link to an article from Hippocrates Health Institute called The 10 Commandments of Food Combining & Dining.
Again I want to say, if what we touched on feels like a lot – I agree! – I must admit Tim's current day of eating didn't sound especially joyful and delicious to me and yet I imagine it's a matter of the level of pain and dissatisfaction you're coming from.
For those of us lucky enough to be experiencing good health then perhaps it's a matter of a few simple upgrades. Like those Core 4 Secrets. I especially liked the idea of moving from fight or flight to rest and digest with some breath exercises before you eat.
Perhaps checking our supplements – I currently take B12, Algae based Omega 3 and a Greens powder – and it was a little disconcerting hearing of all the nasties they can include to make them better for business rather than better for your body.
Connect with Tim online Facebook | Instagram
Connect with Chemical Free Body Website | Facebook | Instagram | Twitter
If you purchase please use the discount code: Healthification for 5% off.
Podcast fans check out the Health Hero Show Podcast | Facebook | Instagram | Twitter
Check out the Hippocrates Health Institute and The 10 Commandments of Food Combining & Dining:
Tim mentioned The China Study:
Also, Dr. Gabriel Cousens.
That's it for this week in Healthification. Big thanks to YOU for sharing this week with me. You rock and I appreciate your support!
The Healthification podcast is proudly bought to you by my FREE 'Easy Vegan' plan. It took me 25 years to transition from a meat eater to a happy, healthy Vegan! You can do it in just 3 days with my simplified 'easy vegan' plan!  Get the fit, strong, and healthy plant based body you deserve… while avoiding ALL the mistakes I made along the way!
To learn more check out: strongbodygreenplanet.com
Till next time, remember Creating a body and life you love is Freedom. (If this ex-refined-carb queen, non genetically gifted, naturally uncoordinated vegan chick can do it – so can YOU!!!)
If you liked "Toxic Food vs Food as Medicine with Tim James of Chemical Free Body." you'll also like How To Fix Digestion, Eliminate Gas and Bloating and Enjoy AWESOME Health with Wade Lightheart.
If you liked "Toxic Food vs Food as Medicine with Tim James of Chemical Free Body." you'll also like E628: Algae, the most nutrient dense, sustainable food on the planet with Catharine Arnston from Energybits.