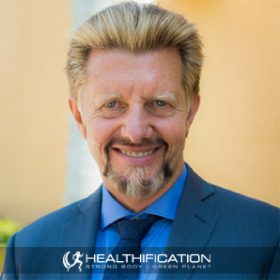 Podcast: Play in new window | Download
Subscribe: RSS
Friend we're in for a treat today.
I'll be honest, I thought this conversation might be overwhelmingly raw food focused and a little too science'y and yet quite the opposite. It was inspiring, hopeful, warm and I found myself both hanging off Dr Brian Clements every word and also planning changes to the way I eat!
Dr Brian Clement is director of Hippocrates Health Institute set on sixty tropical acres in West Palm Beach, Florida. At the turn of the twenty-first century the Institute received the notable award as the world's foremost healing centre.
"Brian and his team have developed a state of the art program for health maintenance and recovery. With hundreds of thousands of people participating in the program over the last half century, volumes of data have been accrued, giving Clement a privileged insight into the lifestyle required to prevent disease, enhance longevity, and maintain vitality and stamina."
He has authored more than 25 books, filmed more than 2000 hours of educational material, and is one of the most prolific experts in the comprehensive arenas that manifest exceptional wellbeing. 
Brian has lectured in over 47 states and 28 countries at establishments that include: Harvard, Regents College in London and countless universities and institutions.
I hope you enjoy this conversation as much as I did. 
Specifically I'd like to cover:
Brian's becoming vegan story. 
The experience transitioning from a strict vegan diet to a raw living foods diet.
What are living foods and how do they differ from the SAD.
"Life-force" the inherent electrical charge from nature that regenerates human health.
Type 2 diabetes is not a disease. It's a lifestyle choice.
Essential fats. What fats should we be eating and what should we be avoiding?
Your mind is the most powerful agent for healing or demise.
That time flew!
There were many questions we couldn't get to however I think this is a really good starting point and if you're feeling inspired to dig deeper with the amazing work done at Hippocrates Health Institute I'll have you all linked up below.
Alternatively check out https://hippocratesinst.org.
Disease is the absence of homeostasis. Our current approach to correcting maladies is overly zealous and lacks the nuance and subtleties of the sophisticated systems that make us whole. @HippocratesInst #livingfood
Click To Tweet
I'll also link to a couple of topics that especially jump out at me as a personal trainer…
The approach at Hippocrates Health Institute is unique and as such you'll see online they get some negative push back.
I'm learning that's natural and normal. If you're creating big change – even hugely positive change – if you're sticking your head above the crowd you'll get criticism. What I love about the guidance offered is it's both science based and heart based. The intention to: "guide guests back to a semblance of balance and wellbeing, the ultimate goal being the birth of a healthy individual who contributes to a healthy humanity."
Connect with Brain and Hippocrates Health Institute via the website: https://hippocratesinst.org
Connect across the socials: Instagram | Facebook | Twitter | YouTube
Among some of Brian's many books: the three volume academic series – Food Is Medicine.
LifeForce, Living Foods for Optimal Health.
7 Ways to Lifelong Sexual Vitality.
That's it for this week in Healthification. Big thanks to YOU for sharing this week with me. You rock and I appreciate your support!
The Healthification podcast is proudly bought to you by my FREE 'Easy Vegan' plan. It took me 25 years to transition from a meat eater to a happy, healthy Vegan! You can do it in just 3 days with my simplified 'easy vegan' plan!  Get the fit, strong, and healthy plant based body you deserve… while avoiding ALL the mistakes I made along the way!
To learn more check out: strongbodygreenplanet.com
Till next time, remember Creating a body and life you love is Freedom. (If this ex-refined-carb queen, non genetically gifted, naturally uncoordinated vegan chick can do it – so can YOU!!!)
If you liked "Dr Brian Clement, Hippocrates Health Institute and living foods for health and healing." you'll also like Dr. Will Tuttle and The World Peace Diet.
If you liked "Dr Brian Clement, Hippocrates Health Institute and living foods for health and healing." you'll also like Toxic Food vs Food as Medicine with Tim James of Chemical Free Body.
If you liked "Dr Brian Clement, Hippocrates Health Institute and living foods for health and healing." you'll also like E563: Using Plant Foods To Protect Against Chronic Diseases with Brenda Davis.