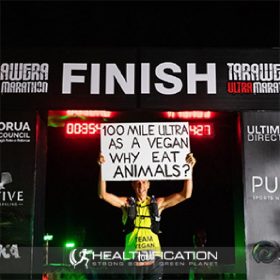 Podcast: Play in new window | Download
Subscribe: RSS
My guest today, Josh Howell is passionate about using his athletic achievements to draw attention to the completely unnecessary horrors humans inflict on animals. In fact Josh built the fitness that allowed him to run a 100 mile ultra marathon – fuelled purely by whole plant foods – once he became vegan.
So this conversation is yet another chance to bust any remaining stereotypes of vegans excelling because of the bodies they built while they were still consuming animals.
Josh is all about spreading good vibes while ignoring the social norms that so many of us can feel trapped by.
No animals products. No Alcohol. No Coffee. No Salt. No Oil. NO Problem!!
Whether it's an ironman event, an ultramarathon or a 300km cycle Josh powers his performance with high carb / high raw, whole plant food.
Let's chat with Josh Howell, a Vegan Ultra Athlete For The Animals.
In this conversation we cover:
Josh's becoming vegan story.
How the vegan lifestyle has helped Josh in his athletic performance and recovery.
Real strength is standing up for those more vulnerable than us.
True health being a matter of not just personal health also the health of your family, your community and the planet.
How swapping to plant food transformed the health of Josh's dog Roxy!
How amazing would it be if every single vegan athlete was as committed to activism and animal rights as Josh?
I love that he makes time to get out on the street and have conversations with non-vegans. Of course that's not everyones preferred way to advocate however I really do believe it's vital for those of us who are vegan to be bold and unapologetic in sharing it.
Whether it's in the singlets we wear when exercising, in the delicious food we share or by having the courage to have those sometimes uncomfortable conversations with loved ones.
100 Mile Ultra As A #Vegan Why Eat Animals? #veganathlete #ultramarathon
Click To Tweet
I find there's obviously two different camps. We can either be positive and keep charging or we can spiral down and get sad and depressed. So I always default to the positive one. Josh Howell
Click To Tweet
To connect with Josh online I have you all linked up below.
Connect with Josh Howell across the socials via KiwiBigfoot:
That's it for this week in Healthification. If you're yet to subscribe wherever you're listening please do and equally awesome, please consider sharing the show with someone you think would find value in it. Big thanks to YOU for sharing this week with me.
The Healthification podcast is proudly bought to you by my FREE 'Easy Vegan' plan. It took me 25 years to transition from a meat eater to a happy, healthy Vegan! You can do it in just 3 days with my simplified 'easy vegan' plan!  Get the fit, strong, and healthy plant based body you deserve… while avoiding ALL the mistakes I made along the way!
To learn more check out: strongbodygreenplanet.com
Till next time, remember Creating a body and life you love is Freedom. (If this ex-refined-carb queen, non genetically gifted, naturally uncoordinated vegan chick can do it – so can YOU!!!)
If you liked "Josh Howell is a Vegan Ultra Athlete For The Animals." you'll also like E568: Vegan Athlete Fiona Oakes Is Running For Good.
If you liked "Josh Howell is a Vegan Ultra Athlete For The Animals." you'll also like  E665: Dotsie Bausch, True Strength and Being A Plant Powered Athlete.
If you liked "Josh Howell is a Vegan Ultra Athlete For The Animals." you'll also like Hench Herbivore, Ex-Vegans and Being On The Right Side Of History.