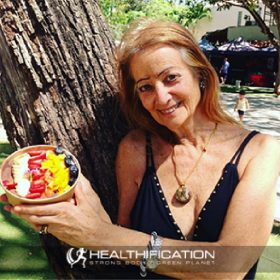 Podcast: Play in new window | Download
Subscribe: RSS
Today I'm chatting with award winning author, internationally acclaimed speaker and Vegan and Raw Food Coach, Karen Ranzi.
Karen is mum to two children raised raw vegan. She has a fascinating family history of using primarily raw vegan food to heal from severe illness starting in 1918 with her grandmother. Like so many of us, Karen didn't initially embrace the vegan, let alone the raw food vegan lifestyle!
It goes without saying that this topic is well out of my wheelhouse. I don't have kids. I'm 100% vegan yet far from raw. I know very little about autism.
However, I see huge value in explore all aspects and benefits of this amazing, compassion based vegan lifestyle. Especially given the drastic rise in autism globally.
As Karen brings up near the end of our chat of course there are the higher functioning people with autism who want to celebrate autism and that is amazing. And yet these are not the individuals Karen has spent 2 decades working with.
Her expertise and commitment has been directed towards helping low functioning, often non verbal children and their families. Kids and parents frustrated and NOT living the life they want. The transformations in behaviour, language, communication, engagement and quality of life Karen shares are truly impressive.
I hope you enjoy this conversation.
In this conversation we cover:
Karen's personal health journey and that of her children. 
Why is the raw food lifestyle optimal for pregnancy and raising healthy children.
Karen's latest book: Heal and Prevent Autism and why she was compelled to write it.
What is autism and why is it so massively on the rise.
The importance of working on gut health for children with autism.
Why is toxic load important to understand, especially in regards to autism.
What role do heavy metals play in autism and how are kids being exposed.
If this conversation leaves you curious and looking to learn more please connect with Karen online.
I'll have you all linked up below. And of course you can check out her multiple books on the connection between healing the symptoms of autism and plant food via https://superhealthychildren.com/.
To connect with Karen check out her websites: http://superhealthychildren.com and http://feelfabulouswithfood.com.
Connect with Karen across the socials: Instagram | Facebook | Twitter | YouTube
Purchase: Creating Healthy Children | Raw Vegan Recipe Fun for Families | Heal and Prevent Autism: Natural Solutions That Work.
That's it for this week in Healthification. If you're yet to subscribe wherever you're listening please do and equally awesome, please consider sharing the show with someone you think would find value in it. Big thanks to YOU for sharing this week with me.
The Healthification podcast is proudly bought to you by my FREE 'Easy Vegan' plan. It took me 25 years to transition from a meat eater to a happy, healthy Vegan! You can do it in just 3 days with my simplified 'easy vegan' plan!  Get the fit, strong, and healthy plant based body you deserve… while avoiding ALL the mistakes I made along the way!
To learn more check out: strongbodygreenplanet.com
Till next time, remember Creating a body and life you love is Freedom. (If this ex-refined-carb queen, non genetically gifted, naturally uncoordinated vegan chick can do it – so can YOU!!!)
If you liked "Heal and Prevent Autism with Vegan and Raw Food Coach Karen Ranzi." you'll also like Toxic Food vs Food as Medicine with Tim James of Chemical Free Body.
If you liked "Heal and Prevent Autism with Vegan and Raw Food Coach Karen Ranzi." you'll also like The Plant Trainers Shoshana and Adam Chaim Will Help You Thrive On Plants.
If you liked "Heal and Prevent Autism with Vegan and Raw Food Coach Karen Ranzi." you'll also like E563: Using Plant Foods To Protect Against Chronic Diseases with Brenda Davis.