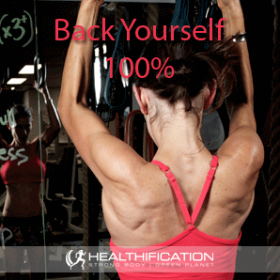 Podcast: Play in new window | Download
Subscribe: RSS
There's a 2-sided myth surrounding exercise and the effort:results ratio you should expect to see for your exercising effort that I'd like to address today.
Today I'm weighing in on the: Diminishing Returns Of Exercise.
Part one of the myth is that: in weight loss or as I prefer Body Gain you must sacrifice all joy and live a life of gruelling, boring and excessive exercise while living off meagre portions of chicken breast and broccoli.
That you must never again raise a glass of delicious Shiraz or enjoy a decadent dessert guilt-free.
Of course I'm exaggerating just a tad however super often to hear the way someone describes how it will have to be to have a body you're happy, healthy and confident rocking around in… well that description would make me not want to even try.
And there in lies the problem. You've talked yourself right out of results before even approaching the start line.
On the flip side of the coin is part two of the effort:results ratio myth: once you're at a 'healthy' weight then you just need to up the exercising and clean eating anti a bit to keep progressing to buff and lean.
The 6-pack, the ultra low body fat % or whatever it may be for you.
In reality I have good and bad news for you.
Mostly good though.
FIRST, the good news is that before you commit 100% you're going to think it's harder than it is.
I genuinely believe that to be true. The thing is before you commit 100%, YOU MAKE IT harder than it is!
Here's my experience. The person with a half-hearted wishy-washy attempt at body gain gets all the pain of those exercise sessions that are frequent enough to take time away from everything else you love doing and yet not consistent enough to increase fitness, strength, fat burning or habit forming. You get all the work and none of the results.
It's the same with food. Being the odd one out skipping your favourite treats… forcing done that boring, bland, unsatisfying salad and bothering to plan and painstakingly measure your every meal UNTIL the all-out-unplanned-binge-fest which annihilates any of the body gain results you were working your way towards faster than you can say Peanut-Butter-Cup-Cheesecake-Cupcakes!
The actions you need to take to get to a healthy weight are really not that hard. What's really hard is taking them inconsistently and not seeing the results for your stop, start effort.
SECOND, the less good news is that in getting from healthy to buff and lean you're going to experience huge diminishing returns.
The effort:results ratio is not a pretty picture.
In fact it's more like the see-saw that leaves you madly flailing around in the air at the top end while that last 2-3% of body fat you're looking to shed sits stubbornly, on the end that's grounded. In fact that last 2-3% may seem like a colossal unsurpassable mountain of blubber – destined to hold you to ransom regardless of all the energy you expand.
No matter how much effort you put it that fat is staying solid sitting right where it is.
Except for one thing. One big thing. Once you're at a healthy weight while you now have to face the disheartening reality of diminishing returns you also have the game changer card to play…
Your mindset is locked and locked. You know what works so far as the actions to take and the beliefs to cultivate. You have a bank of reference points for success and you'll back yourself to stick with it as long as it takes.
To get actionable today, I'd love to hear from you.
Is there an exercise myth that you'd like me to cover in the Wednesday weigh-in show?
You can let me know via the comments for today.
That's it for today. In tomorrows Thursday Training show I chat: Perspective. I hope you can join me.
If you liked this you'll also like:  A Day In The Life Of An Effective Fat Loss Mindset.
If you're yet to share the Healthification love – just click here to zip over to iTunes and leave an honest rating and review. It'd help me out big time. With gratitude, Kate.