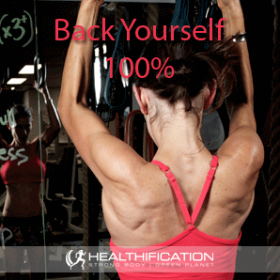 Podcast: Play in new window | Download
Subscribe: RSS
It rarely happens however I just got lost in the land of you tube. Thankfully I dragged myself back before too long and actually I think the short trip was worthwhile. Firstly some of my clients this week are going to get to try some cool new body weight moves… In addition, todays show was going to be a Dumbbell Fat Torching Workout… however I've changed my mind and here's why:
Designing new minimal equipment workouts is not my specialty. I love the gym and access to lots of lovely weights. Also, audio is not the best format to share a workout. Most importantly there are countless super valuable resources online for you to check out if you don't have access to a well stocked gym – or perhaps if you just want a change.
So in todays show I want to give credit to the people behind a couple of those resources and share: Who I Turn To For Exercise Inspiration.
I've got 3 people I turn to for 3 different reasons:
One: Zuzka Light.
Zuzka, is hands down without a doubt my go to girl to feel INSPIRED at just what is possible.
The moves this lady comes up with with minimal or zero equipment are mind-blowing. As, by the way is her physique if you're looking for inspiration to get your work-out on or steer clear of that rubbish food!
I believe it's important to balance a gratitude for and appreciate of the progress you've already made with that drive and push to constantly be improving. With your health, your fitness, your energy and Yes, your body.
It can be hard to stay focused if you're not surrounded by people that provide that next level to work towards. That's why from time to time I'll check-in with Zuzka. I also respect that she works hard for her success and her physique. I've seen her body fluctuate as we ALL do. To look the way she's looking right now as I publish this is not a result of wishing or waiting or hoping OR lucky genetics… it's a result of focus and consistent hard work.
I've also seen Zuzka as part of a partnership build a business up to a huge success and then have it taken away… rather than give up or get sucked into the 'poor me' victim mindset she's rebuilding bigger, better and more congruent with her personal values.
Two: Ben Bruno.
(youtube channel)
Ben, is a no frills content creating machine. I first discovered him when he was coming back from a non training related knee injury and a couple of knee surguries and still posting his brutal lower body exercises.
Ben believes (and I quote) "All injuries basically suck, especially if they keep you from training hard or just enjoying life. And in my case, training hard and heavy is the very essence of enjoying life".
Now even if training hard isn't 'the very essence of enjoying life' for you, it is necessary to create and keep a body you love.
So it's invaluable to have access to the exercises that will let you work around any injury.
I respect Ben's NO EXCUSES approach. Whether your goal is to build sexy lean muscle, to shed stubborn fat, to be the fittest and strongest and most energised you've ever been – or ALL of the above – the most important factor in your success is consistency.
Consistency will at times require a degree of creativity and a substantial side of No Excuses!
Three: John Romaniello.
Roman makes me laugh – I love the way he writes. His website describes a (and I quote) "tongue-in-cheek approach to fitness–and himself–that shows a genuine love/hate relationship with both. Equal parts narcissism and self-loathing, Roman writes with passion and humor, show-casing his belief that training doesn't need to be the serious, stern, science-laden monotony that is pervasive in the industry".
The relevance to this thursday training show?
Roman reminds me that fitness and fat loss should be FUN. I respect that he holds nothing back and makes no apologies for being 100% genuinely Roman. No people-pleasing or pandering.
His info is super high quality however it's the way it's delivered that makes it memorable and differentiates him from every other pretty, buff, fitness dude online.
If I love exercise and clean eating with an obsessive passion and yet I can still find all the details at times mind-numbing then I'm guessing a little humour will make this stuff easier for you to stomach and stick with too!
To get actionable today lets go with the 3 keys points from each of the people I've mentioned today.
So to recap,
Zuzka Light is my lady for INSPIRATION.
Ben Bruno is the NO EXCUSES gent.
John Romaniello makes fat loss FUN… oh, and I reckon he'd say SEXY too.
Which could you benefit most from a little more of in your training? Inspiration? No Excuses? Or Fun and sexy?
These resources – and so many more – are there for you, your action step today is to take just 10 minutes to check one of them out.
That's it for me to today – it's lower bod training day and I'm off to the gym to work one of Zuzka's body weight moves into my routine… I think it'll be an entertaining test of my lack of co-ordination!
I hope you can join me tomorrow for the Friday FAQ show where I cover, How To Plan Your Weekly Meals.
If you liked this you'll also like: Turning B.A.M. Into Best & Most Effective Fat Loss.
If you're yet to share the Healthification love – just click here to zip over to iTunes and leave an honest rating and review. It'd help me out big time. With gratitude, Kate.