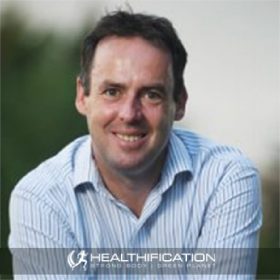 Podcast: Play in new window | Download
Subscribe: RSS
I first came across the work of Patrick McKeown at the insistent prompting of my dear podcast editor Sten, who elucidated numerous deleterious impacts of my mouth breathing and in turn the life changing benefits of nasal breathing.
On a long train ride I demolished a couple of Patrick's podcasts. Then a couple of his audio books.
Better sleep. Laser focus. Mental acuity. Athletic performance. Calm.
I was sold on the benefits. And yet the practice – well like most things of value – it takes deliberate, sustained effort.
Something I'm looking forward to exploring in this conversation is just what level of patience and consistency do those of us eager to take control of this part of our health have to deploy? When can we expect to see results? Even, what lifestyle factors turned us from natural nasal breathers to inefficient mouth breathers?
Patrick is the man to explain. 
Patrick McKeown is creator, CEO and Director of Education and Training at Oxygen Advantage®, Director of Education and Training at Buteyko Clinic International and President of Buteyko Professionals International. He is a leading international expert on breathing and sleep, and author of bestselling books including The Oxygen Advantage and Atomic Focus. His focus — to empower more people every day to breathe better, feel better and achieve their potential.
Patrick's interest in breath training began when he discovered the Buteyko Breathing Method, aged 26. After a lifetime of asthma medication and inhalers, he found immediate relief from his symptoms, and has remained asthma-free ever since. He traveled to Moscow, Russia, to learn from Dr. Konstantin Buteyko, and was accredited to teach the Buteyko Method in 2002.
If you're finding it has never been harder to focus than it is now then Patrick's book Atomic Focus offers a simple, practical, scientific way to bypass the self-sabotage happening in your own brain, to achieve the best concentration and mental clarity of your life.
You will discover techniques used by special forces, elite military, corporate CEOs, MMA fighters, and other high-performance professionals. And learn to address the key habits that are keeping your nervous system in a stress state and holding you back.
It's my intention that this conversation is an accessible and actionable introduction to the Why and the How of nasal breathing. Let's discuss Atomic Focus and The Life Changing Benefits Of Nasal Breathing with Patrick McKeown.
In this interview we cover:
Patrick's story. What led to his interest in breath training?
Why do we all breath so differently? What lifestyle or psychological habits impact our breathing? 
What about all that in through your nose out through your mouth meditation advice?
The problem with mouth breathing and benefits to nasal breathing. 
The difference between focus, concentration and attention span.
Breathing and Sleep + how to improve your deep sleep.
Achieving flow state through nasal breathing.
I cannot emphasise enough how grateful I am that Patrick made time for that conversation. He certainly walks the talk and is committed to spreading the not so profitable and accordingly under-acknowledged, huge benefits of nasal breathing. 
Not dissimilar to the multitude of proven yet under-acknowledged / downplayed and disputed not so profitable benefits of a whole food plant based lifestyle right?
As a starting point Atomic Focus is an easy yet fascinating read (or listen) full of exercises to work into your daily routine. 
Just bringing your focus to your breathing helps. Focusing on Light, Slow and Deep (not big) breathes.
I've also started practicing breath holds after exhale a couple of times a day.
And focusing on 6 breaths a minute that's inhale for 4 and exhale for 6 for several minutes multiple times a day.
Finally during physical exercise (my exercise isn't elite or extreme!) I'm focusing on breathing only through my nose.
These are just a few exercises that felt achievable to work into my daily routine. I'm committed to sticking with the practice for as long as it takes. Right now I feel all my effort flies out the door the moment I try to speak AND YET hopefully in weeks or months you'll start to hear some progress from this little podcaster!
To connect with Patrick I have you linked up in the show notes below. Beyond his nine books, and patented breathing products – like the myotape – what we didn't get the chance to touch on is the coaching. Patrick has worked with 10,000's people and trained 700 instructors worldwide. You'll find everything you need to know via https://oxygenadvantage.com.
Here's something I've learned in 20 years working with clients from all walks of life. In order to stop wasting energy on mental chatter, sleep must be deep, and breathing must be optimal. Patrick McKeown. @oxygenadvantage
Click To Tweet
On a day-to-day basis, you will experience an increase in energy, better concentration, an enhanced ability to deal with stress, and a better quality of life. Patrick McKeown. @oxygenadvantage
Click To Tweet
Connect with Patrick via: https://oxygenadvantage.com and https://buteykoclinic.com.
Purchase Atomic Focus, The Oxygen Advantage and, Patrick's latest book: The Breathing Cure.
Connect with Patrick across the socials: YouTube | Instagram | Facebook | Twitter | LinkedIN
That's it for this week in Healthification. Please consider sharing the show with someone you think would find value in it. Big thanks to YOU for sharing this week with me.
The Healthification podcast is proudly bought to you by my FREE 'Easy Vegan' plan. It took me 25 years to transition from a meat eater to a happy, healthy Vegan! You can do it in just 3 days with my simplified 'easy vegan' plan!  Get the fit, strong, and healthy plant based body you deserve… while avoiding ALL the mistakes I made along the way!
To learn more check out: strongbodygreenplanet.com
Till next time, remember Creating a body and life you love is Freedom. (If this ex-refined-carb queen, non genetically gifted, naturally uncoordinated vegan chick can do it – so can YOU!!!)
If you liked "Atomic Focus and The Life Changing Benefits Of Nasal Breathing with Patrick McKeown. " you'll also like E592: James Clear and Atomic Habits, Why True Behaviour Change Is Really Identity Change.
If you liked "Atomic Focus and The Life Changing Benefits Of Nasal Breathing with Patrick McKeown. " you'll also like E663: Will Power: 6 Steps to Build Your Self Control Muscle.