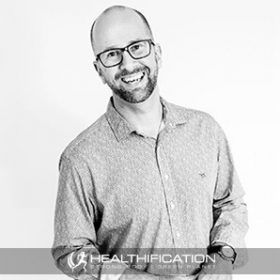 Podcast: Play in new window | Download
Subscribe: RSS
There's nothing more terrifying than the thought of losing your memory and your mental health. Or of someone you love dealing which such a debilitating and heart breaking diagnosis as Alzheimer's or any other form of dementia.
It's something that perhaps as bullet-proof and gleefully ignorant youngsters we joke about. In the way that we might laugh off our parents warnings about hearing loss listening to that "hideous racket you call music!" or even needing glasses until actually the signs start to show and the jokes aren't so funny.
My guest today wants you to take care of your memory so you can stay sharp for life.
In fact, occupational therapist David Norris's mission is to help people get their brain mojo back – think clearer, reduce brain fog and of course, help stop memory loss.
I like the sound of that. Especially given David tells me more women than men suffer from severe memory loss. I want to know why. And how we can do our best to stop it and I won't lie, I'm a little nervous so far as some of the recommendations David might make. More-so, limitations he might recommend. Long term listeners do you know what I'm hinting at here?
David has over 20 years of experience working with people with severe memory loss. He's witnessed first hand the devastation memory loss has on people's lives, their families and communities.
David's mission is to serve, teach and support as many people as possible to help stop avoidable memory loss by reducing your risk factors as much as possible. Cheers to a fascinating and compelling show full of implementable tips to: Stop Avoidable Memory Loss with David Norris.
In this chat we cover:
What compelled David to become interested in helping people stop memory loss.
We cover off some commonly used terminology.
The more common situations Dave deals with when helping someone with their mental and brain health. How do we know our risks?
Common myths or confusion in relation to what works, what doesn't and what is harmful to our brain mojo.
Dementia starts in your 30's-40's so the sooner you take action, the better. We cover the FIRST action to take.
Simple daily actions you can take to reduce your risk of memory loss by 35%.
Tips to have a compassionate conversation with a family member who's memory health you're concerned about.
Ok, so we didn't get to discuss alcohol in depth, perhaps that was a Freudian slip on my behalf! However as mentioned Dave has plenty of free resources for you to dig in with including 9 Life Changing Principles Most People Overlook To Help Prevent Memory Loss.
In this surreal feeling COVID-19 time where as I publish this most of us are fairly home bound or getting closer to it… we might have more time however GOSH, there seems to be so many decisions to make and I know I'm feeling a bit of decision fatigue.
The path of least resistance is to wake up, check your phone and spiral into a day long depth of hopelessness and media fuelled fear. That's normal and yet not necessary.
Positive habits are one thing that can bring just a tad of certainty to this uncertain time.
Thankfully a few simple positive habits are all aligned to deliver you compounding results in multiple areas of health including stopping avoidable memory loss. Since Dave mentioned the first action to take was via your nutrition lets get a little actionable.
How can you insert some extra high value whole foods into your today?
I'm reading from a popular post / podcast The Ultimate Vegan Food Pyramid. The bottom / largest bit of the pyramid is Foundational Free Foods: Fibrous Veg.
Here are some Foundational Facts: These are the leafy greens, cruciferous friends (kale, cauli, broccoli, cabbage, brussels) and other non starchy veg such as asparagus, zucchini and mushrooms that you can literally eat unlimited amounts of. They possess both high nutritional value and low caloric density.
I have 3 considerations here:
Aim for a variety. Yes, you're looking to eat the rainbow.
Buy organic when you can especially with dirty dozen veg such as spinach, kale and celery. (these are actually the only 3 fibrous veg that made the 2019 dirty dozen (Australia) list: though starchy veg potato and fruit tomato are on the list). However do not sacrifice veg just because you can't afford / acquire organic.
Try to make a fibrous veg (or better 10!) the star / the bulk of every meal. Yes you're going to #plantstrong protein pimp the meal and flavour enhance it however before you cook it (if you cook it) the majority of your plate / bowl / chopping board should be covered in extensive fibrous love!
Here's how this might look throughout your day:
At breakfast: Add a couple of cubes of frozen kale and spinach to your breakfast smoothie.
At lunch: Serve your marinated tofu over a bed of mixed baby spinach, rocket and cos leaves plus add some baked asparagus, mushroom and zucchini.
At dinner: Use portobello caps as pizza bases and load them with veggie love like: marinated capsicum and caramelised onion plus serve them with some delish kale or brussel crisps.
For so much more whole food deliciousness check out these previous posts:
For everything memory health made easy please check out Dave's main website: Memory Health Made Easy.
Grab: The 9 Pillars For Memory Health For Life.
Check out Dave's podcast: Memory Health Made Easy on iTunes and Facebook group: Memory Health Warriors and Facebook page.
Dave recommended the work of: Professor Fearless Jacka and also Dr Drew Remsey.
That's it for this week in Healthification. Big thanks to YOU for sharing this week with me. You rock and I appreciate your support! Stay strong, stay positive and I'll be back on Monday with the Monday Motivation show.
The Healthification podcast is proudly bought to you by my FREE 'Easy Vegan' plan. It took me 25 years to transition from a meat eater to a happy, healthy Vegan! You can do it in just 3 days with my simplified 'easy vegan' plan!  Get the fit, strong, and healthy plant based body you deserve… while avoiding ALL the mistakes I made along the way!
Till next time, remember Creating a body and life you love is Freedom. (If this ex-carb queen, non genetically gifted, naturally uncoordinated vegan chick can do it – so can YOU!!!)
If you liked "Stop Avoidable Memory Loss and Get Your Brain Mojo Back with David Norris" you'll also like What To Do When You Lose Your Exercising Mojo!
If you liked "Stop Avoidable Memory Loss and Get Your Brain Mojo" you'll also like 391: Low Carb High Protein Vegan Meal Plan (Part 1)
If you liked "Stop Avoidable Memory Loss" you'll also like E587: Simple, Healthy Vegan Snacks for Home, Work and On The Go.
Also, My 7 Day Plant Strong Fuel Log For A Fit Healthy Plant Based Body.
Finally, for 7 Days of whole food plant based deliciousness check out this MEGA post: